Pearl Millet Cultivation in India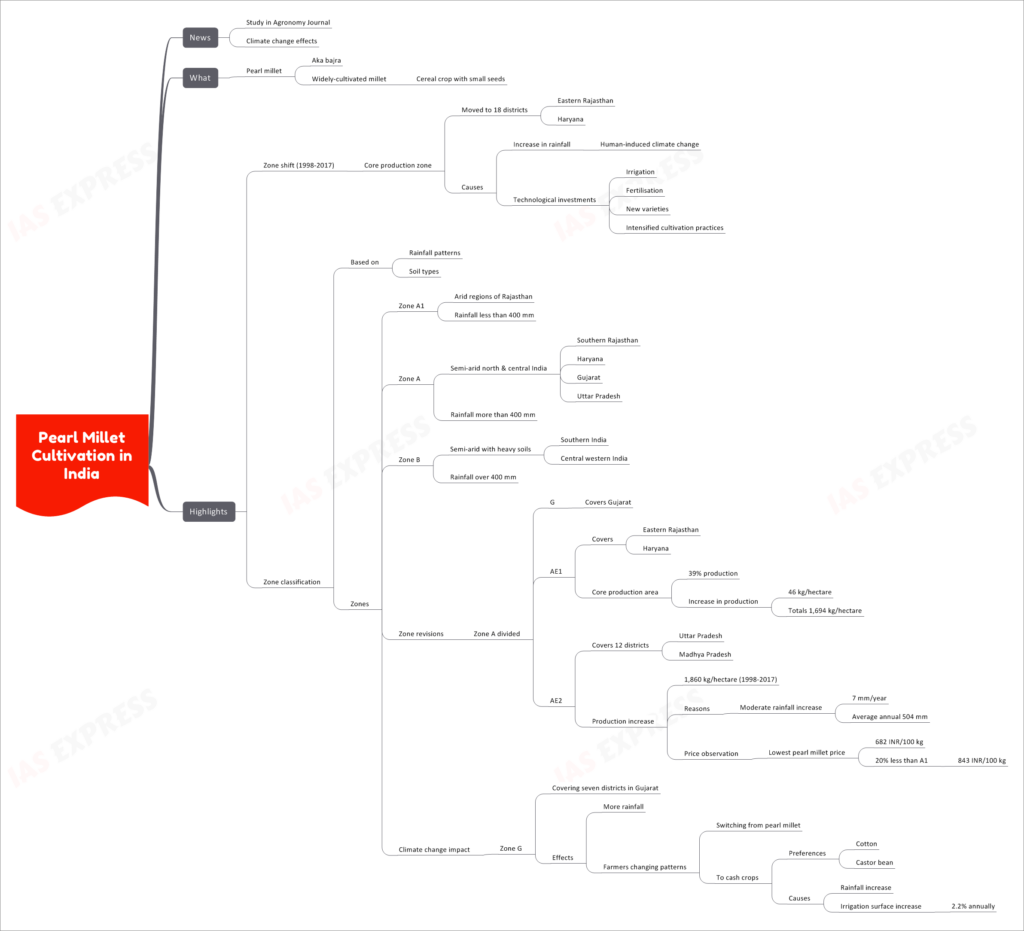 Recent studies published in the Agronomy Journal have shed light on the impact of climate change on pearl millet cultivation in India. This widely-cultivated cereal crop, also known as bajra, has seen significant changes in its core production zones and practices due to shifts in climate patterns and technological advancements.
News
The findings discussed in this article are based on a comprehensive study conducted in India, highlighting the evolving landscape of pearl millet cultivation. These changes have been attributed to both human-induced climate change and advancements in agricultural technology.
What is Pearl Millet?
Pearl millet, commonly known as bajra, is a cereal crop with small seeds that has been a staple in Indian agriculture for centuries. It is known for its resilience and adaptability to arid and semi-arid conditions, making it a crucial crop for food security in many regions.
Highlights
The study conducted between 1998 and 2017 reveals some significant shifts in the core production zones of pearl millet in India. Here are the key highlights:
Zone Shift (1998-2017)
Core Production Zone: The traditional core production zone for pearl millet has moved to encompass 18 districts, including Eastern Rajasthan and Haryana.
Causes
The shift in the core production zone can be attributed to two primary factors: copyright©iasexpress.net
Increase in Rainfall: Human-induced climate change has led to an increase in rainfall in these regions.
Technological Investments: Advancements in irrigation, fertilization, the introduction of new pearl millet varieties, and intensified cultivation practices have played a crucial role in expanding the production zone.
Zone Classification
The zones are classified based on rainfall patterns and soil types:
Zones A1:

Located in the arid regions of Rajasthan.
Experiences rainfall less than 400 mm.

Zones A:

Encompasses semi-arid north and central India, including Southern Rajasthan, Haryana, Gujarat, and Uttar Pradesh.
Receives rainfall more than 400 mm.

Zones B:

Semi-arid regions with heavy soils, including Southern India and Central Western India.
Experiences rainfall over 400 mm.
Zone Revisions
Zone A Divided:

Zone G: Covering Gujarat.
AE1: Encompassing Eastern Rajasthan and Haryana.

Core production area responsible for 39% of total production.
Experienced a substantial increase in production, reaching 46 kg/hectare, totaling 1,694 kg/hectare.

AE2: Covers 12 districts, including Uttar Pradesh and Madhya Pradesh.

Saw a production increase of 1,860 kg/hectare between 1998 and 2017.
This increase is attributed to moderate rainfall increases, averaging 7 mm/year, with an average annual rainfall of 504 mm.
Price Observation
Lowest Pearl Millet Price: It was observed that pearl millet prices in Zone AE2 were 20% lower than in Zone A1. The prices stood at 682 INR/100 kg compared to 843 INR/100 kg in Zone A1. copyright©iasexpress.net
Climate Change Impact
Zone G
This zone, covering seven districts in Gujarat, has experienced a significant impact from climate change, primarily in the form of increased rainfall.
Effects
More Rainfall: The increased rainfall has forced farmers to change their cropping patterns.
Farmers' Preferences: Many farmers have shifted from pearl millet cultivation to cash crops like cotton and castor bean.
Causes
Rainfall Increase: The primary reason for this shift is the substantial increase in rainfall.
Irrigation Surface Increase: An annual increase of 2.2% in irrigation surface has also contributed to this change.
Learn More