Nation First Transit Card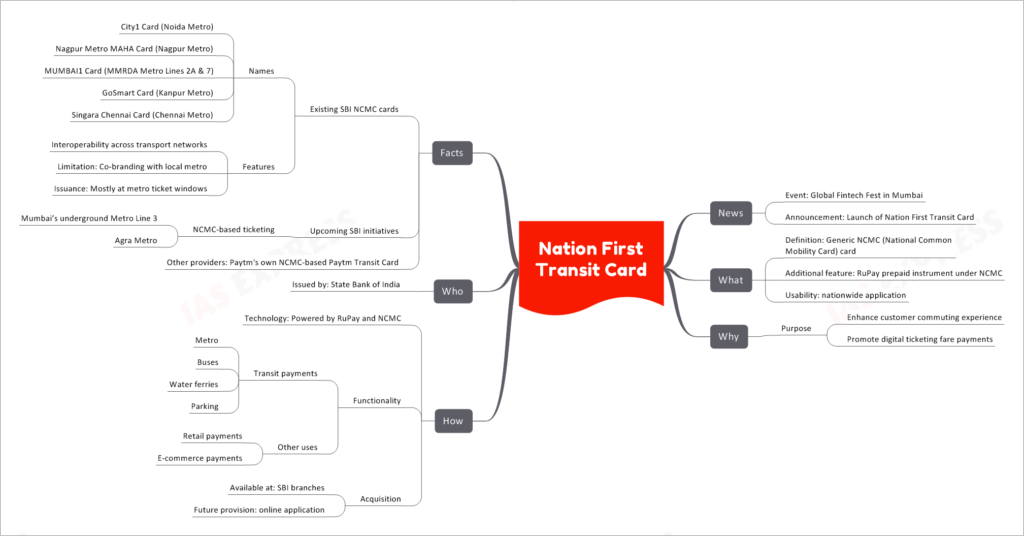 The recent launch of the Nation First Transit Card during the Global Fintech Fest in Mumbai represents a significant leap in enhancing the commuting experience for millions of people across India. This card, a generic National Common Mobility Card (NCMC), powered by RuPay, is set to revolutionize how people make payments for various modes of transport and beyond.
Introduction to the Nation First Transit Card
Event: The launch of the Nation First Transit Card was a notable announcement made during the Global Fintech Fest held in Mumbai.
Defining the Nation First Transit Card
Definition: The Nation First Transit Card is a generic NCMC card, designed to simplify payment processes for commuters across India.
Additional Feature: It also functions as a RuPay prepaid instrument under the NCMC framework, adding versatility to its use.
Usability: This card is not limited to a specific city or region; it has nationwide applicability, making it a versatile choice for commuters.
The Purpose: Enhancing Commuting Experience and Digital Ticketing
Enhancing Customer Commuting Experience
Enhanced Convenience: The primary goal of the Nation First Transit Card is to enhance the commuting experience for customers by simplifying payment processes.
Seamless Travel: It aims to make travel across various modes of transport more seamless, convenient, and hassle-free. copyright©iasexpress.net
Promoting Digital Ticketing Fare Payments
Digital Transformation: By promoting digital ticketing fare payments, this card aligns with India's broader digital transformation initiatives.
Contactless Payments: It encourages the adoption of contactless payment methods, which are not only convenient but also in line with modern safety and hygiene standards.
The Technology and Functionality of the Card
Powered by RuPay and NCMC
Technological Backbone: The Nation First Transit Card leverages the technological capabilities of RuPay and operates within the NCMC framework.
Versatile Functionality
Transit Payments: The card enables users to make payments for a range of transit services, including metro systems, buses, water ferries, and parking facilities.
Beyond Transit: In addition to transit payments, the card can be used for retail payments and e-commerce transactions, making it a versatile financial tool.
Acquisition and Availability
Issued by: The Nation First Transit Card is issued by the State Bank of India (SBI), one of India's largest and most trusted banks.
Availability: Initially, the card is available at SBI branches, ensuring accessibility for a wide range of customers.
Future Provision: There are plans to offer online application options, further expanding its availability and accessibility.
Nation First Transit Card in the Context of Existing SBI NCMC Cards
Existing SBI NCMC Cards
Variety of Names: SBI has previously issued NCMC cards with distinct names tailored to specific metro systems:

City1 Card (Noida Metro) copyright©iasexpress.net
Nagpur Metro MAHA Card (Nagpur Metro)
MUMBAI1 Card (MMRDA Metro Lines 2A & 7)
GoSmart Card (Kanpur Metro)
Singara Chennai Card (Chennai Metro)

Interoperability: These cards demonstrate interoperability across various transport networks, providing commuters with flexibility.
Local Metro Co-Branding: They are co-branded with local metro systems, which is a limitation in terms of wider usability.
Issuance: Most of these cards are issued at metro ticket windows.
Upcoming SBI Initiatives
NCMC-Based Ticketing: SBI has plans to introduce NCMC-based ticketing for upcoming metro projects, including Mumbai's underground Metro Line 3 and the Agra Metro.
Other Providers
Paytm's NCMC-Based Paytm Transit Card: In addition to SBI, Paytm has also introduced its own NCMC-based Paytm Transit Card, further expanding the reach of this payment technology.
The launch of the Nation First Transit Card represents a pivotal moment in India's journey toward digitizing and modernizing its transit and payment systems. With nationwide usability and support from established financial institutions like SBI, this card has the potential to transform the way people travel and transact, setting the stage for a more convenient and efficient future.
Learn More