Livestock Sector in India – Current Status, Challenges & Initiatives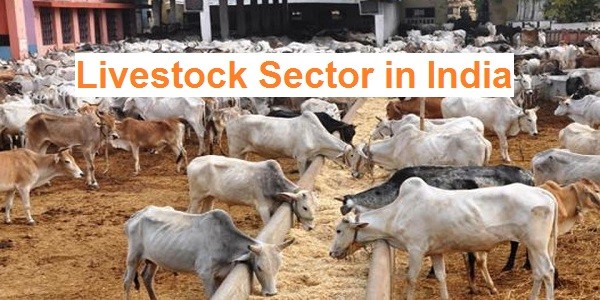 Mindmap Learning Programme (MLP)
Absorb information like a sponge!
Context-
The department of animal husbandry and dairying released the 20th livestock census in October 2019.
What is livestock-
Domestication of animals raised in an agricultural setting to gain labour and products such as meat, eggs, milk, fur, etc.
Livestock rearing, Dairying, Fisheries activities, along with agriculture, are an integral part of human life since the start of civilization. These activities have helped to improve the food basket and to gain draught animal power. As a result of conducive climate and topography, Animal Husbandry, Dairying and Fisheries Sectors have played a prominent socio-economic role in India.
They play a significant role in generating employment in the rural sector, mainly among the landless, small and marginal farmers and women, apart from providing cheap and nutritious food to millions. They act as the ''bank on hooves''.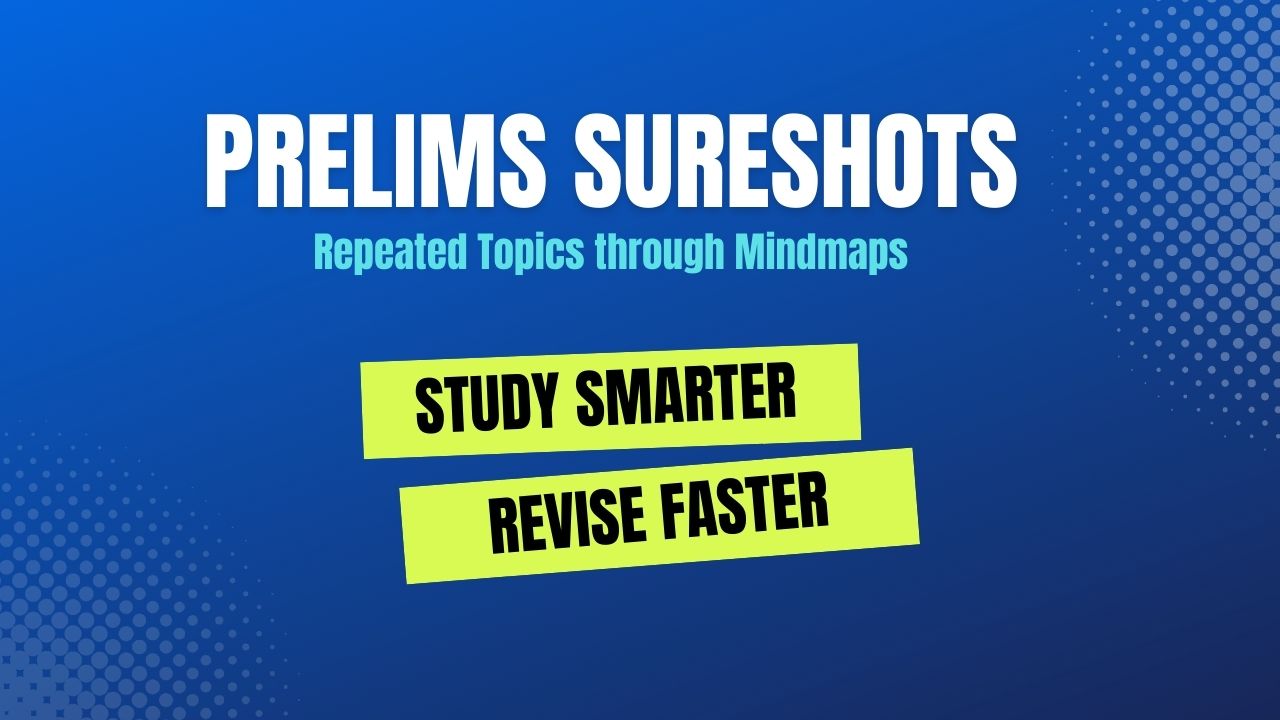 Why livestock is important-
The livestock provides food items such as Milk, Meat and Eggs for human consumption.
It diversifies the food basket of people and provides essential nutrients.
For most of the small and marginal farmers and especially the landless, livestock is the complimentary and main source of income respectively (mixed farming).
Animals like sheep, goat serve as a source of income in emergencies like health treatment, repair work, marriage.
As agriculture provides only 180 days of employment, it is a major source continuous of income for the poor.
60million workers as per usual status (Principal status plus subsidiaries status) were engaged in farming of animals, mixed farming and fishing (NSSO 66th Round Survey).
Women empowerment– As livestock rearing remains the women dominated job it gives them financial proprietary.
Bullocks are the backbone of Indian agriculture. The Indian farmer especially in rural areas mostly depend upon bullocks for various agricultural operations as it is a low-cost option.
Dung and other animal wastes serve as very good farmyard manure and the value of it is worth several crores of rupees. Also, it is used as fuel (biogas, dung cakes).
Livestock contributes over 4% to the total GDP and over 31% of agricultural GDP (CSO data).
It is a primary sector for fibre and skin industry which has huge export potential.
Dairy sector is one of the most contributing to employment and food processing industry
In difficult terrain like desert, hilly terrain, the livestock still is the indispensable mode of transport. Camel, horses, donkeys, ponies are used as drought animals.
The livestock is part of cultural and recreational activities like Jallikattu and Bullock cart races
The government of India acknowledges the importance and strives to make the livestock a flourishing sector. Through various schemes and programs, it is contributing to the growth of the sector. One such programme is the livestock census.
What is a livestock census-
The livestock census is conducted periodically across the country since 1919. The census covers all domesticated animals and headcounts. The Department of Animal Husbandry & Dairying under the Ministry of Fisheries, Animal Husbandry & Dairying gives great importance to livestock and to the availability of updated and precise data related to livestock.
Valid data is required at every decision-making stage for proper planning and formulation of any programme. The Livestock Census is the Primary source of such data in the country.
The 20th livestock census is the first attempt to digitise household-level data through online transmission from the field.
It was done in both rural and urban areas.
Captured breed wise numbers of animals and poultry birds.
What is the status of The livestock sector according to 20th census-
Areas of improvement–
The total livestock is 535.78 million. It is an increase of 4.6% over the last census in 2012.
The total bovine population is 79 million with a 1% increase from the last census.
The total milch animal population saw a growth of 6% numbering 125 million.
The sheep population increased by 14.1% and the goat by 10%
The total poultry population increased by 16.8% to 851.81 million.
Areas of decline
6% decline in the indigenous cattle population.
The total number of pigs declined by 12.03%.
The horses and ponies declined sharply by 45% and donkeys' number declined by 61.23%.
Total camel population has decreased by 37.1%.
Source– 20th Livestock census
With that India remains–
World's highest livestock owner.
First in the population of buffalos.
Second in the population of Goats.
Second largest Fish producer and second largest aquaculture nation.
Third in the population of sheep.
What are the challenges in livestock rearing-
It remains one of the least looked after when it comes to introducing science and technology. It largely remains subsistence-based and traditional.
The low production potential of indigenous breeds remains one of the important issues. Crossbreeding of indigenous breeds with exotic stocks has not produced desired results
Low penetration of artificial insemination
Food and climate-related issues-
Degradation of pasture lands, low rain and climate change affects livestock sector.
Lack of health facilities like veterinary hospitals and doctors in enough numbers.
Lack of regulatory control over slaughterhouses.
Frequent outbreak diseases like Foot and Mouth disease, Swine fever, Avian influenza reduces productivity.
Lack of preventive measures exacerbate the problems.
The sector has received only about 12% of total agricultural outlay which does not do justice to its contribution.
Institutional credit has seldom crossed 4% of total agricultural credit.
Hardly 6% of the livestock has been covered under the insurance coverage.
Lack of research and development in coming up with standardisation of livestock products.
The product faces strict regulatory and safety mechanism in foreign markets.
Cooperatives could only build up in small pockets like Haryana and Maharashtra despite even distribution of livestock.
Lack of cooperative industry leads to mismanagement and undervaluation of livestock products.
What the government is doing
As the Animal Husbandry, Dairying and Fisheries is a State subject, the emphasis of the department at the Union level has been on provisioning of assistance to the State Governments for the scientific management of genetic resources, control of animal diseases, increasing availability of nutritional feed and fodder, sustainable development of processing and marketing facilities and improvement in production and profitability of livestock and fisheries enterprises.
National Livestock Mission (NLM)
Launched during Twelfth Five Year Plan, with the main objective of achieving sustainable development of the sector by providing greater flexibility to States in formulating and implementing the schemes.
An important component is to promote the availability of feed and fodder to substantially reduce the gap between availability and demand.
National Animal Disease Control Plan (NADCP)-
To control Foot and Mouth disease, Brucellosis among others.
To vaccinate over 600 million cattle.
To control the livestock diseases by 2025, and eradicate by 2030.
To develop and conserve the indigenous breed.
To improve renumeration by increasing milk production.
For the first time in the country, under the scheme National Mission on Bovine Productivity now subsumed under Rashtriya ePashuHaat portal has been developed for connecting breeders and farmers regarding the availability of quality bovine germplasm.
National Fisheries Development Board (NFDB) –
To utilize the hidden potential of the fisheries sector in both inland and marine fish capture, aquaculture, processing & marketing of fish, growth of fisheries sector with the introduction of modern tools of research & development.
Proposes to encourage those State governments who undertake the implementation of following model laws already issued by the Central government:
a) Model Agricultural Produce and Livestock Marketing
(Promotion and Facilitation) Act, 2017 and
b)Model Agricultural Produce and Livestock Contract Farming
and Services (Promotion and Facilitation) Act, 2018
Way forward-
Rejuvenating natural pasturelands and grasslands would improve food supply for livestock.
Changing the approach towards the livestock sector from sustenance based mixed farming to the organised profit-earning sector
Improving health facilities for livestock by increasing manpower supply and better health infrastructure in veterinary care.
Improving credit and insurance facilities by improving the reach of insurance companies and by providing interest subvention to small and marginal farmers and landless livestock owners.
Improve extension services in livestock sectors.
Improve organic livestock farming which has a huge market in western countries.
Increasing the research and development institutes in the livestock sector and adopting international best practices.
Practice Question for Mains-
Livestock Rearing is mainly a sustenance-based activity under mixed farming in India. Can the livestock sector develop as a separate industry? Discuss constraints and potentials. (250 words)