[Editorial] Production Linked Incentives Scheme- Is It Working?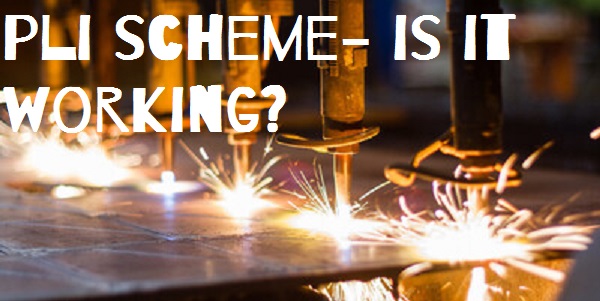 Recently, a former RBI Governor questioned the effectiveness of the PLI scheme in boosting domestic manufacturing in India.
Background:
The scheme was launched, under the Atmanirbhar Bharat Abhiyaan, in 2020 to boost local manufacturing.
Under this scheme, the government provides incentives on incremental sale of goods manufactured in India.
It encourages both foreign and domestic manufacturers to establish and expand their manufacturing units in the country.
How is it helping?
The scheme was launched with the objective of:

Transforming India into a global manufacturing hub

Attracting more investments

This scheme is especially significant as countries across the world are trying to capture the global market by increasing their exports and reducing their imports.
The PLI scheme focuses on certain core sectors with high externalities or multipliers for other economic activity. Investing in such sectors could fuel economic development at large.
What are the challenges?
The PLI scheme is criticized as a freebie for industries. There are also concerns about cronyism and opaque bureaucratic approach.
Subsidizing these large industries could mean high indirect taxes, which in turn could increase the costs.
A scheme based on supply-side economics, without consideration for the demand side, is unlikely to deliver significant results. This is especially so when the growth rate is staggering and demand continues to be a structural problem. copyright©iasexpress.net
Though demand isn't too great an issue for these strategic sectors, it must be noted that most of the demand continues to be met by imports. It is projected that, by 2025, we would be importing $400 billion worth of electronics/ year.
Other structural issues continue:

Infrastructure deficiency

Lower quality of education, etc.

The increased focus on these large-scale industries has led to marginalization of the micro-scale unorganized sector, which are responsible for the bulk of employment generation. Note that these large-scale industries are highly reliant on automation.
The level of R&D by businesses is still low. This historically low investment (50-60 years) in R&D partly stems from the high import dependence and its perception as a risky venture.
Other countries are also incentivizing domestic manufacturing in their territories. For instance, the USA has allocated $720 billion for domestic manufacturing of semiconductors, electric vehicle and green hydrogen. This spells high competition for Indian-made goods.
What is the way ahead?
Investors take note of the level of government support for a sector before putting in their own money. Hence, the PLI scheme can be seen as an attempt at promotion, facilitation and incentivization of investment, rather than a hand-out. copyright©iasexpress.net
It should be remembered that manufacturing growth doesn't happen in vacuum. Hence, it is necessary to be mindful of what other governments are doing and accordingly develop our manufacturing strategy.
Conditions must be created such that R&D investments are lowered.
While the current focus is on the large-scale industries, there is a need to boost the micro sector which is responsible for the bulk of employments in India.
It is necessary to reduce inequalities in the country. Only then will the demand for manufactured goods increase and the full market potential be realized.
Conclusion:
Manufacturing has been a sore spot in India's growth story. The PLI scheme is one of the recent attempts by the government to chance this situation, for it has great potential to boost the economy and employment levels. However, gaps exist in the scheme which must be addressed.
Practice Question for Mains:
Discuss the challenges with regards to the PLI scheme. What needs to be done? (250 words)
Learn More