Intensified Mission Indradhanush 5.0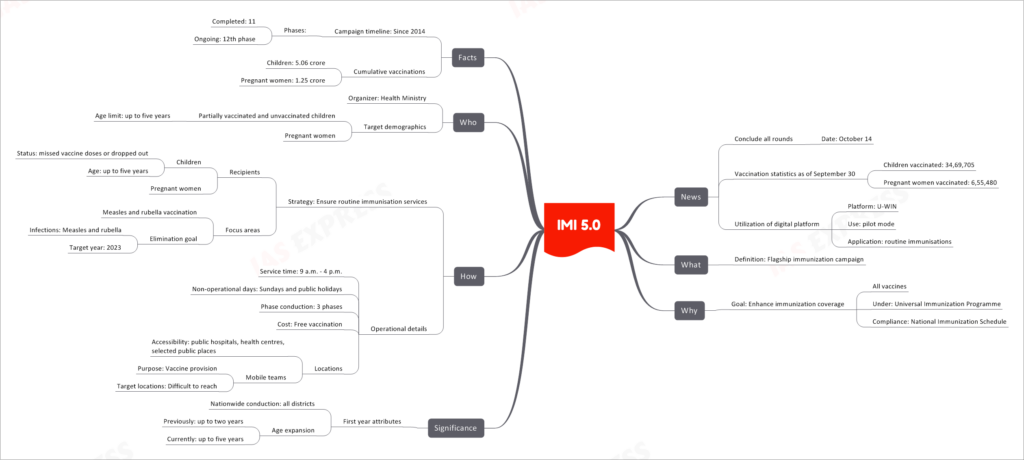 The IMI 5.0 campaign officially concluded on October 14, 2023, after successfully conducting multiple rounds of vaccination across the country.
Vaccination statistics as of September 30
As of September 30, the campaign achieved significant milestones in terms of vaccinations:
Children vaccinated: 34,69,705
Pregnant women vaccinated: 6,55,480
Utilization of digital platform
The campaign leveraged the U-WIN digital platform in pilot mode to streamline the administration of routine immunizations.
What
Definition: Flagship immunization campaign
IMI 5.0 is a flagship immunization campaign initiated by the Indian government to ensure that all eligible individuals receive essential vaccines under the Universal Immunization Programme.
Why
Goal: Enhance immunization coverage
The primary objective of IMI 5.0 is to enhance immunization coverage for all vaccines included in the National Immunization Schedule, ensuring compliance with the schedule.
Significance
First-year attributes
In the first year of IMI 5.0, several significant attributes were observed:
Nationwide conduction: The campaign covered all districts across India.
Age expansion: The age limit for immunization was expanded from up to two years to up to five years, reaching a wider group of children.
How
Strategy: Ensure routine immunization services
IMI 5.0 employs a strategic approach to ensure routine immunization services for targeted recipients, including:
Children: Focusing on those who missed vaccine doses or dropped out, up to the age of five years. copyright©iasexpress.net
Pregnant women: Ensuring their immunization needs are met.
Focus areas
Special emphasis is placed on the vaccination against measles and rubella, with the goal of eliminating these infections by the year 2023.
Operational details
Service time: Vaccination services are available from 9 a.m. to 4 p.m.
Non-operational days: Vaccination services are not available on Sundays and public holidays.
Phase conduction: The campaign is conducted in three phases.
Cost: All vaccinations under IMI 5.0 are provided free of charge.
Locations: Vaccination services are accessible at public hospitals, health centers, and selected public places. Mobile teams also reach difficult-to-reach areas to provide vaccines.
Who
Organizer: Health Ministry
The Health Ministry of India is the organizing body behind the IMI 5.0 campaign, ensuring its successful implementation.
Target demographics
The campaign primarily targets two key demographics:
Partially vaccinated and unvaccinated children up to the age of five years.
Pregnant women, ensuring their protection and the health of their unborn children.
Facts
Campaign timeline: Since 2014
IMI 5.0 is part of a long-standing initiative that began in 2014. Over the years, it has undergone multiple phases, with the 12th phase currently ongoing.
Cumulative vaccinations
Cumulatively, IMI campaigns have made a significant impact:
Children vaccinated: 5.06 crore
Pregnant women vaccinated: 1.25 crore
Related Posts
[pt_view id="a33d460gpt" cat="GET_CURRENT" limit=4]