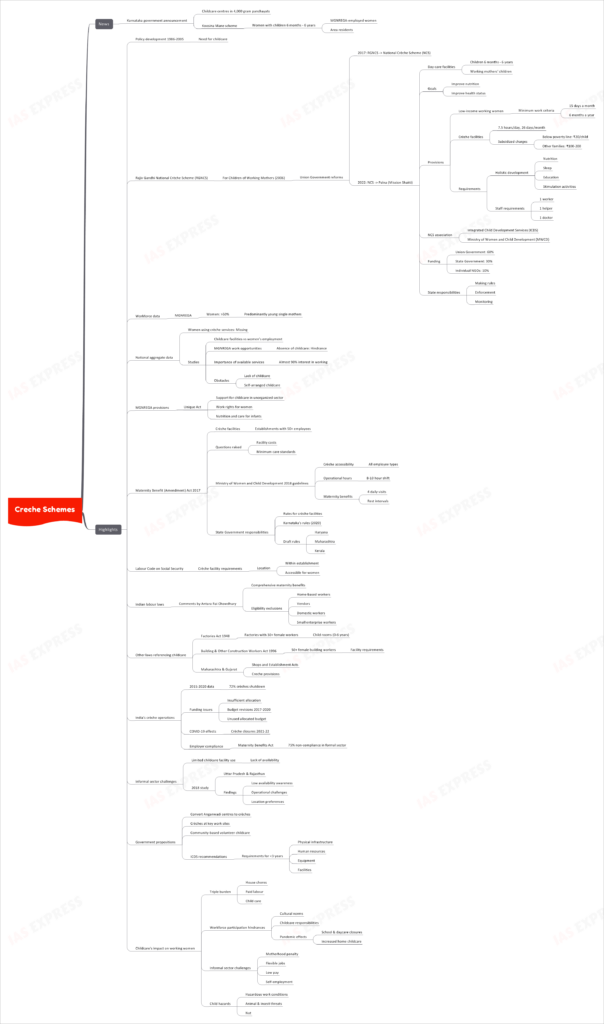 Karnataka government has taken an initiative to launch childcare centres in 4,000 gram panchayats under the "Koosina Mane" scheme. This scheme primarily targets MGNREGA-employed women and area residents with children aged between 6 months to 6 years.
A Glimpse of Policy Evolution:
1986-2005: The span saw a growing realization for the need for childcare.
Rajiv Gandhi National Crèche Scheme (RGNCS): Initiated in 2006, this scheme underwent several transformations:

2017: Renamed to National Crèche Scheme (NCS).
2022: Reformed into "Palna" under Mission Shakti. It focuses on:

Providing day-care facilities to children aged between 6 months to 6 years.
Aim to improve nutrition and health statuses.
Special provisions for low-income working women.
Association with Integrated Child Development Services (ICDS) and the Ministry of Women and Child Development (MWCD).
Funding split: Union Government (60%), State Government (30%), and NGOs (10%).
Workforce Dynamics:
MGNREGA, a unique act that champions support for childcare in the unorganized sector, boasts of a female workforce consisting of more than 50% members. The majority of these women are young single mothers. The absence of childcare often serves as a significant impediment to their work opportunities under MGNREGA.
Legislative Changes and Provisions:
Maternity Benefit (Amendment) Act 2017: Mandates crèche facilities in establishments with 50+ employees.
Labour Code on Social Security: Defines crèche facility requirements and locations. copyright©iasexpress.net
Indian Labour Laws: As commented by Antara Rai Chowdhury, it provides comprehensive maternity benefits but excludes several workers.
Other Laws: Includes the Factories Act 1948 and Building & Other Construction Workers Act 1996, which mandate childcare provisions based on the number of female workers.
State of Crèches in India:
Between 2015-2020, about 72% of crèches were shut down, largely due to funding issues and insufficient budget allocation. The COVID-19 pandemic further strained these facilities, leading to more closures in 2021-22. Moreover, 75% of employers in the formal sector don't comply with the Maternity Benefits Act.
Informal Sector and Challenges:
Childcare facilities are scarcely used due to lack of availability and awareness. The government has proposed several solutions, such as converting Anganwadi centres to crèches, setting up crèches at significant worksites, and community-based volunteer childcare.
Impact of Childcare on Working Women:
Working women often face a "triple burden" – managing household chores, performing paid labour, and providing childcare. Several factors, including cultural norms and the lack of adequate childcare facilities, deter their active participation in the workforce. The COVID-19 pandemic, with its subsequent school and daycare closures, further exacerbated these challenges.
Learn More