India – Peru Trade Agreement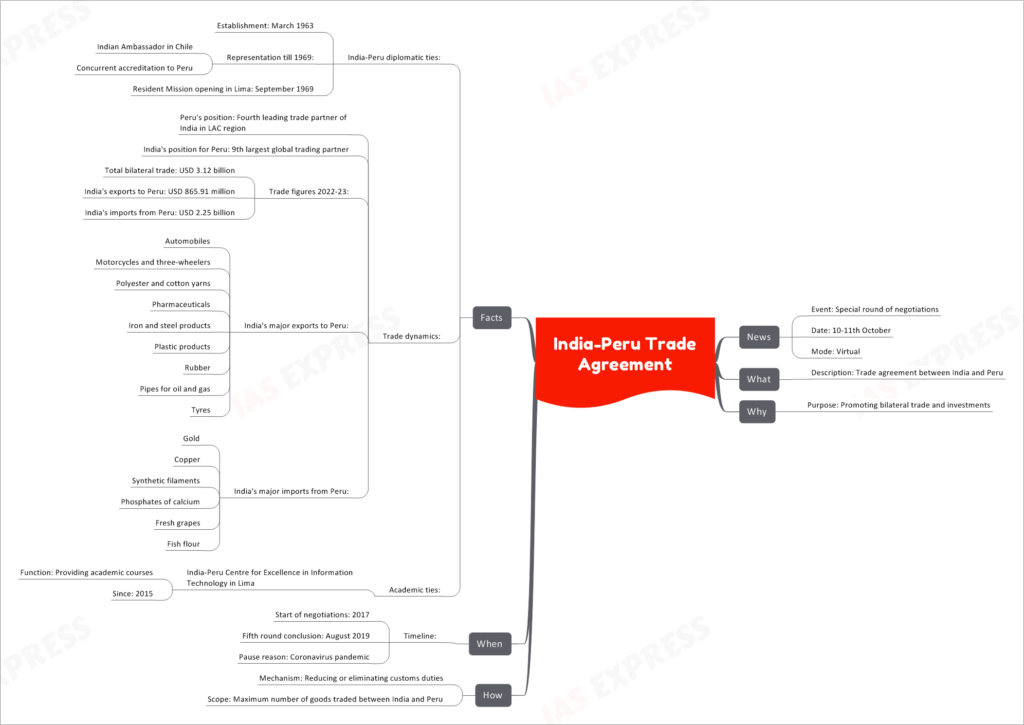 In recent news, a special round of virtual negotiations has taken place on 10th-11th October, with the aim of furthering the trade relationship between India and Peru.
The India-Peru Trade Agreement: What is it?
Description
The India-Peru Trade Agreement is a bilateral accord aimed at fostering trade and investment between the two nations.
Why the Agreement?
Purpose
The primary objective of this agreement is to promote bilateral trade and investments, thereby strengthening economic cooperation between India and Peru.
How Does it Work?
Mechanism
The agreement operates by reducing or eliminating customs duties, making it easier for goods to flow between India and Peru. Its scope encompasses a wide range of goods traded between the two countries.
The Timeline
Negotiation Process
The negotiations for this trade agreement commenced in 2017 and concluded their fifth round in August 2019. However, the process experienced a temporary pause due to the global Coronavirus pandemic.
Key Facts and Figures
India-Peru Diplomatic Ties
Diplomatic relations between India and Peru were established in March 1963.
Initially, India was represented through its Ambassador in Chile, with concurrent accreditation to Peru. However, a resident mission was established in Lima in September 1969.
Trade Dynamics
Peru holds the position of the fourth leading trade partner of India in the Latin American and Caribbean (LAC) region. copyright©iasexpress.net
Conversely, India ranks as the ninth largest global trading partner for Peru.
In the fiscal year 2022-23, the total bilateral trade between India and Peru amounted to USD 3.12 billion.
India's exports to Peru reached USD 865.91 million, while imports from Peru amounted to USD 2.25 billion.
India's Major Exports to Peru
Automobiles
Motorcycles and three-wheelers
Polyester and cotton yarns
Pharmaceuticals
Iron and steel products
Plastic products
Rubber
Pipes for oil and gas
Tyres
India's Major Imports from Peru
Gold
Copper
Synthetic filaments
Phosphates of calcium
Fresh grapes
Fish flour
Academic Ties
India and Peru have collaborated to establish the India-Peru Centre for Excellence in Information Technology in Lima, which has been operational since 2015.
This center primarily focuses on providing academic courses and strengthening educational ties between the two nations.