[Editorial] Green Credit Programme Implementation Rules 2023- Is it Simply a Greenwashing Exercise?
The Union Ministry of Environment, Forests and Climate Change recently introduced the draft Green Credit Programme Implementation Rules 2023. A pioneering initiative, it intends to motivate individuals, industries, and local bodies to benefit from environmentally beneficial actions. This novel system is designed to redirect attention from just carbon emissions to an all-encompassing perspective that emphasizes a variety of ecological concerns.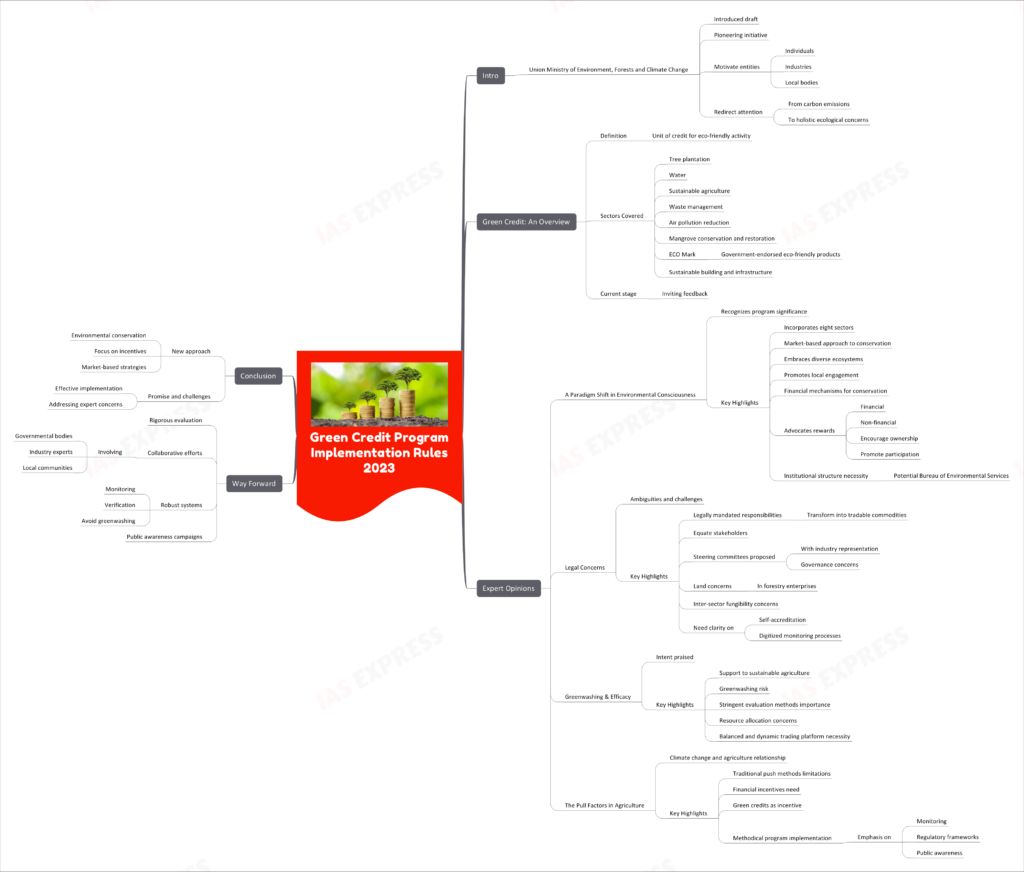 Green Credit: An Overview
Definition: A green credit is a unique unit of credit awarded for a specific eco-friendly activity performed.
Sectors Covered:

Tree plantation
Water
Sustainable agriculture
Waste management
Air pollution reduction
Mangrove conservation and restoration
ECO Mark (government-endorsed eco-friendly products)
Sustainable building and infrastructure
The ministry is currently inviting feedback on the draft rules.
Expert Opinions
A Paradigm Shift in Environmental Consciousness
Recognizes the program as a significant departure from traditional environmental focus areas.
Key Highlights:

Incorporates eight crucial sectors.
Promotes a market-based approach to conservation.
Embraces diverse ecosystems and promotes local engagement.
Introduction of new financial mechanisms for conservation.
Advocates for both financial and non-financial rewards to encourage a sense of ownership and participation.
Emphasizes the need for a robust multi-tiered institutional structure, potentially a Bureau of Environmental Services.
Legal Concerns
Points out ambiguities in the rules and challenges their approach. copyright©iasexpress.net
Key Highlights:

The rules transform legally mandated responsibilities into tradable commodities.
Equates various stakeholders, potentially compromising the essence of certain principles.
Proposes steering committees with industry representation, which might sway the governance of the program.
Raises concerns about land ownership and governance, particularly in forestry enterprises.
Questions the feasibility and logic of inter-sector fungibility.
Calls for clarity on self-accreditation and digitized monitoring processes.
Greenwashing & Efficacy
Praises the intent but raises concerns about the potential for 'greenwashing'.
Key Highlights:

Green credits can offer invaluable support to sustainable agriculture stakeholders.
The risk of false sustainability claims.
Emphasizes the importance of stringent evaluation methods.
Questions resource allocation choices and the immediate impact on emissions reduction.
Stresses the need for a balanced and dynamic trading platform.
The Pull Factors in Agriculture
Draws attention to the intricate relationship between climate change and agriculture.
Key Highlights:

Traditional push methods may not be effective.
Emphasizes the need for financial incentives to boost adoption of sustainable practices.
Green credits can serve as an incentive for adopting environment-friendly farming methods.
Calls for methodical program implementation, with emphasis on monitoring, regulatory frameworks, and public awareness.
Way Forward
A rigorous evaluation and ongoing adaptation of the program will be essential for its success. copyright©iasexpress.net
Collaborative efforts involving various stakeholders, including governmental bodies, industry experts, and local communities, will be crucial.
Implementing robust monitoring and verification systems to avoid potential pitfalls like greenwashing.
Public awareness campaigns can further promote the program's objectives and encourage broader participation.
Conclusion
The draft Green Credit Programme Implementation Rules 2023 heralds a new approach to environmental conservation, focusing on incentives and market-based strategies. While it holds significant promise, its effective implementation will rely on addressing the challenges and concerns highlighted by experts.
Practice Question for Mains
What are the major provisions of the draft Green Credit Programme Implementation Rules 2023? What are the pros and cons? (250 words)
Learn More