[Editorial] Palm Oil and the Need for Alternatives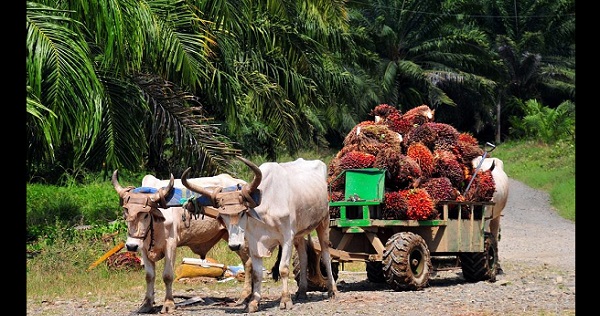 What is the palm oil situation in India?
India is the

largest importer

of palm oil. Most of the imports are from

Malaysia

and

Indonesia

.
It is the 2nd largest palm oil consumer after Indonesia.
The government has been trying to

increase the domestic production

over the years. Between 2015-16 and 2020-21, palm oil production increased at a

compound annual growth rate of 6.1%

– according to the

2021-22 Economic Survey.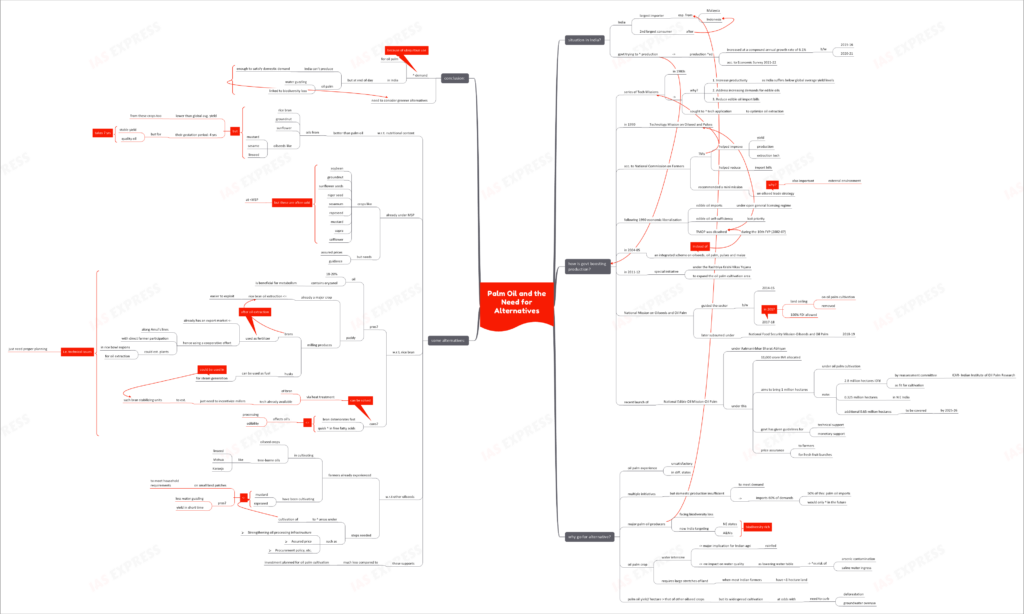 How is the government boosting production?
In the

1980s

, a series of

Technology Missions

were launched.
The objectives were:

Increase

productivity

– as India suffers below global average yield levels
Address increasing

demands

for edible oils
Reduce edible oil

import bills

The Missions sought to increase the

application of technology

to

optimize oil extraction.

In

1990

, the Technology Mission on Oilseed and Pulses was launched. According to the

National Commission on Farmers

, these missions helped improve yield, production, extraction technology and reduced import bills.
The Commission recommended a mini mission on oilseed trade strategy. This is because

external environment

also plays a role in the initiatives' success as technology dissemination.
However, following the

1990s economic liberalization,

edible oil imports fell under

open general licensing regime.

Consequently, edible oil self-sufficiency lost priority. The TMOP was dissolved during the 10th FYP (2002-07).
However, in

2004-05

, an

integrated scheme on oilseeds, oil palm, pulses and maize

was brought in, instead of the TMOP.
In

2011-12,

a

special initiative

was launched, under the

Rashtriya Krishi Vikas Yojana

, to expand the oil palm cultivation area.
A

National Mission on Oilseeds and Oil Palm

guided the sector between

2014-15

and

2017-18.

This was later subsumed under the

National Food Security Mission-Oilseeds and Oil Palm

in

2018-19.

Also in

2017

, the

land ceilings for palm oil cultivation

was

removed

and 100% FDI was allowed.
More recently, the

National Edible Oil Mission-Oil Palm

was announced under the Aatmanirbhar Bharat Abhiyan.

Some

11,000 crore INR

was allocated to this mission.
It aims to bring

1 million hectares

under oil palm cultivation in

5 years.

Some

2.8 million hectares

have been assessed by ICAR- Indian Institute of Oil Palm Research's r

eassessment committee

to be fit for oil palm cultivation.

An

additional 0.65 million hectares

is to be covered by 2025-26.

About

0.325 million hectares

is to be in the

north-east.

The government has released the guidelines for technical support and monetary support under this mission.
To prevent negative impacts from the international fluctuation in crude palm oil prices, the oil palm farmers are to be given

price assurance

for fresh fruit bunches.
Why must we look for alternatives?
The initiatives being undertaken in mission mode would improve the palm oil situation in India. However, giving so much importance to oil palm needs reconsideration.
There is a need for serious efforts to take stock of the experience before such large-scale promotion. This is because the

oil palm experience

has been

unsatisfactory

in different states.
Despite the multiple initiatives, the domestic oil palm production remains

insufficient

to meet the domestic demands.

Imports

still account for

60% of domestic edible oil requirements

. Over 50% of these imports is palm oil. These imports are

only expected to grow

in the future. 
Major oil palm producers- Malaysia and Indonesia- are facing major biodiversity loss. Now India is targeting biodiversity-rich lands in the

northeast

and in the

Andaman and Nicobar Islands.

Oil palm is a

water-intensive crop

. This has major implications for Indian agriculture which is still significantly

rain-fed.

Also, studies show that palm oil cultivation

negatively affects water quality

. This is because a shrinking water table increases the risk of

arsenic contamination

and

saline water ingress.

It requires

large stretches of agricultural lands

while majority of Indian farmers hold less than a hectare of land.
It is reported that oil palm's

yield per hectare is higher

than that of other oilseeds. However, its wide-spread cultivation stands at odd with the objectives of curbing

deforestation

and

groundwater overuse.
What are some alternatives?
In terms of

nutritional content

, oil palm is trumped by oils from groundnut, rice bran, sunflower and oilseeds like mustard, sesame and linseed.
However, India's yield from these other oilseeds is also

below global average

. There is also the issue of long time period- while the crop's gestation period is

4 years,

it takes

7 years

to stabilize the yield and achieve good oil quality.
The government has already covered crops like soybean, groundnut, sunflower seeds, niger seed, sesamum, rapeseed, mustard, copra and safflower among the

22 crops

for which MSP is provided. However, these crops are often sold at

prices below the MSP.

These alternative crops can be promoted through provision of

assured prices

and

guidance

.

Rice bran

has

18-20% oil content.

It also contains

oryzanol

which is beneficial for metabolism.
It is true that bran deteriorates fast and the oil sees a quick increase in free fatty acid content. This would affect the oil's

processing

and

edibility

. However, this can be solved via

heat treatment

of the bran. Heat treatment technology is already available and millers could be incentivized to set up such

bran stabilizing units.

As paddy is already a

major crop,

extracting oil from rice bran can be more easily exploited.
In addition to this, the

husk

from paddy mills can be used as fuel for

steam generation

. This steam can be used in the stabilizing units.

Quick transport

of the bran to solvent extraction plants would also help reduce this issue. Technical issues in the supply chain can be addressed with proper planning.
The bran, after oil extraction, functions as a

fertilizer

and it already has an

export market. Cooperative effort,

along the lines of Amul's dairy model, with the farmers as active participants, could help establish rice bran oil solvent extraction plants in the rice bowl regions.
Farmers are familiar with cultivation of

oilseed crops

and

tree-borne oils

(like linseed, Mohua and Karanja).
Farmers have been cultivating

sesame

and

mustard

crops on small patches of land to meet household requirements.

Mustard

and

rapeseed

(mustard variant) are notable

less water-guzzling

and give

yield in short time period.

Steps are needed to increase area under cultivation of mustard and rapeseed, during the Rabi season. Some necessary steps:

Strengthening oil processing infrastructure
Assured price
Procurement policy, etc.

Such

support

would be

much less

compared to investment being planned in oil palm cultivation. The results would also come in much faster.
Conclusion:
India has a huge demand for palm oil, given its ubiquitous use in a range of products. However, at the end of the day, India is less likely to boost production to such extents that the domestic demand gets fulfilled. Also, given its water-guzzling nature and linkage to biodiversity loss, it is time India considers greener alternatives.
Practice Question for Mains:
How is the government trying to boost oil palm production in India? Examine the feasibility of going for greener alternatives. (250 words)