[Editorial] Gender Pay Gap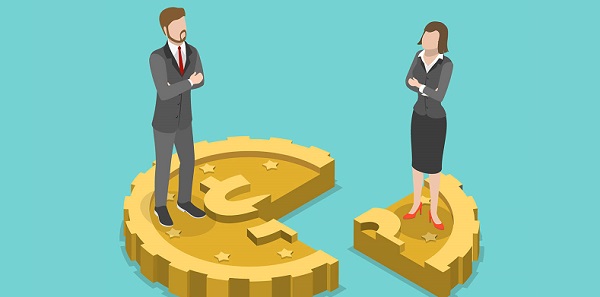 While India is noted for its structural transformation story, asymmetries affect the labour market- not a surprise given the country's size and diversity. Following the outbreak of the pandemic, these disparities have worsened. In this context, Third International Equal Pay Day observed on September 18th 2022, to create awareness about the importance of gender parity in pay, takes on a special significance.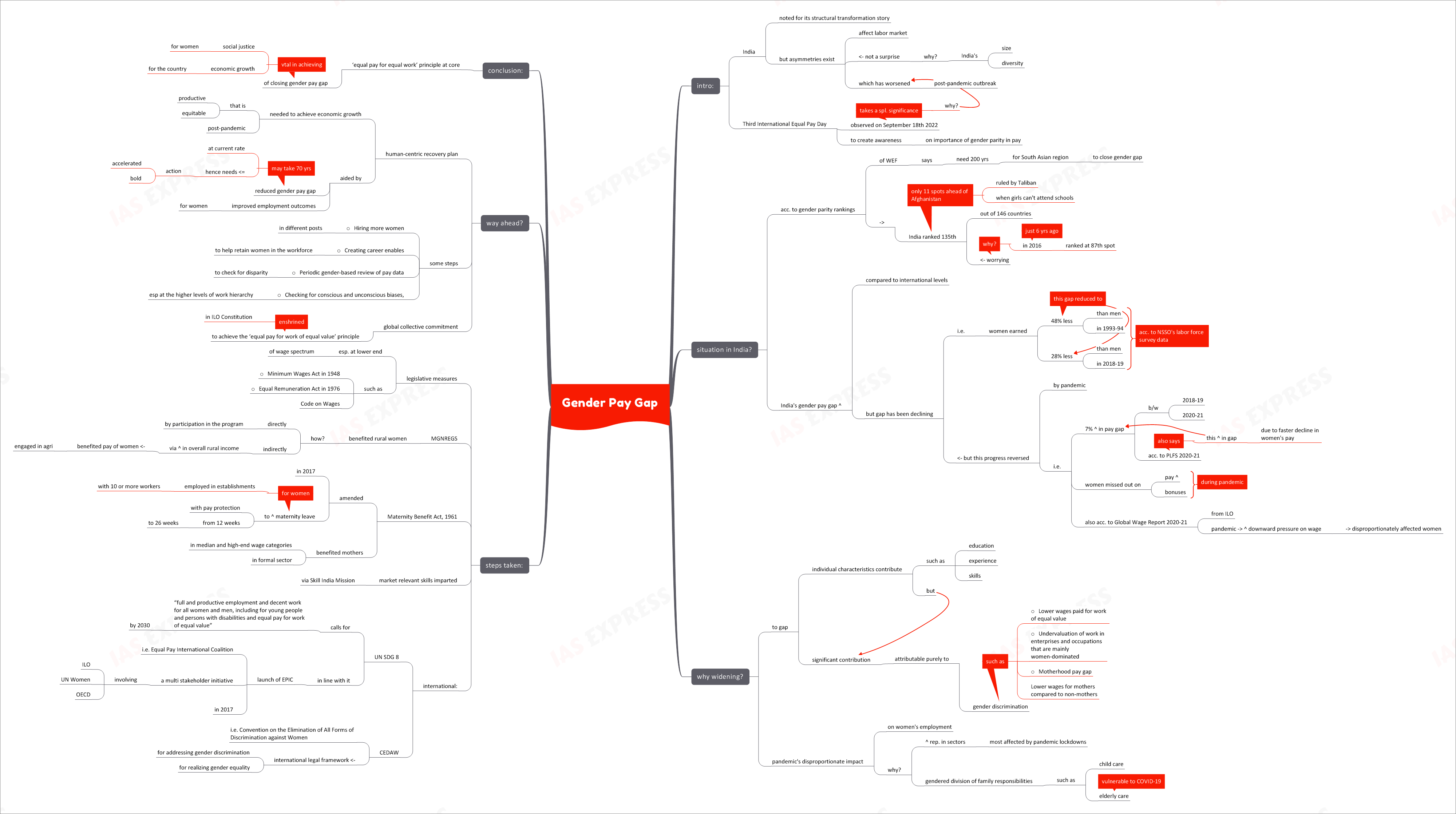 How wide is the gender pay gap in India?
According to the

World Economic Forum's gender parity rankings

, India stands at the 135th spot out of

146 countries

. This is just

11 ranks ahead of Taliban-ruled Afghanistan,

where women aren't allowed to even attend schools. This is worrying given how India ranked at the 87th spot just 6 years ago (

2016

).
The WEF says that it could take nearly

200 years

for the

larger South Asian region

to close the existing gender gap.
While India's gender pay gap is

high

compared to international levels, there has been

notable progress

in reducing the disparity. On an average, women earned

48% less

than their male counterparts in

1993-94

. This gap had reduced to

28%

in

2018-19,

according to

National Sample Survey Office's labour force survey data.

However, decades of progress has been reversed by the

pandemic

situation. Preliminary estimates from the

Periodic Labour Force Survey 2020-21

shows a

7% increase in gender pay gap

between 2018-19 and 2020-21.
The data suggests that this widening of the gap was caused by a

faster decline in women's wages

rather than a faster increase in men's wages. Women enjoyed significantly lesser

pay hikes

and

bonuses

during the pandemic.
ILO's

Global Wage Report 2020-21

also attested to this rising disparity. It suggested that the pandemic had inflicted a

massive downward pressure on wages

– which

disproportionately affected women employees.
Why is the gap widening?
Individual characteristics

that contribute to the gender pay gap include education, experience and skills. However, a significant part of the gap can be attributed purely to

gender discrimination.

Gender based discriminatory practices

include:

Lower wages

paid for work of equal value

Undervaluation of work

in enterprises and occupations that are mainly women-dominated

Motherhood pay gap

Lower wages for mothers

compared to non-mothers

The pandemic has had a disproportionate effect on women employees in terms of

income

and job losses. This because of

Their

high representation in sectors

that were the

worst hit

by the pandemic
The

gendered division of family responsibilities

Child care
Care of the elderly (especially vulnerable to COViD-19), etc.
What steps have been taken?
Legislative measures

to tackle gender pay gap, especially at the

lower end of the wage spectrum:

Minimum Wages Act in 1948
Equal Remuneration Act in 1976
Code on Wages

MGNREGS has benefited women in

rural India

and contributed to reducing the pay gap-

Directly- by pay of

women workers participating

in the program
Indirectly- by MGNREGS-driven rapid increase in

overall rural and agricultural wages

, benefiting women engaged in agriculture

Maternity Benefit Act, 1961

, was amended in

2017

to

increase maternity leave

(with

pay protection)

from 12 weeks to

26 weeks

for women employed in establishments with 10 or more workers. This is benefiting mothers in

median and high-end wage categories

of the formal sector.

Market relevant skills

are being imparted to women via

Skill India Mission.

UN SDG 8

talks about achieving "full and productive employment and decent work for all women and men, including for young people and persons with disabilities and equal pay for work of equal value" by

2030

. In line with this,

EPIC/ Equal Pay International Coalition

, a multi-stakeholder initiative involving ILO, OECD and UN Women, was launched in

2017

.
The

CEDAW

(Convention on the Elimination of All Forms of Discrimination against Women) gives an

international legal framework

for addressing

gender discrimination

and realizing

gender equality.
What needs to be done?
To achieve productive and equitable economic growth, a

human-centric recovery plan

is needed.

Reducing gender pay gap

and

improving women's employment outcomes

would help here.
At the current rate, it would take

over 70 years

to close the gender pay gap. To prevent the widening and eventually, the closing of the gender pay gap,

accelerated and bold action

is needed.
Some steps that could help close the gap include:

Hiring more women in different posts

Creating career enables

to help retain women in the workforce

Periodic gender-based review

of pay data to check for disparity

Checking for conscious and unconscious biases

, especially at the higher levels of work hierarchy

In addition to these measures,

global collective commitment

is needed to achieve the

'equal pay for work of equal value' principle

, enshrined in ILO's Constitution.
Conclusion:
To close the gender pay gap, the 'equal pay for equal work' principle must be kept at the core. Closing the gap is vital in achieving social justice for women and economic growth for the country.
Practice Question for Mains:
Discuss the factors contributing to the gender pay gap in India. What are the efforts taken to address it and what more needs to be done? (250 words)