Government e-Marketplace (GeM) – Need, Structure, Benefits, Challenges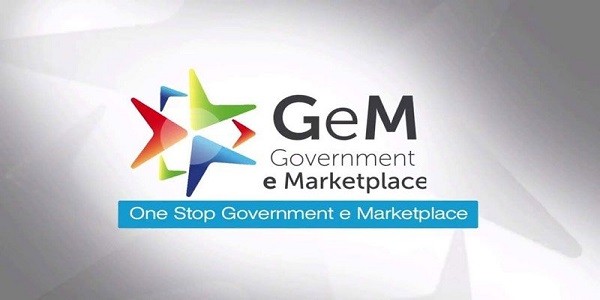 Government e-Marketplace (GeM), launched in August 2016 by the commerce Ministry is a one-stop portal to facilitate online procurement of Goods & Services which are in common use by various Government Departments / Organizations / PSUs. Its objective is to create an open and transparent procurement platform for government departments.
In the recent Union Budget, the Finance Minister informed that the GeM has clocked the transaction of Rs 40,000 crore. The minister in her 2020-21 Budget speech said that the government aspires to increase the turnover of the GeM portal to Rs 3 lakh crore.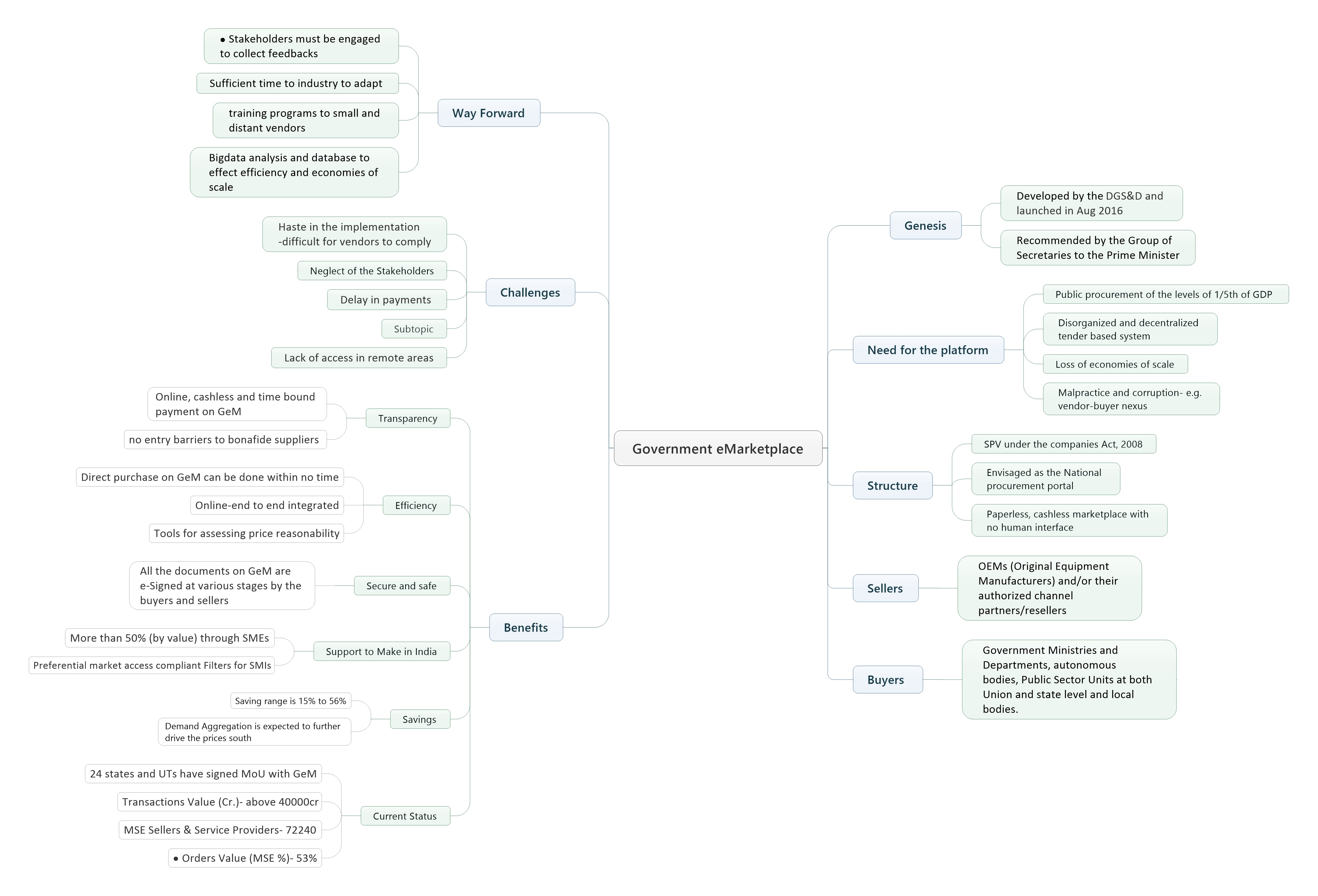 Mindmap Learning Programme (MLP)
Absorb information like a sponge!
Why such a platform was needed?
Public procurement amounts to nearly one-fifth of our nation's GDP and therefore an efficiently run public procurement process is critical to our nation's economy
The government bodies used to procure goods and services based on fixed-rate contracts and tenders making it heavily disorganised.
On account of a very decentralized procurement in small quantities, economies of scale were not achieved.
Small suppliers needed intermediaries to reach distant buyers raising the costs.
Also because of a large number of small vendors, it was difficult to track all of them which often resulted in delays, malpractices, and corruption like supplier-buyer nexus, monopolization of tenders, etc.
It was formed on the recommendations of two Groups of Secretaries made to the Prime Minister in January 2016. It was developed by the DGS&D with technical support of the National eGovernance division (MeitY) for the procurement of both Products & Services.
What is the structure of GeM?
Special Purpose Vehicle under Section 8 (Non-Profit) of the Companies Act, 2013– As a Private Limited Company under the Ministry of Commerce
Envisaged as the National procurement portal of India.
Paperless, cashless and digitally driven marketplace with minimum human interface.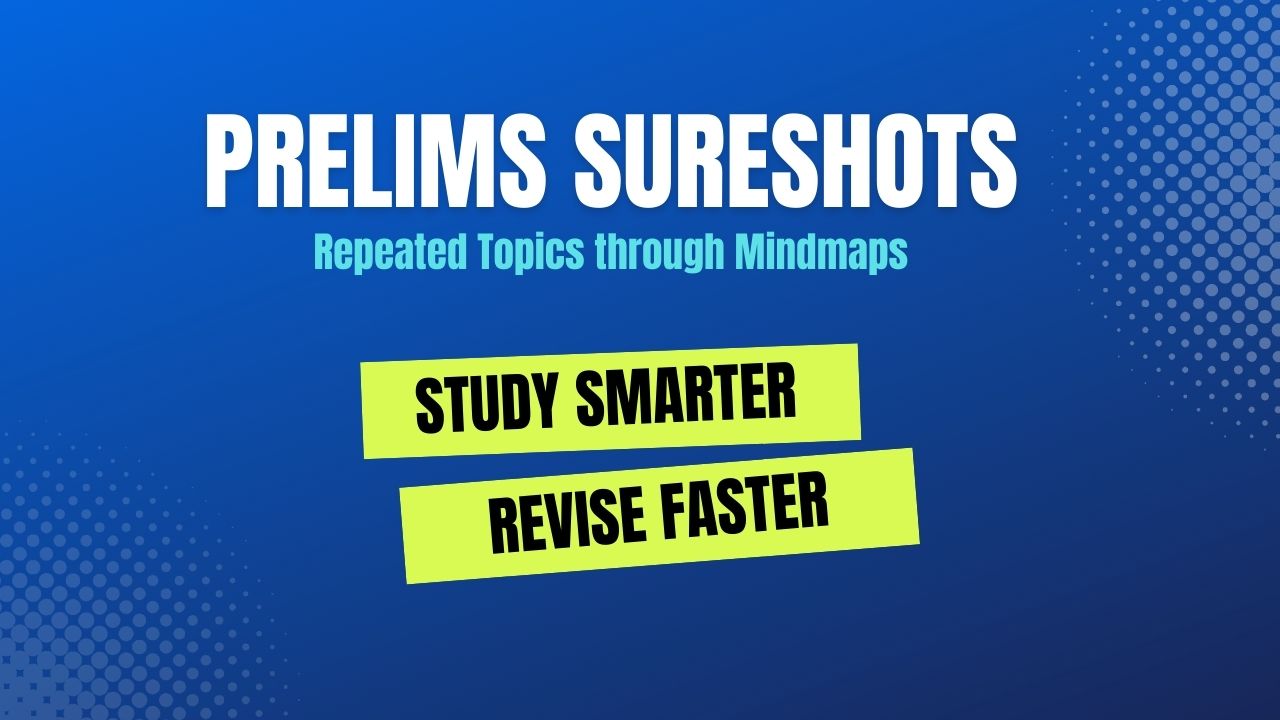 Who can buy/purchase through GeM?
Government Ministries and Departments, autonomous bodies, Public Sector Units at both Union and state level and local bodies.
Who can sell through GeM?
OEMs (Original Equipment Manufacturers) and/or their authorized channel partners/resellers
What are the benefits of GeM?
Online, cashless and time-bound payment on GeM is facilitated through integration with PFMS and State Bank Multi Option System (SBMOPS).
There are no entry barriers to bonafide suppliers who wish to do business with the Government.
Direct purchase on GeM can be done within no time.
Online-end to end integrated.
Tools for assessing price reasonability.
A completely secure platform Where all the documents on GeM are e-Signed at various stages by the buyers and sellers.
A better system than the need-based search of the past which relied more on financial instruments (EMD in case of tenders for large procurements only) to guarantee good conduct by the suppliers.
More than 50% (by value) of the vendors come from small and medium scale industries.
Preferential market access compliant Filters for selecting goods makes it easy to buy Make in India
Savings to the Government
A substantial reduction in prices on account of transparency, efficiency and ease of operation on GeM.
The average prices on GeM are lower in the range of 15-56% currently.
OECD countries like the USA, South Korea, UK, Singapore have a single National procurement portal that saves billions of dollars annually in public procurement.
What is the current status?
24 states and UTs have signed MoU with GeM
SAIL became the first PSU to enter into MoU last year
Transactions Value (Cr.)- above 40000cr
MSE Sellers & Service Providers- 72240
Orders Value (MSE %)- 53%
What are the challenges with GeM?
Haste in the implementation of the GeM made it go through multiple versions like GeM 2.0, GeM 3.0 making it difficult for vendors to comply.
According to the Manufacturers' Association for Information Technology (MAIT), the entire focus of the GeM has been on implementation rather than incorporating the views of stakeholders.
The question of resistance to change by various stakeholders was also not addressed while up-gradation and the renewal of rate contracts were stopped arbitrarily.
delay in payments which are to be made by the government departments.
Lack of access in remote areas where the order is small and there are delivery issues.
Issues of counterfeits- as there are instances of fake product delivery.
Way forward
Stakeholders must be engaged to collect feedbacks
Sufficient time should be given to the industry to adapt to the changes
Sufficient training programmes should be conducted to empower small and distant vendors to integrate them into the system.
Issues of counterfeit material supply must be strictly dealt with to enhance the reliability and trust in the system.
Growth in digital capacity must be leveraged to create a Bigdata analysis and database to effect efficiency and economies of scale
The global public procurement economy is estimated at $10 trillion. In India, a country with huge government machinery at the center and state level and equally huge public sector, public procurement constitutes more than one-fifth of GDP. At the same time, it poses a challenge to keep the procurement streamlined, transparent and efficient.  The genesis of the Government eMarketplace (GeM) initiative is thus driven by the need to deliver a step-change in the public procurement process in the country and usher in an era of eGovernance by leveraging the power of digital.
Test Yourself
What is the need for the Government eMarketplace (GeM) initiative? Discuss the challenges associated with it. (250 words).