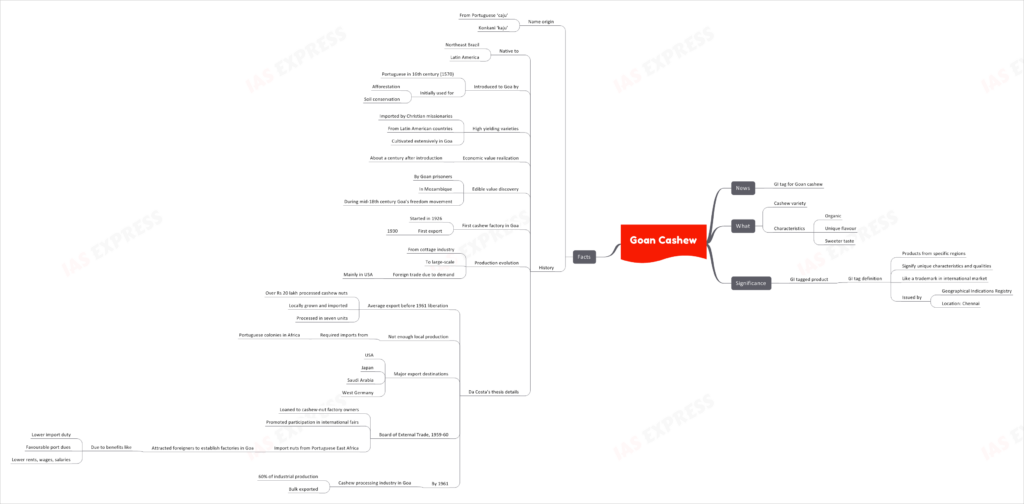 In recent news, Goan cashew has been granted a Geographical Indication (GI) tag, recognizing its unique characteristics and qualities.
The Goan Cashew Variety
Characteristics
Goan cashew is known for its organic cultivation.
It boasts a unique flavor that sets it apart in the world of cashews.
Its sweeter taste adds to its appeal, making it a sought-after variety.
The Significance of the GI Tag
GI Tag Definition
The GI tag signifies products from specific regions that possess unique characteristics and qualities.
It serves as a trademark in the international market, protecting the product's identity.
The GI tag for Goan cashew was issued by the Geographical Indications Registry located in Chennai.
Fascinating Facts
Name Origin
The term "cashew" has its origins in the Portuguese word 'caju' and the Konkani word 'kaju.'
Historical Roots
Cashew trees are native to Northeast Brazil and Latin America.
The Portuguese introduced cashew to Goa in the 16th century, around 1570.
Initially, it was used for afforestation and soil conservation.
Economic Value Realization
It took about a century after its introduction for cashew to gain economic significance in Goa.
Edible Value Discovery
Goan prisoners in Mozambique during the mid-18th century played a role in discovering the edible value of cashew. copyright©iasexpress.net
This discovery coincided with Goa's freedom movement.
The First Cashew Factory in Goa
The first cashew factory in Goa was established in 1926, and the first export of cashews occurred in 1930.
Evolution of Production
Cashew processing in Goa transitioned from a cottage industry to large-scale production.
The increasing foreign demand, primarily from the USA, fueled this growth.
Da Costa's Thesis Details
Before Goa's liberation in 1961, cashew processing was a significant industry.
Over Rs 20 lakh worth of processed cashew nuts were exported, a mix of locally grown and imported nuts.
Major export destinations included the USA, Japan, Saudi Arabia, and West Germany.
The Board of External Trade in 1959-60 supported cashew-nut factory owners, promoting participation in international fairs.
Imports from Portuguese East Africa attracted foreigners to establish factories in Goa due to benefits like lower import duty, favorable port dues, and lower rents and wages.
Goa's Cashew Processing Dominance
By 1961, the cashew processing industry in Goa accounted for 60% of industrial production, with the majority of the product being exported.