[In-depth] Flash Floods in India – Causes, Effects, Prevention, Management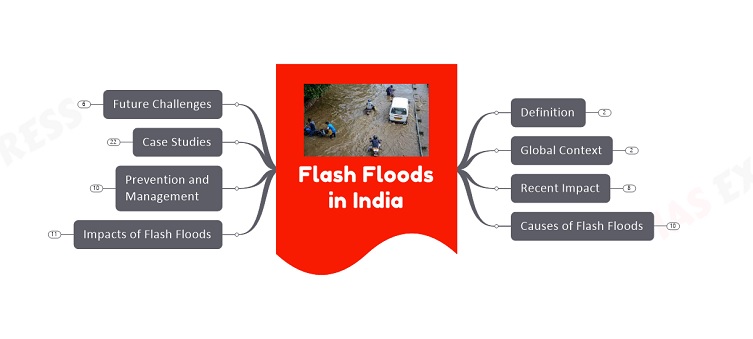 Introduction
Flash floods are sudden, intense floods that occur in a short period of time, often due to heavy rainfall, cloudbursts, overflowing glacial lakes, or dam breaches.
India is the second-worst flood-affected country in the world after Bangladesh, accounting for one-fifth of the global death count due to floods.
Recent news reports indicate flash floods have affected both India and Pakistan.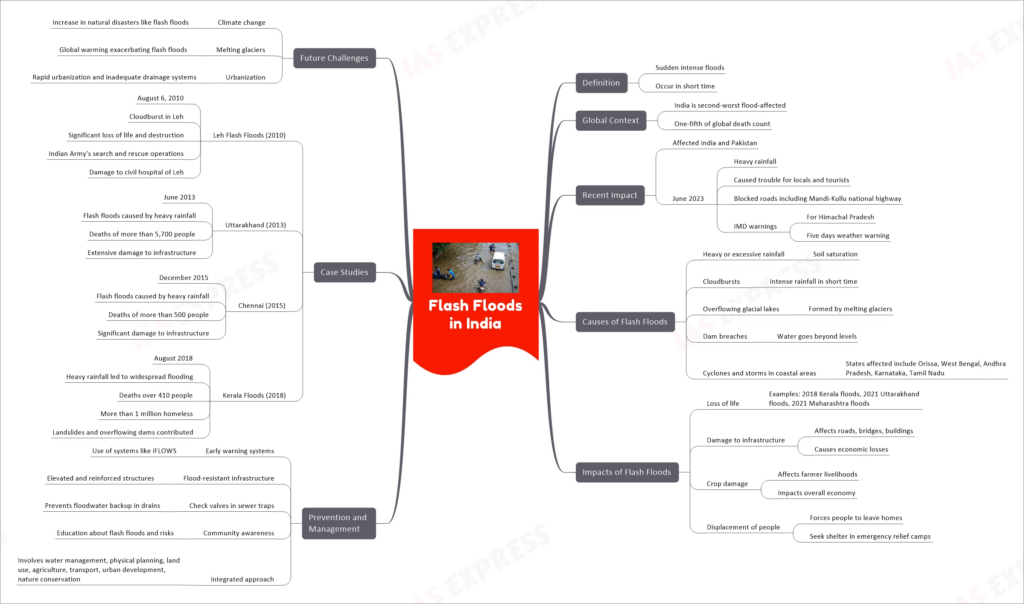 Recent Flash Floods in India and Pakistan
In June 2023, heavy rainfall and flash floods affected various parts of India and Pakistan. In India, incessant rain in several districts of Himachal Pradesh caused trouble for locals and tourists due to blocked roads, including the Mandi-Kullu national highway. The India Meteorological Department (IMD) issued a flash flood warning for Himachal Pradesh, along with a weather warning for the next five days.
Causes of Flash Floods
Heavy or excessive rainfall:

When the soil is saturated and unable to absorb more water, flash floods can occur.

Cloudbursts:

Sudden, intense rainfall in a short period of time, often associated with flash floods in India.

Overflowing glacial lakes:

Melting glaciers form glacial lakes, which can overflow and cause flash floods, especially in Himalayan states.

Dam breaches:

When water goes beyond the levels of a dam, it can cause flash floods. copyright©iasexpress.net

Cyclones and storms in coastal areas:

These can lead to flash floods in states like Orissa, West Bengal, Andhra Pradesh, Karnataka, and Tamil Nadu.
Impacts of Flash Floods
Loss of life:

Flash floods can cause significant loss of life, as seen in various incidents across India, such as the 2018 Kerala floods, 2021 Uttarakhand floods, and 2021 Maharashtra floods.

Damage to infrastructure:

Flash floods can damage roads, bridges, and buildings, disrupting normal life and causing economic losses.

Crop damage:

Floods can lead to significant losses in agriculture, affecting the livelihoods of farmers and the overall economy.

Displacement of people:

Flash floods can force people to leave their homes and seek shelter in emergency relief camps.
Prevention and Management
Early warning systems:

Implementing early warning systems like iFLOWS can help provide timely information about potential flash floods, allowing people to take necessary precautions.

Flood-resistant infrastructure:

Building elevated and reinforced structures in flood-prone areas can help minimize damage.

Check valves in sewer traps:

Installing check valves can prevent floodwater from backing up into drains.

Community awareness:

Educating communities about flash floods and their risks can help people prepare and respond effectively.

Integrated approach:

Managing floods requires a holistic approach, considering water management, physical planning, land use, agriculture, transport, urban development, and nature conservation. copyright©iasexpress.net
Case Studies
Leh (Ladakh) Flash Floods (2010):

On August 6, 2010, flash floods caused by a cloudburst in Leh led to significant loss of life and destruction. The Indian Army launched search and rescue operations, and the civil hospital of Leh was damaged and rendered dysfunctional.

Uttarakhand, 2013:

In June 2013, flash floods caused by heavy rainfall led to the deaths of more than 5,700 people and extensive damage to infrastructure in the Indian state of Uttarakhand.

Chennai, 2015:

In December 2015, flash floods caused by heavy rainfall led to the deaths of more than 500 people and significant damage to infrastructure in the Indian city of Chennai.

Kerala Floods (2018):

In August 2018, heavy rainfall led to widespread flooding in Kerala, killing over 410 people and leaving more than 1 million homeless. Landslides and overflowing dams contributed to the disaster.
Future Challenges
Climate change:

The occurrence of natural disasters like flash floods has increased in India, which can be attributed to climate change.

Melting glaciers:

Global warming and melting glaciers can exacerbate flash floods, especially in the Himalayan region.

Urbanization:

Rapid urbanization and inadequate drainage systems can increase the risk of flash floods in urban areas.
In conclusion, flash floods are a significant concern in India, causing loss of life, damage to infrastructure, and economic losses. Effective prevention and management strategies, including early warning systems, flood-resistant infrastructure, community awareness, and an integrated approach to flood management, can help mitigate the impacts of flash floods and protect vulnerable communities. copyright©iasexpress.net
Learn More