[Mindmap] Economic Survey 2019-20: Read/Revise Faster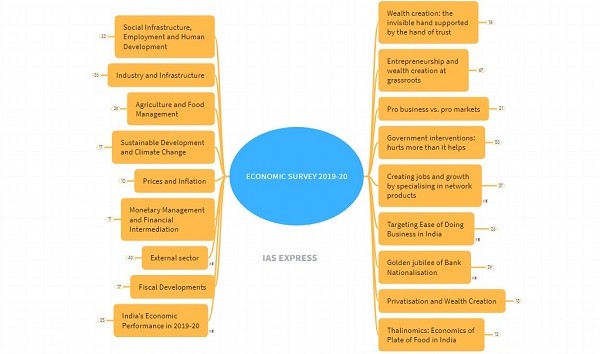 Economic Survey is an annual exercise of the finance ministry and prepared by the chief economic adviser. It comes one day prior to the general budget announcement in the parliament. As this document is prepared by the government and its different agents =  It has paramount importance for any government examination and particularly civil services.
Why read economic survey?
Each year 8-10 questions directly come from the economic survey. The exactness is so striking that even word by word matching is present.
For the Mains GS-3, the current part of the syllabus regarding economic and social developments can be prepared from the survey.
It holds very crucial and relevant data that can be directly quoted in the GS papers, essay and even in some humanities optional.
It provides a big picture of different sectors, segments, regions and their contribution to the GDP.
It helps in learning the macro parameters of the economies and get a government perspective on conflicting issues.
It also mentions challenges to the economy in the short term as well as the long term.
Furthermore, it provides some recommendations which should be noted and prepared well for the similar "issue-based questions" in mains.
For Example, Economic Survey 2016-17 has extensively talked about NPAs (non-performing assets) problem and provided some solution by analyzing similar problems across the other economies in a different point of time. Such points are valuable fodder for the exam.
Why IAS EXPRESS mindmap?
Economic survey is pretty detailed = you won't have the time to extract all important points, noting it down and remember it in the exam.
But in our mindmap, every point is neatly organised with relevant links to Static Mindmaps & Current articles for getting a big picture.
Economic terms in the survey are clearly explained = you don't have to google or refer NCERT/Ramesh Singh for such terms.
Our Mindmap is interactive = you won't get bored + you can also search for topics in the mindmap.
Overall, by reading this mindmap, you will be able to better understand/revise/remember the economic survey and answer accurately in the exam.
Go to the Economy Mindmap page and look for Economic Survey 2019-20 (only for members).
Learn More