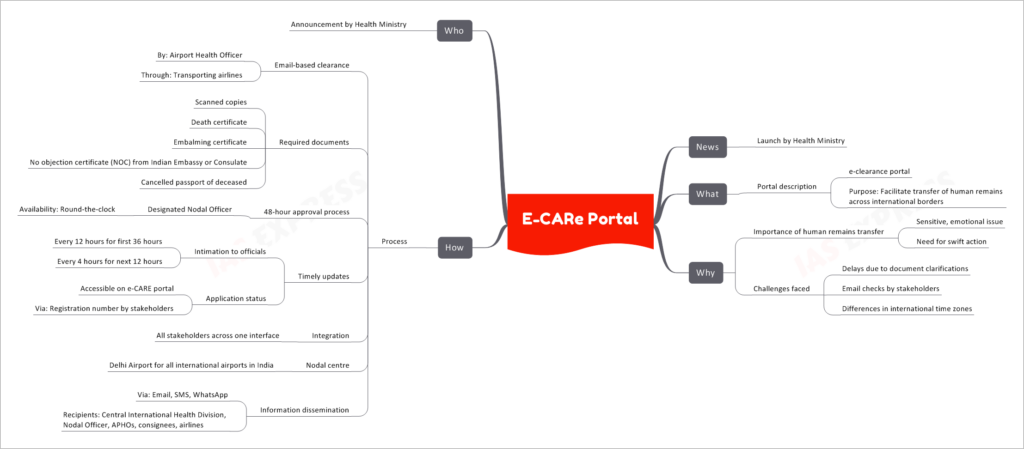 The Health Ministry of India has recently launched the e-CARe portal, a significant step to facilitate the transfer of human remains across international borders. This e-clearance portal aims to address the sensitive and emotional issue of repatriating deceased individuals promptly, streamlining the process and ensuring swift action.
Why the e-CARe Portal is Essential
Transferring human remains across international borders is a critical and sensitive matter. There is a need for quick and efficient procedures to alleviate the emotional burden on grieving families and ensure that the repatriation process proceeds without unnecessary delays.
Challenges Faced in the Past
In the absence of a dedicated portal like e-CARe, the process of repatriation faced several challenges:
Delays due to Document Clarifications: Verifying and validating the required documents for repatriation often led to unnecessary delays.
Differences in International Time Zones: Coordinating with officials and airlines across different time zones sometimes caused unavoidable delays.
How the e-CARe Portal Works
The e-CARe portal streamlines the repatriation process by offering an email-based clearance system through the following steps:
1. Email-based Clearance
Airport Health Officers (APHOs) use the e-CARe portal to initiate the clearance process through the transporting airlines.
2. Required Documents
The stakeholders are required to submit scanned copies of specific documents, including the death certificate, embalming certificate, no objection certificate (NOC) from the Indian Embassy or Consulate, and the cancelled passport of the deceased. copyright©iasexpress.net
3. 48-Hour Approval Process
A designated Nodal Officer, available round-the-clock, ensures a quick 48-hour approval process for the repatriation requests.
4. Timely Updates
To keep all parties informed, officials receive intimation every 12 hours for the first 36 hours and every 4 hours for the next 12 hours.
5. Application Status Accessibility
Stakeholders can track the application status through the e-CARe portal using the provided registration number.
6. Integration and Nodal Centre
The e-CARe portal brings together all stakeholders on one platform, ensuring seamless communication. The Delhi Airport serves as the nodal centre for all international airports in India.
7. Information Dissemination
The e-CARe portal disseminates information via email, SMS, and WhatsApp to various recipients, including the Central International Health Division, Nodal Officer, APHOs, consignees, and airlines.
Conclusion
The launch of the e-CARe portal by the Health Ministry marks a significant milestone in the process of repatriating human remains across international borders. By streamlining the clearance process and providing timely updates through a dedicated platform, the e-CARe portal aims to ease the burden on grieving families and ensure that the transfer of human remains is handled with sensitivity and efficiency. This initiative reflects the government's commitment to addressing the challenges faced in the past and ensuring a smoother and more compassionate repatriation process for all. copyright©iasexpress.net
Learn More