[Editorial] PM Vishwakarma Scheme- How can it Help our Artisans?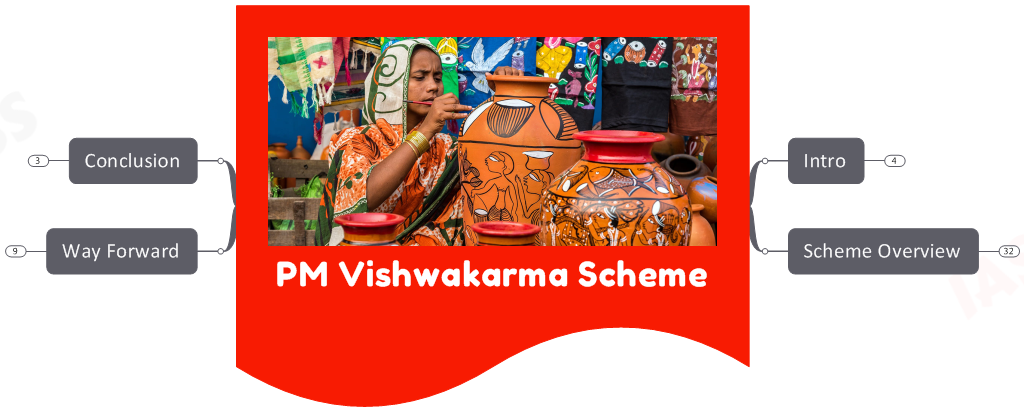 The Cabinet Committee on Economic Affairs recently approved the "PM Vishwakarma" Scheme, signifying a significant investment in nurturing India's traditional craftspeople and artisans. With a sizeable outlay and vast scope, the scheme is poised to revolutionize the socio-economic landscape of India's artisanal communities.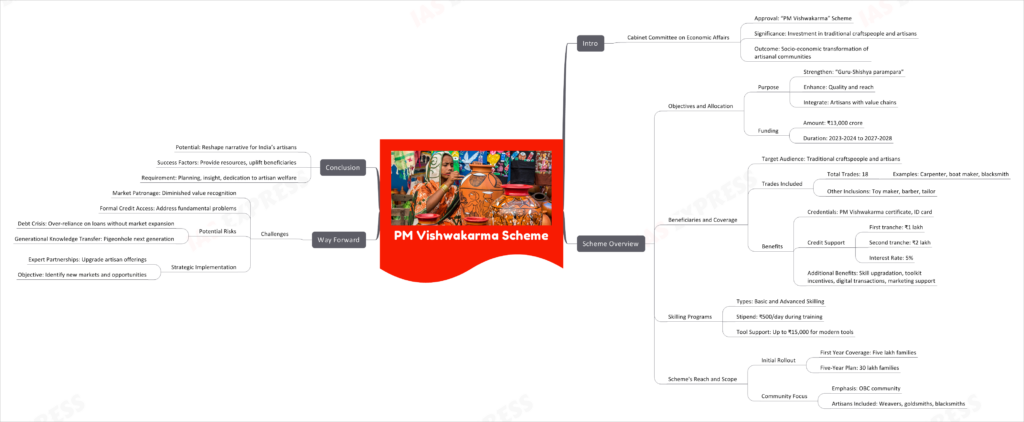 Scheme Overview
Objectives and Allocation
Purpose:

To strengthen the "Guru-Shishya parampara", emphasizing the intergenerational knowledge transmission.
Enhance the quality and reach of products/services of artisans and craftspeople.
Integration of artisans with domestic and global value chains.

Funding: ₹13,000 crore, slated for five financial years (2023-2024 to 2027-2028).
Beneficiaries and Coverage
Target Audience: Traditional craftspeople and artisans.
Trades Included:

Carpenter, boat maker, armourer, blacksmith, locksmith, and others (totaling 18 traditional trades).
Inclusion of traditional doll & toy maker, barber, tailor, and fishing net maker, among others.

Benefits:

PM Vishwakarma certificate and ID card.
Credit support: Up to ₹1 lakh (first tranche) and ₹2 lakh (second tranche) at a 5% interest rate.
Skill upgradation, toolkit incentives, incentives for digital transactions, and marketing support.
Skilling Programs
Two distinct types of programs:

Basic Skilling
Advanced Skilling

Stipend: ₹500/day for beneficiaries during skill training.
Support for Tool Purchase: Up to ₹15,000 for modern tools.
Scheme's Reach and Scope
Initial Rollout
First Year: Estimated coverage of five lakh families. copyright©iasexpress.net
Five-Year Plan: Aiming to reach 30 lakh families.
Community Focus
Special emphasis on individuals skilled in traditional craftsmanship, predominantly from the OBC community.
Artisans such as weavers, goldsmiths, blacksmiths, laundry workers, and barbers are included.
Way Forward
While the initiative is commendable, its success hinges on addressing underlying challenges:
Market Patronage: A significant challenge faced by artisans is the diminished patronage and skewed undervaluation. This lack of value recognition affects their economic viability.
Access to Formal Credit: The scheme should not only focus on providing credit but ensure that artisans' fundamental problems are addressed.
Potential Risks:

Over-reliance on loans without market expansion could deepen the debt crisis for families.
Emphasizing the intergenerational knowledge transfer may inadvertently pigeonhole the next generation into potentially low-income trades.

Strategic Implementation:

The government should partner with experts who can guide artisans in upgrading their offerings.
Identifying new markets and opportunities is pivotal for the scheme's success.
Conclusion
The PM Vishwakarma Scheme, with its massive outlay and noble intentions, stands to reshape the narrative for India's artisans. However, its success will be determined by its ability to not only provide resources but to genuinely uplift the beneficiaries, ensuring they are future-ready and self-reliant. This shift requires astute planning, keen insight, and unwavering dedication to the artisans' welfare. copyright©iasexpress.net
Practice Question for Mains
What are the major issues faced by traditional artisans in India? How can PM Vishwakarma Scheme help? (250 words)