Pradhan Mantri Jan Dhan Yojana (PMJDY): Critical Analysis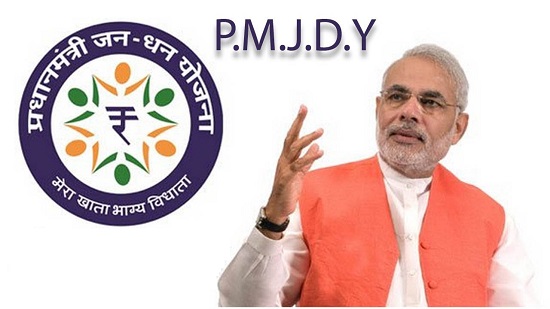 Pradhan Mantri Jan Dhan Yojana is a flagship financial inclusion scheme that was launched in August 2014 for four years. Due to its successful implementation in the past years, in 2018, the Central Government had decided to make the scheme open-ended to include more incentives to encourage all Indians to open bank accounts. Five years after its launch, this scheme has almost achieved a total balance of Rs.1 Lakh crore.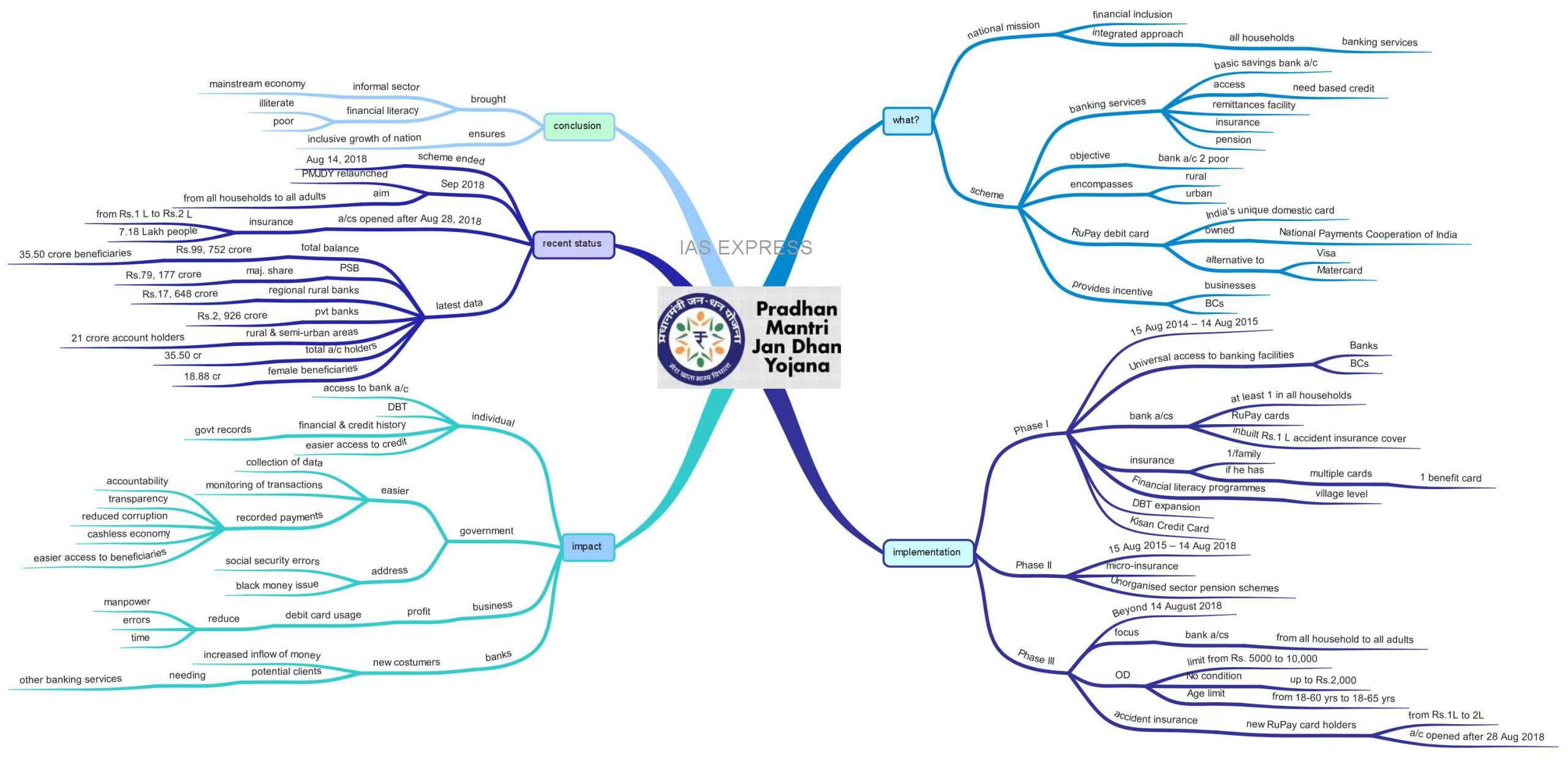 What is PMJDY?
Pradhan Mantri Jan Dhan Yojana is a National Mission on Financial Inclusion which has an integrated approach to bring about comprehensive financial inclusion and banking services to all households in the country.
The scheme ensures access to a range of financial services like availability of basic savings bank account, access to need-based credit, remittances facility, insurance, and pension.
The main objective of this scheme is to provide poor people with access to bank accounts.
It encompasses both urban and rural areas in India.
Under this scheme, all bank accounts will be linked to a debit card that is issued under the RuPay scheme. RuPay is India's unique domestic card network owned by the National Payments Cooperation of India.
These cards were created as an alternative to Visa and Mastercard.
Furthermore, this scheme not only provides financial inclusion to the poor but also gives incentives to businesses and banking correspondents who serve as a link for the last mile between savings account holders and the bank by fixing a minimum monthly remuneration of Rs.500.
How was this scheme implemented?
This scheme was implemented as follows:
Phase I – 15 August 2014 – 14 August 2015
Universal access to banking facilities for all households across the country through a bank branch or a fixed point of Business Correspondent (BC) within a reasonable distance.
Covered all households with at least one basic banking account with Ru-Pay Card with inbuilt Rs.1 Lakh accident insurance cover.
Life Insurance under this scheme is covered for one member per family and in case the individual possesses multiple cards/accounts, the benefit will be allowed only in one card.
Financial literacy programmes conducted at the village level
Expansion of Direct Benefit Transfer under various government schemes through bank accounts of the beneficiaries
Issuance of Kisan Credit Card
Phase II – 15 August 2015 – 14 August 2018
Providing micro-insurance to the people
Unorganised sector pension schemes like Swavalanban through Business Correspondents.
Phase III – Beyond 14 August 2018
In this phase, the mission focused on opening the bank accounts from "every household to every adult"
Existing Over Draft (OD) limit of Rs.5,000 was raised to Rs. 10,000
No condition will be attached for OD up to Rs.2,000
Age limit for availing OD facility was revised from 18-60 years to 18-65 years.
Under the expanded coverage from every household to every adult, accident insurance cover for new Ru-Pay cardholders was raised from Rs.1 Lakh to Rs.2 Lakh to new PMJDY that was opened after 28th of August 2018.
What is the impact of this scheme?
Individual:
This scheme ensures bank accounts for those who did not have it previously.
Direct Benefit Transfer
The individual will have a financial and credit history on the government records.
Easier access to loans from formal financial institutions instead of other modes that charge a high rate of interest.
Businesses:
The businesses can profit out of it as the increase in the use of debit cards can reduce:
Manpower
Time consumption
Risks during cash transactions.
Government:
Easier monitoring of transactions and collection of financial data.
Recorded payments can bring about transparency and accountability and reduction of corruption.
A step towards a cashless economy
Easier access to welfare scheme beneficiaries.
It can also address social security errors and the issue of black money.
Banks:
Banks, through this scheme, can get new costumers leading to an increased inflow of money.
An increase in customers may result in potential clients who require other banking services like access to loans.
Also, this scheme can promote differential banking, allowing the applicants to innovate without legacy constraints the older banks might face.
What is the recent status of the scheme?
In September 2018, the government had relaunched PMJDY as an open-ended scheme with higher insurance cover and double the OD facility.
The Union Cabinet had earlier decided to continue the scheme beyond the four-year period that ended on August 14, 2018, with an aim to take the formal banking system from every household to every adult.
As many as 20 Lakh people have joined the modified PMJDY that year. This has increased the total number of account holders in the flagship financial inclusion programme exponentially.
Under the revamped scheme, the accident insurance cover for new RuPay cardholders has been raised from Rs.1 Lakh to Rs.2 Lakh for PMJDY accounts opened after August 28, 2018.
The data also showed that nearly 7.18 Lakh people, who opened the PMJDY account after August 28, 2018, may have benefited from the increased accidental insurance cover of Rs.2 lakh.
According to the latest data, the total balance in the Jan Dhan basic bank accounts stood at Rs.99, 752 crores with 35.50 crore beneficiaries.
The Public Sector banks hold the majority of share with a total balance at Rs.79, 177 crores, followed by regional rural banks and private banks having Rs.17, 648 crores, and Rs.2, 926 crores respectively.
The scheme emphasises on the rural areas with special focus given to women.
Of the 35.50 crore account holders, those belonging to the rural and semi-urban regions are 21 crores. The female beneficiaries were 18.88 crores.
Conclusion:
PMJDY is a nationwide financial inclusion scheme that not only brought in the informal sector to the mainstream economy but also provided financial literacy to the poor and the illiterate in both urban and rural areas. This is a necessary scheme that ensures inclusive growth of the nation.
Learn More