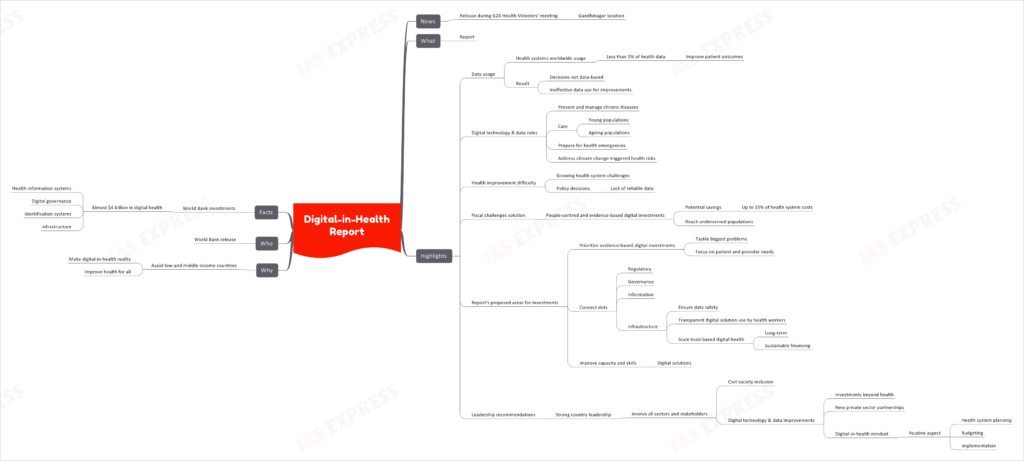 In a landmark announcement, the Digital-in-Health Report has emerged as a guiding light towards a revolutionary paradigm shift in global healthcare. Unveiled during the G20 Health Ministers' meeting in Gandhinagar, this report delves deep into the role of digital technologies and data in reshaping healthcare systems and improving patient outcomes.
Navigating the Report's Key Aspects
Data Utilization's Crucial Role
The report's highlights shed light on the underutilization of health data in systems worldwide. Shockingly, less than 5% of health data is leveraged effectively, leading to decisions that are not data-based and ineffective improvements in healthcare systems.
Digital Tech & Data's Multi-faceted Roles
The report underscores the potential of digital technology and data in various domains:
Preventing and Managing Chronic Diseases
Enhancing Care for Young and Ageing Populations
Preparedness for Health Emergencies
Addressing Health Risks Triggered by Climate Change
Navigating Health Improvement Challenges
The report addresses growing health system challenges and policy decisions hampered by a lack of reliable data. It unveils a solution in the form of people-centered, evidence-based digital investments that can potentially save up to 15% of health system costs.
Key Investment Areas
The report proposes strategic areas for investments:
Prioritizing Evidence-based Digital Investments to Tackle Major Issues copyright©iasexpress.net
Focusing on Patient and Provider Needs for Optimal Impact
Establishing Robust Regulatory, Governance, and Information Frameworks
Ensuring Transparent and Safe Use of Digital Solutions
Scaling Trust-based Digital Health for Long-term and Sustainable Financing
Enhancing Capacity and Skills for Effective Implementation of Digital Solutions
Leadership Recommendations
The report emphasizes strong country leadership and multi-sectoral involvement. It advocates for the inclusion of civil society, fostering new private sector partnerships, and cultivating a 'Digital-in-Health' mindset that permeates health system planning, budgeting, and implementation.
Understanding the Motive
Bridging the Gap for Low and Middle-income Countries
At its core, the Digital-in-Health Report aims to make 'digital-in-health' a reality, especially in low- and middle-income countries. By harnessing the potential of digital technologies, this report strives to elevate healthcare standards and improve health outcomes for all.
The Driving Force Behind the Report
World Bank's Role
The release of the Digital-in-Health Report is spearheaded by the World Bank. With a history of investments totaling nearly $4 billion in digital health initiatives, including health information systems, digital governance, identification systems, and infrastructure, the World Bank stands as a pivotal player in shaping the global healthcare landscape.
Unveiling Facts
Transformative World Bank Investments
The World Bank's contributions to digital health are substantial, amounting to almost $4 billion. These investments span diverse areas, encompassing health information systems, digital governance, identification systems, and the development of robust infrastructure. copyright©iasexpress.net
Learn More