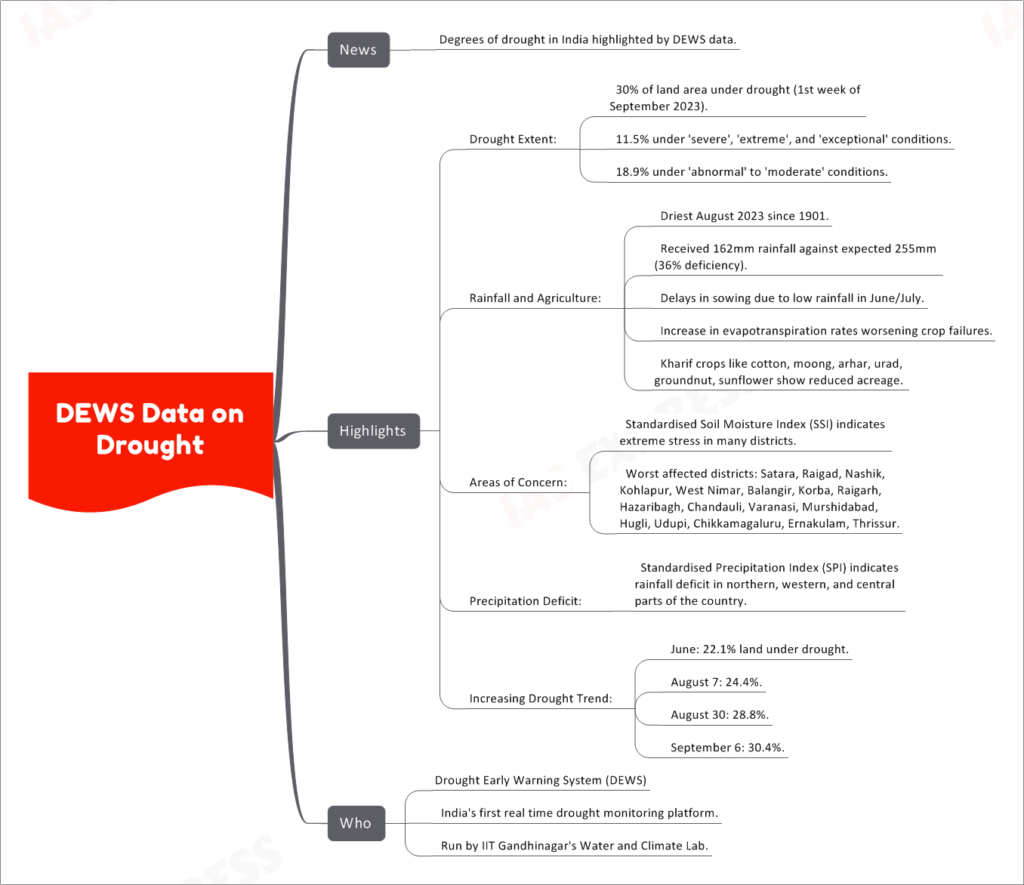 Degrees of Drought in India Highlighted by DEWS Data
Highlights
Drought Extent
30% of Land Area Under Drought (1st Week of September 2023): The DEWS data reveals that a significant portion of India, approximately 30% of its land area, is currently experiencing drought conditions.
Severity of Drought:

11.5% Under 'Severe', 'Extreme', and 'Exceptional' Conditions: A substantial portion of the affected land is facing severe to exceptional drought conditions.
18.9% Under 'Abnormal' to 'Moderate' Conditions: Additionally, nearly 19% of the affected areas are experiencing abnormal to moderate drought conditions.
Rainfall and Agriculture
Driest August 2023 Since 1901: August 2023 witnessed the lowest rainfall levels in over a century.
Rainfall Deficiency: The country received only 162mm of rainfall against the expected 255mm, marking a significant 36% rainfall deficiency.
Sowing Delays: The low rainfall in June and July caused delays in sowing, affecting crop growth.
Increase in Evapotranspiration Rates: The increased evapotranspiration rates further worsened crop failures.
Impact on Kharif Crops: Key Kharif crops such as cotton, moong, arhar, urad, groundnut, and sunflower have shown reduced acreage due to adverse conditions.
Areas of Concern
Standardised Soil Moisture Index (SSI): This index indicates extreme stress in many districts across the country.
Worst Affected Districts: Several districts are facing the brunt of the drought, including Satara, Raigad, Nashik, Kohlapur, West Nimar, Balangir, Korba, Raigarh, Hazaribagh, Chandauli, Varanasi, Murshidabad, Hugli, Udupi, Chikkamagaluru, Ernakulam, and Thrissur. copyright©iasexpress.net
Precipitation Deficit
Standardised Precipitation Index (SPI): The SPI highlights significant rainfall deficits in the northern, western, and central parts of India.
Increasing Drought Trend
June: In June, approximately 22.1% of the land was under drought conditions.
August 7: By August 7, this figure had increased to 24.4%.
August 30: On August 30, it further escalated to 28.8%.
September 6: As of September 6, an alarming 30.4% of the land is grappling with drought.
Who is Behind DEWS?
Drought Early Warning System (DEWS): DEWS is India's first real-time drought-monitoring platform.
Operated by IIT Gandhinagar's Water and Climate Lab: This vital system is run by the Water and Climate Lab at the Indian Institute of Technology (IIT) Gandhinagar.
The DEWS data serves as a critical tool for monitoring and addressing drought conditions in India. As the extent of drought continues to grow, it underscores the urgent need for effective water resource management, agricultural strategies, and measures to mitigate the impact on vulnerable communities.