Reading Time:
6
mins
Recently, a 5 judge bench of the Supreme Court (SC) chaired by the Chief Justice of India gave its verdict on the criminalisation of politics. In its verdict, the SC stated that the court cannot play the role of Parliament in dealing with the issue of criminal politics in India. In this article, you will learn everything about the criminalisation of politics viz- what, why, causes, consequences, measures, challenges, solutions, and also the verdict of SC.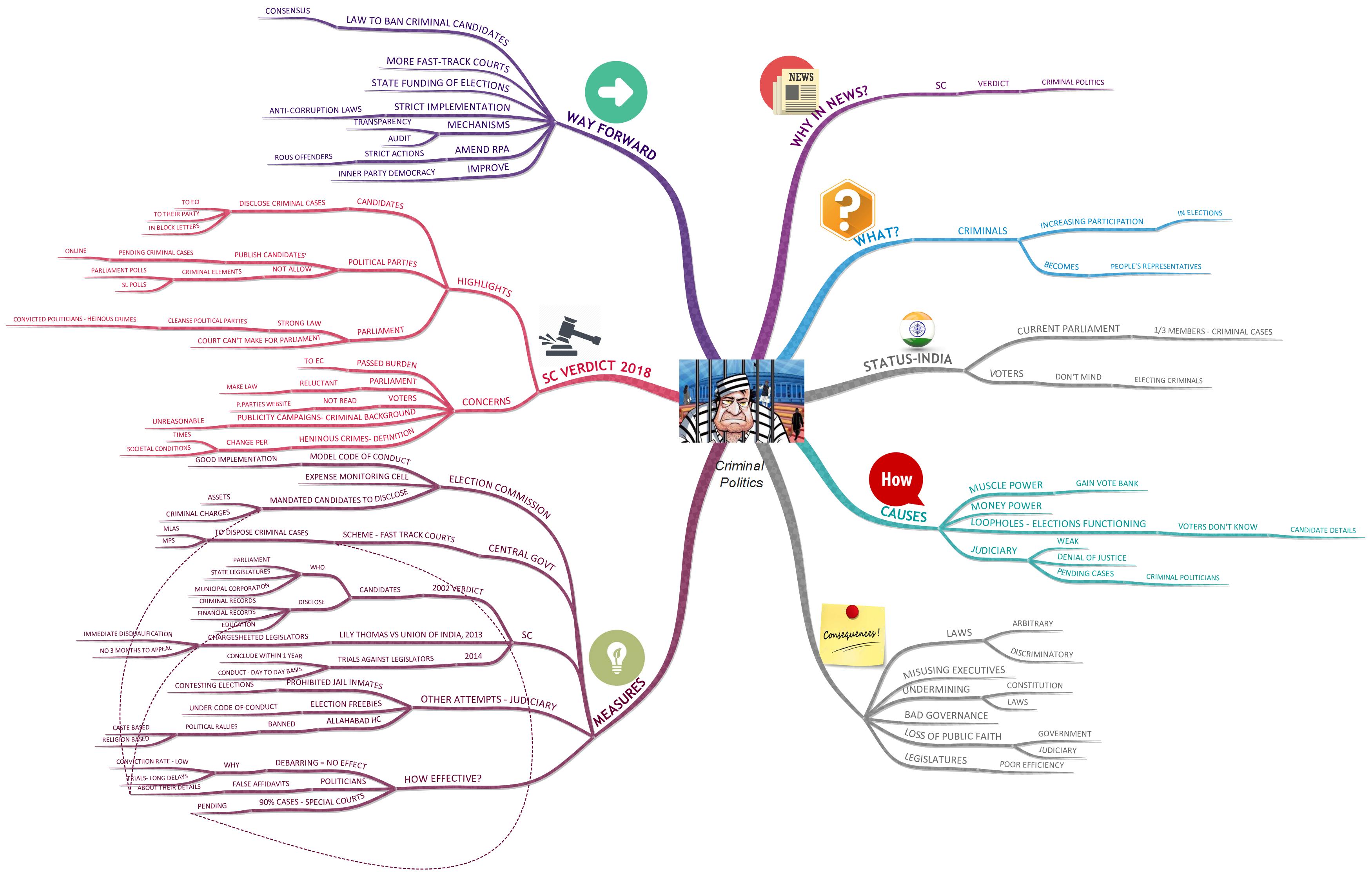 What is Criminalisation of Politics?
The criminalisation of politics refers to the increasing participation of criminals in the electoral process and selection of the same as elected representatives of the people.
What is the status of Criminal Politics in India?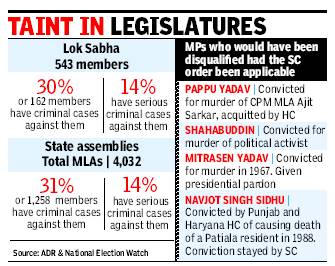 The criminalisation of politics is one of the primary concerns in India as many politicians facing charges of murder, corruption, abduction, and rape continue to be legislators.
Around 1/3rd members of the current parliament have criminal cases filed against them.
Data suggests that voters don't mind electing candidates facing criminal cases.
How Indian politics became criminalized?
Muscle power:
Muscle power has been ingrained into Indian politics for a very long time.
Many politicians are thriving today based on muscle power provided by criminals.
Such politicians chose muscle power in order to gain vote bank in the country.
Money Power:
It is a well-accepted fact that huge election costs are the major cause of corruption in India.
A candidate spends lakhs of rupees to get elected and even if he gets elected, the total salary he gets during his term as a legislator will be meager compared to his election expenses.
However, criminal activities help in generating a huge amount of money to fund the elections.
Loopholes in the functioning of elections:
The voters are generally not aware of the history of the candidate, qualification, and cases pending against him.
Weak Judicial System & Denial of Justice:
A huge pile of cases is pending in District courts, High Courts and Supreme Court against these criminal cum politicians.
Why criminal politics is a grave concern?
It reveals the low ethical and moral values of our legislators which leads to the enactment of arbitrary and discriminatory laws.
Misusing executives for personal gains and undermine the law of the land.
The quality of candidates contesting elections is important for better governance.
Loss of public faith in the government as well as judiciary since courts failed to contain it.
It affects the efficiency of legislatures leading to poor governance.
What are the measures taken?
The Supreme Court and Election Commission of India (ECI) have taken some commendable measures to reform the electoral process as follows.
ECI's reforms
ECI has achieved substantial success in controlling the role of muscle power via measures like the effective implementation of the model code of conduct and also established the Expense Monitoring Cell.
Mandatory declaration of assets and existing criminal charges in self-sworn affidavits to the ECI prior to elections has brought in some transparency.
The Supreme Court's verdicts
SC in a 2002 verdict declared that every candidate contesting an election to Parliament, State Legislatures or Municipal Corporation has to declare the following along with the application for candidature.

Criminal records
Financial records
Educational qualifications
If the candidate fails to file any of the above three declarations, the Returning Officer will have the right to reject his nomination papers. SC ruled that all the three declarations will have to be truthful.
SC in (Lily Thomas Vs Union of India 2013) declared that upon conviction, chargesheeted MPs and MLAs would be disqualified with immediate effect from holding membership of the house, without being given 3 months to appeal.
SC in 2014 accepted the Law Commission recommendations and passed an order directing that trials against sitting MPs and MLAs should be concluded within a year of charges being framed and conducted on a day-to-day basis.
Some other attempts by the judiciary: prohibiting those in jail from contesting elections, directing the EC to bring the issue of election-related freebies under the ambit of the Code of Conduct, the Allahabad High Court banning caste and religion-based political rallies.
Recent SC verdict: The judgement was given over the much-awaited pronouncement on the petitions asking it to prohibit politicians facing the heinous criminal charges against rape, murder and kidnapping from contesting elections.
Centre's measures
In 2017, the Union government started a scheme to establish 12 special courts for a year to fast-track the trial of criminal cases against 1,581 MPs and MLAs.
How effective were those measures?
Debarring of politicians has no effect since rates of conviction are too low and trials themselves are subject to long delays as showcased by a recent Law Commission report.
Many politicians are filing false affidavits about their annual income, wealth details.
About 90% of cases transferred to the special courts set up under Centre's scheme are pending as of now.
What are the key features of the recent SC verdict on Criminal Politics?
Political Parties
SC's Observation – The rapid criminalisation of politics cannot be solved through mere disqualification of criminal legislators. Cleaning politics from criminal elements starts only by means of purifying political parties itself. Since political parties are the major institution of Indian democracy, they play an important role in the interface between private citizens and the government. They act as a medium through which interests and problems of the people are showcased in Parliament.
SC's verdict – The Supreme Court ordered the political parties to publish the pending criminal cases of their candidates online.
Parliament
It asked the Parliament to create a strong law in order to cleanse political parties of leaders facing trial for serious crimes.
Such a law should make it mandatory for political parties to remove leaders accused of "heinous and grievous" crimes.
Parties must reject ticket to criminal elements in both parliamentary and Assembly polls.
The Bench also made it clear that the court cannot make law for Parliament by providing disqualification to prohibit such candidates from contesting elections.
Candidates
SC declared that the candidates should disclose their criminal cases against them to the Election Commission in BLOCK LETTERS as well as to their respective political parties.
The parties, in turn, should publish the full details of their candidate on their websites for public view.
What are the concerns with the judgement?
The SC has passed the burden to the ECI, although the ECI has been asking for the apex court's aid for the past two decades.
Parliament is required to make a law on the matter as per Article 101 (1) of the constitution, however, Parliament regardless of who is in power has always been reluctant to legislate on the issue.
The bench pronounced that it is not in a position to enable disqualification of candidates who face criminal charges thus withdrawing from its responsibility to solve the issue.
Voters do not generally read the websites of political parties.
The recommendation regarding the publicity campaigns about the criminal background of candidates by political parties sounds unreasonable.
The definition of heinous crimes may change as per times and societal conditions.
What more could be done?
A law to prohibit candidates who are charged for heinous crimes will need a broad consensus across the party lines.
More fast-track courts to try the cases dealing with serious charges against the candidates.
State funding of elections:

To reduce money power,
To create the level playing field,
To enable public-spirited people to contest elections thereby ensuring equality of opportunities,
To break the political-corporate nexus thereby ending rent-seeking and crony capitalism.
To change the election's focus towards people's problems rather on raising funds through illegitimate means, i.e., focus on development politics.

Stricter implementation of anti-corruption laws.
Transparency and audit mechanisms.
Representation of Peoples Act (RPA) needs to be amended and there should be stricter actions against serious offenders.
Election Commission should be given more power to deal with corruption cases.
Inner party democracy needs to be improved.
Way ahead
Supreme Court has done its part in decriminalising the Indian politics. But SC or Election Commission cannot decriminalize the politics single-handed since they require support from Legislation too. Hence it is in the hands of the Parliament to frame a law that decriminalizes Indian politics effectively.
In the words of Dr. Rajendra Prasad, "A constitution like a machine is a lifeless thing. It acquires life because of the men who control it and operate it". Therefore good and quality politicians are needed for India to become a vibrant democracy through good governance.
Practice Question:
Criminalization of politics is a disease that poses a grave threat to our democracy if left unchecked. Discuss the initiatives taken to check criminal politics and examine the effectiveness of those initiatives.
How useful was this post?
Click on a star to rate it!
Average rating 4.7 / 5. Vote count: 20
We are sorry that this post was not useful for you!
Let us improve this post!
Thanks for your feedback!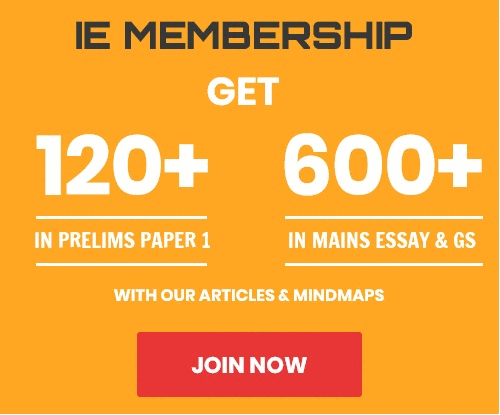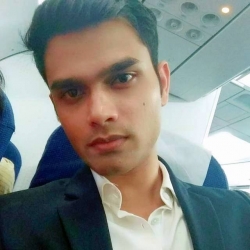 Santhosh is the founder of IAS EXPRESS. He is on a mission to make learning easier and fun for civil service aspirants through an innovative approach and help them achieve their dream. Life Motto: "You'll never know what you are capable of until you try".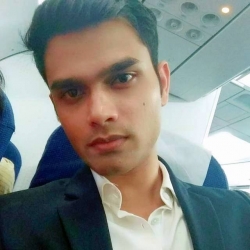 Latest posts by Santhosh Kumar (see all)