Budget 2022-23 Highlights (With Mind Map Notes)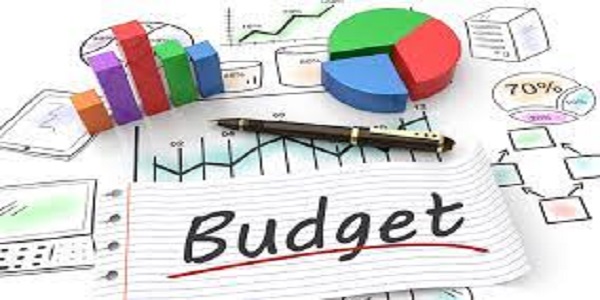 The Union Finance Minister presented the Union Budget 2022-23 on 1st February 2022. The Budget seems to be an effort to promote the digital economy, the fintech sector and technology-enabled development in India. It also made various promises on boosting investment and providing impetus to overall development in the country.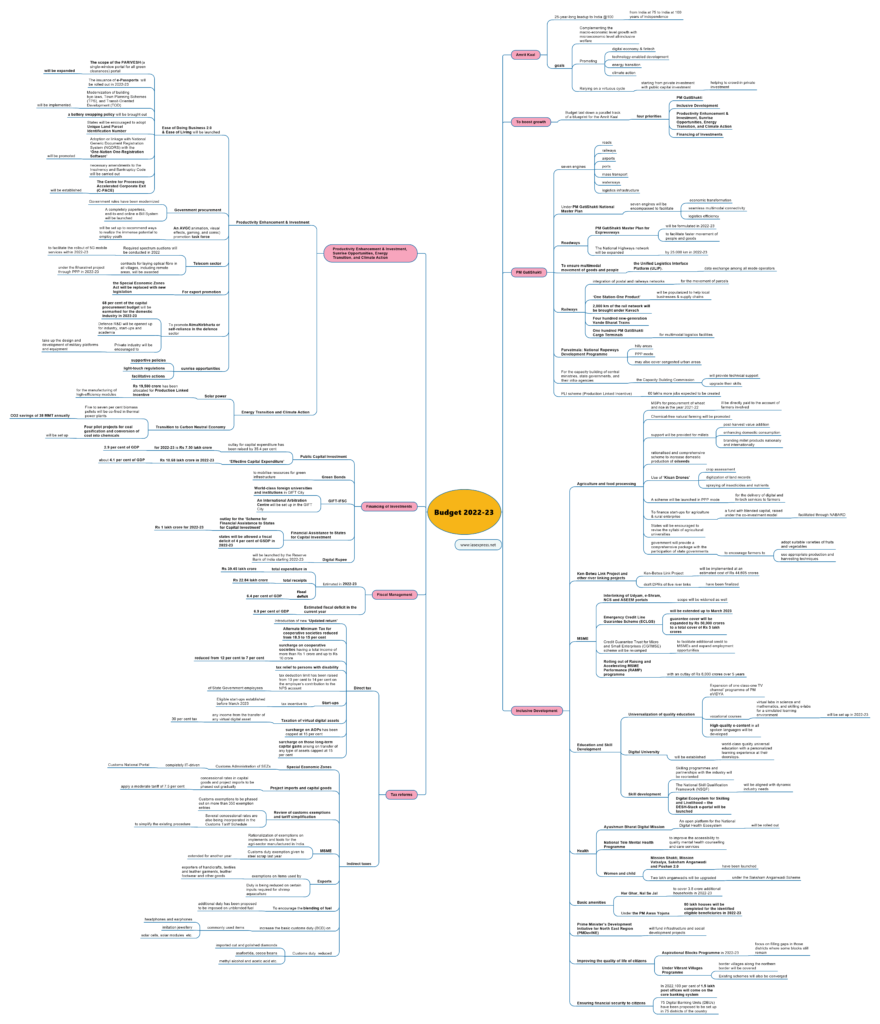 Mindmap Learning Programme (MLP)
Absorb information like a sponge!
About
As per Article 112 of the Indian Constitution, the Union Budget of a year, also referred to as the Annual Financial Statement is a statement of the estimated receipts and expenditure of the government for that particular year.
The Budget is presented through 14 documents, some of which are mandated by the Constitution of India, while others are explanatory documents.
Why Budget?
In India, the first time a budget was introduced was in 1860 by the then finance minister James Wilson, two years after the transfer of Indian administration from the East India Company to the British Crown.
After Independence, the Constitution of India through its various provisions made it mandatory for the Government in power to present its plan of estimated receipts and expenditure so that parliamentary control over the finances of the country is exercised.

This was done to ensure legislative prerogative over taxation and legislative control over expenditure.

However, the term Budget is not specifically mentioned in the Constitution.
It is Article 112 of the Indian Constitution that provides for laying before Parliament an 'Annual Financial Statement' that will provide a statement of the estimated receipts and expenditure for the financial year.

Thus, the preparation of the Budget for the approval of the legislature is a Constitutional obligation.

Upon the President's recommendation, obtained under Article 117(1) and 117(3) for introduction and consideration of the Budget, it is laid before the Lok Sabha by the finance minister.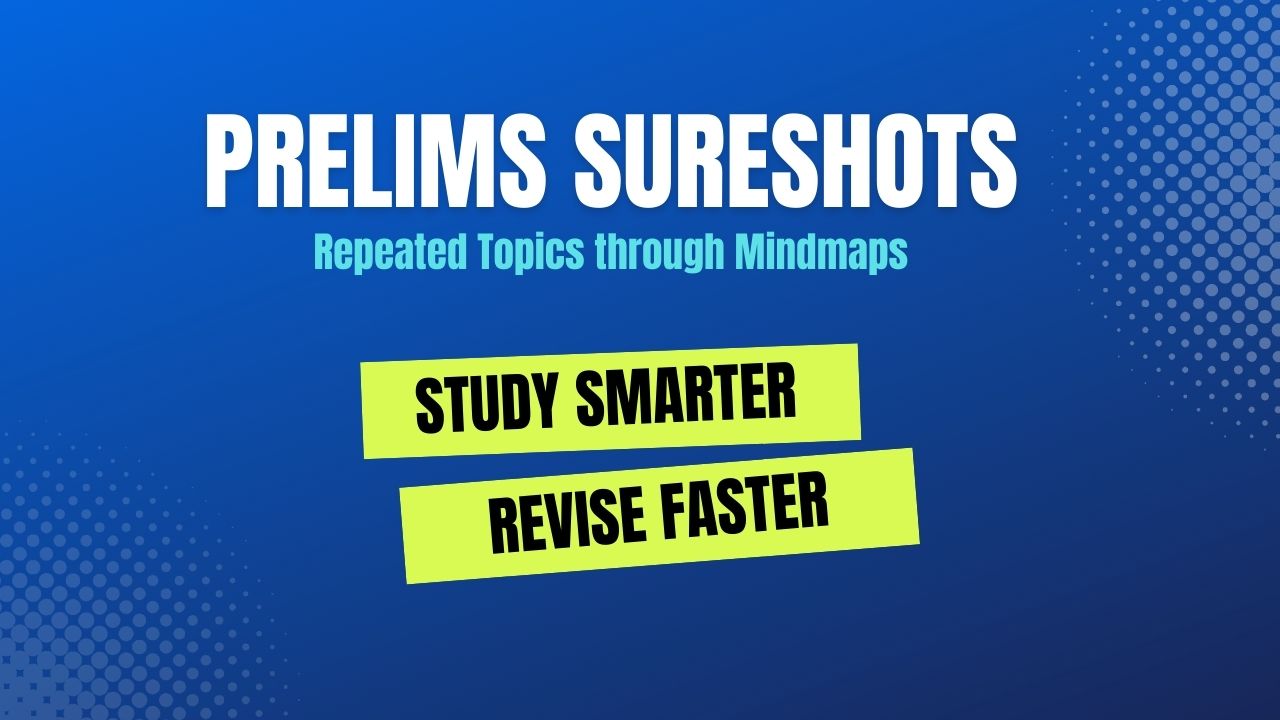 Union Budget 2022-23 Highlights
Amrit Kaal

As India is on its way to celebrating Azadi ka Amrit Mahotsav, the Finance Minister of India stated that the Budget for the next fiscal "will focus on Amrit Kaal."
The term "Amrit Kaal" was first used by PM Narendra Modi in his Independence Day address where he set out the vision for India @100 years of Independence. It refers to the 25-year-long leadup to India @100 i.e., from India at 75 to India at 100.
The finance minister said that this Budget seeks to lay the foundation and give a blueprint to steer the economy over the Amrit Kaal of the next 25 years.
The goals of Amrit Kaal are:

Complementing the macro-economic level growth focus with a microeconomic level all-inclusive welfare focus.
Promoting digital economy & fintech, technology-enabled development, energy transition, and climate action.
Relying on a virtuous cycle starting from private investment with public capital investment helping to crowd-in private investment.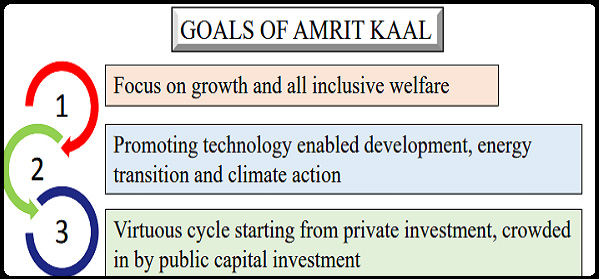 To boost growth, the Budget laid down a parallel track of a blueprint for the Amrit Kaal, which is futuristic and inclusive. While moving on the parallel track, the Government will focus on four priorities:

PM GatiShakti
Inclusive Development
Productivity Enhancement & Investment, Sunrise Opportunities, Energy Transition, and Climate Action
Financing of Investments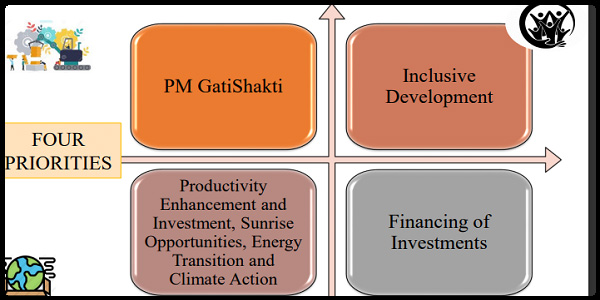 PM GatiShakti

It is a transformative approach for economic growth and sustainable development.
The approach is driven by seven engines that will help pull forward the economy. The seven engines are roads, railways, airports, ports, mass transport, waterways, and logistics infrastructure.
These engines will be supported by the complementary roles of energy transmission, IT communication, bulk water & sewerage, and social infrastructure.
Under PM GatiShakti National Master Plan, the seven engines will be encompassed to facilitate economic transformation, seamless multimodal connectivity and logistics efficiency. It aims to build world-class modern infrastructure and logistics synergy among different modes of movement – both of people and goods – and the location of projects.
Roadways

PM GatiShakti Master Plan for Expressways will be formulated in 2022-23 to facilitate faster movement of people and goods.
The National Highways network will be expanded by 25,000 km in 2022-23.

To ensure seamless multimodal movement of goods and people, the data exchange among all mode operators will be brought on the Unified Logistics Interface Platform (ULIP).
Railways

Indian railways will take lead in the integration of postal and railways networks to provide seamless solutions for the movement of parcels.
'One Station-One Product' concept will be popularized to help local businesses & supply chains.
Under Atmanirbhar Bharat, 2,000 km of the rail network will be brought under Kavach, the indigenous world-class technology for safety and capacity augmentation in 2022-23.
Four hundred new-generation Vande Bharat Trains with better energy efficiency and passenger riding experience will be developed and manufactured during the next three years.
One hundred PM GatiShakti Cargo Terminals for multimodal logistics facilities will be developed during the next three years.

Parvatmala: National Ropeways Development Programme

National Ropeways Development Programme will be taken up on PPP mode as ropeways appear to be a preferred ecologically sustainable alternative to conventional roads in difficult hilly areas.
These may also cover congested urban areas, where a conventional mass transit system is not feasible.

For the capacity building of central ministries, state governments, and their infra-agencies to build better infrastructure projects, the Capacity Building Commission will provide technical support and upgrade their skills.
The Budget expects the PLI scheme (Production Linked Incentive) to create 60 lakhs more jobs.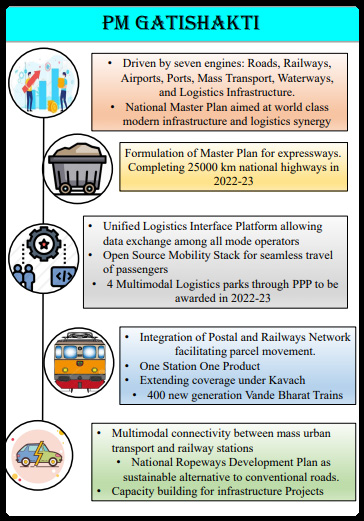 Inclusive Development

Agriculture and food processing

MSPs for procurement of wheat and rice in the year 2021-22 will be directly paid to the account of farmers involved.
Chemical-free natural farming will be promoted throughout the country.
2023 has been announced as the International Year of Millets. Therefore, support will be provided for post-harvest value addition, enhancing domestic consumption, and branding millet products nationally and internationally.
A rationalised and comprehensive scheme to increase domestic production of oilseeds will be implemented to reduce India's dependence on the import of oilseeds.
Use of 'Kisan Drones' will be promoted for crop assessment, digitization of land records, spraying of insecticides and nutrients.
A scheme will be launched in PPP mode for the delivery of digital and hi-tech services to farmers.
To finance start-ups for agriculture & rural enterprise, relevant for farm produce value chain, a fund with blended capital, raised under the co-investment model, will be facilitated through NABARD.
Additionally, States will be encouraged to revise the syllabi of agricultural universities to meet the needs of natural, zero-budget and organic farming, modern-day agriculture, value addition and management.
The government will provide a comprehensive package with the participation of state governments to encourage farmers to adopt suitable varieties of fruits and vegetables and use appropriate production and harvesting techniques.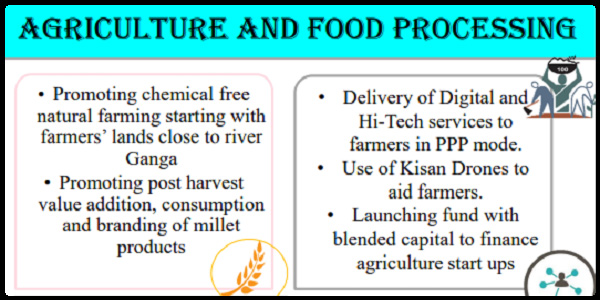 Ken-Betwa Link Project and other river linking projects

Ken-Betwa Link Project will be implemented at an estimated cost of Rs 44,605 crores.

The project aims at providing irrigation benefits to farmers' lands, drinking water supply and generating hydro and solar power.

Additionally, draft DPRs of five river links, namely Damanganga-Pinjal, Par-TapiNarmada, Godavari-Krishna, Krishna-Pennar and Pennar-Cauvery have been finalized. The Centre will provide support for the implementation of these projects once a consensus is reached between the concerned State governments.

MSME

Interlinking of Udyam, e-Shram, NCS and ASEEM portals will be carried out and their scope will be widened as well.

To provide additional credit to MSMEs, Emergency Credit Line Guarantee Scheme (ECLGS) will be extended up to March 2023 and its guarantee cover will be expanded by Rs 50,000 crores to a total cover of Rs 5 lakh crores. The additional amount has been earmarked exclusively for hospitality and related enterprises.

To facilitate additional credit to MSMEs and expand employment opportunities, Credit Guarantee Trust for Micro and Small Enterprises (CGTMSE) scheme will be revamped with the required infusion of funds.

Rolling out of Raising and Accelerating MSME Performance (RAMP) programme with an outlay of Rs 6,000 crores over 5 years will be carried out to make the MSME sector more resilient, competitive and efficient.

Education and Skill Development

Universalization of quality education

Expansion of one class-one TV channel' programme of PM eVIDYA from 12 to 200 TV channels.

In vocational courses, 750 virtual labs in science and mathematics, and 75 skilling e-labs for a simulated learning environment will be set up in 2022-23 to promote crucial critical thinking skills.

High-quality e-content in all spoken languages will be developed for delivery via the Internet, mobile phones, TV and radio through Digital Teachers.

Digital University

A Digital University will be established to provide access to students across the country for world-class quality universal education with a personalized learning experience at their doorsteps.

This will be made available in different Indian languages and ICT formats.

Skill development

Skilling programmes and partnerships with the industry will be reoriented to promote continuous skilling avenues, sustainability, and employability.

The National Skill Qualification Framework (NSQF) will be aligned with dynamic industry needs.

Digital Ecosystem for Skilling and Livelihood – the DESH-Stack e-portal will be launched to empower citizens to skill, reskill or upskill through online training.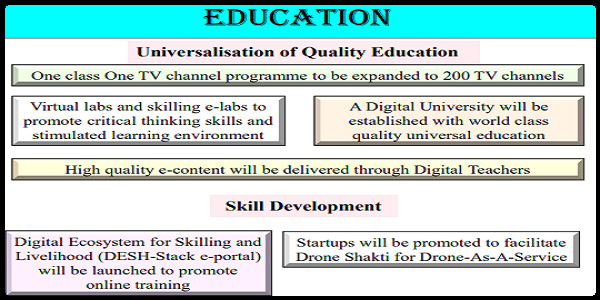 Health

Ayushman Bharat Digital Mission

An open platform for the National Digital Health Ecosystemwill be rolled out.

It will consist of digital registries of health providers and health facilities, unique health identity, consent framework, and universal access to health facilities.

National Tele Mental Health Programme

A 'National Tele Mental Health Programme' will be launched to improve the accessibility to quality mental health counselling and care services.

Women and child

Three schemes, namely, Mission Shakti, Mission Vatsalya, Saksham Anganwadi and Poshan 2.0 have been launched recently to provide integrated benefits to women and children.

Two lakh anganwadis will be upgraded under the Saksham Anganwadi Scheme.
Note: Saksham Anganwadis are a new generation of anganwadis that have better infrastructure and audio-visual aids, powered by clean energy and providing an improved environment for early child development.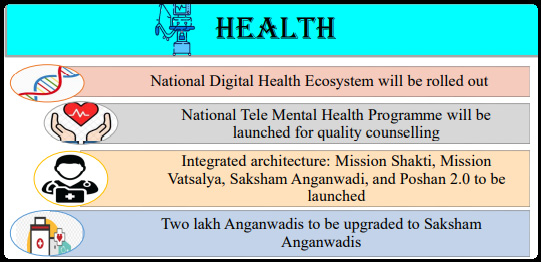 Basic amenities

Rs 60,000 crore has been allotted under the Har Ghar, Nal Se Jal scheme to cover 3.8 crore additional households in 2022-23.

Housing For All

Under the PM Awas Yojana, both rural and urban, 80 lakh houses will be completed for the identified eligible beneficiaries in 2022-23.

The Central Government will work with the state governments for the reduction of time required for all land and construction-related approvals.

The Central Government will also work with the financial sector regulators to expand access to capital along with a reduction in the cost of intermediation.

Prime Minister's Development Initiative for North East Region (PMDevINE)

The scheme will fund infrastructure in the spirit of PM GatiShakti, and social development projects based on the felt needs of the North-East.

This will enable livelihood activities for youth and women, filling the gaps in various sectors.

Improving the quality of life of citizens

Aspirational Blocks Programme in 2022-23 will focus on filling gaps in those districts where some blocks still remain.

Under the Vibrant Villages Programme, border villages with a sparse population, limited connectivity and infrastructure on the northern border will be covered. Existing schemes will also be converged.

Ensuring financial security to citizens

In 2022,100 per cent of 1.5 lakh post offices will come on the core banking system enabling financial inclusion and access to accounts through net banking, mobile banking, ATMs, and also providing online transfer of funds between post office accounts and bank accounts.

In the digital banking sector, 75 Digital Banking Units (DBUs) have been proposed to be set up in 75 districts of the country by Scheduled Commercial Banks.

The financial support for the digital payment ecosystem announced in the previous Budget will continue in 2022-23.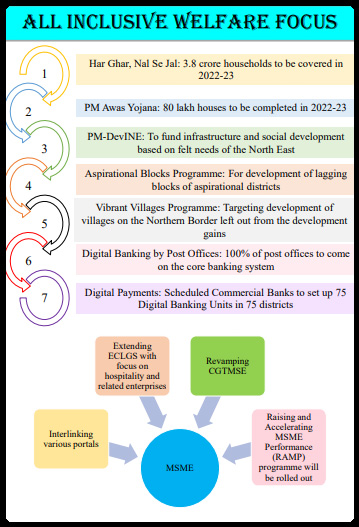 Productivity Enhancement & Investment, Sunrise Opportunities, Energy Transition, and Climate Action

Productivity Enhancement & Investment

Ease of Doing Business 2.0 & Ease of Living

For Amrit Kaal, the next phase of Ease of Doing Business (EODB 2.0) and Ease of Living, will be launched that will be guided by the active involvement of the states, digitisation of manual processes and interventions, integration of the central and state-level systems through IT bridges, single-point access for all citizen-centric services, and standardization and removal of overlapping compliances.
The scope of the PARIVESH (a single-window portal for all green clearances) portal will be expanded.
The issuance of e-Passports using embedded chips and futuristic technology will be rolled out in 2022-23 to enhance convenience for the citizens in their overseas travel.
For urban development, the Budget has proposed the formation of a high-level committee of reputed urban planners, urban economists and institutions to make recommendations on urban sector policies, capacity building, planning, implementation and governance.
For urban capacity building, support will be provided to the states.
Modernization of building bye-laws, Town Planning Schemes (TPS), and Transit-Oriented Development (TOD) will be implemented.
In urban areas, a battery swapping policy will be brought out and interoperability standards will be formulated.
For efficient use of land resources and land records management, States will be encouraged to adopt Unique Land Parcel Identification Number to facilitate IT-based management of records. Additionally, the adoption or linkage with National Generic Document Registration System (NGDRS) with the 'One-Nation One-Registration Software' will be promoted.
To enhance the efficacy of the resolution process and facilitate cross border insolvency resolution, necessary amendments to the Insolvency and Bankruptcy Code will be carried out.
Several IT-based systems have been established for the accelerated registration of new companies.
The Centre for Processing Accelerated Corporate Exit (C-PACE) with process re-engineering, will be established to facilitate and speed up the voluntary winding-up of new companies from the currently required 2 years to less than 6 months.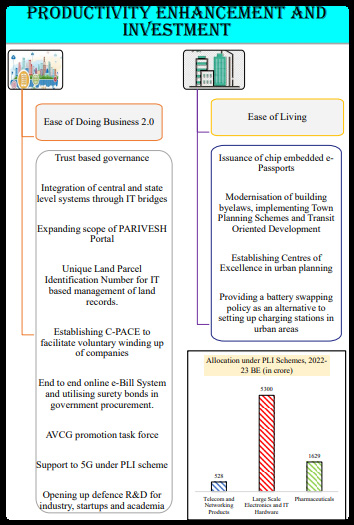 Government procurement

To meet the needs of Amrit Kaal, Government rules have been modernized and provisions have been made for payment of 75 per cent of running bills, mandatorily within 10 days and for encouraging settlement of disputes through conciliation.
A completely paperless, end-to-end online e-Bill System will be launched for use by all central ministries for their procurements to enhance transparency and reduce delays in payments.

An AVGC (animation, visual effects, gaming, and comic) promotion task force with all stakeholders will be set up to recommend ways to realize the immense potential to employ youth and build domestic capacity for serving our markets and the global demand.
Telecom sector

Required spectrum auctions will be conducted in 2022 to facilitate the rollout of 5G mobile services within 2022-23 by private telecom providers.

Five per cent of annual collections under the Universal Service Obligation Fund will be allocated to enable affordable broadband and mobile service proliferation in rural and remote areas.

The contracts for laying optical fibre in all villages, including remote areas, will be awarded under the Bharatnet project through PPP in 2022-23.

For export promotion, the Special Economic Zones Act will be replaced with new legislation that will enable the states to become partners in 'Development of Enterprise and Service Hubs'.
To promote AtmaNirbharta or self-reliance in the defence sector:

68 per cent of the capital procurement budget will be earmarked for the domestic industry in 2022-23, up from 58 per cent in 2021-22.

Defence R&D will be opened up for industry, start-ups and academia with 25 per cent of the defence R&D budget earmarked.

Private industry will be encouraged to take up the design and development of military platforms and equipment in collaboration with DRDO and other organizations through the SPV model.

To promote and encourage the sunrise opportunities (Artificial Intelligence, Geospatial Systems and Drones, Semiconductor and its eco-system, Space Economy, Genomics and Pharmaceuticals, Green Energy, and Clean Mobility Systems), the Government will seek to have supportive policies, light-touch regulations and facilitative actions to build domestic capacities promoting research & development in this field as well.
Energy Transition and Climate Action

This Budget proposes several near-term and long-term actions in this direction.

Solar power

To facilitate domestic manufacturing in this sector, Rs 19,500 crore has been allocated for Production Linked Incentive for the manufacturing of high-efficiency modules.

Transition to Carbon Neutral Economy

Five to seven per cent biomass pellets will be co-fired in thermal power plants resulting in CO2 savings of 38 MMT annually.

In large commercial buildings, the Energy Service Company (ESCO) business model will be adopted to promote energy efficiency and energy management.

Four pilot projects for coal gasification and conversion of coal into chemicals will be set up to evolve technical and financial viability.

Such policies and required legislative changes will be brought in that will promote agroforestry and private forestry.

Financing of Investments

Public Capital Investment

The outlay for capital expenditure in the Union Budget 2022-23 has been raised by 35.4 per cent from the current year. The capital expenditure outlay for 2022-23 is Rs 7.50 lakh crore which will be 2.9 per cent of GDP.

The 'Effective Capital Expenditure' of the Central Government is estimated at Rs 10.68 lakh crore in 2022-23, which will be about 4.1 per cent of GDP.

The government will issue sovereign Green Bonds to mobilise resources for green infrastructure.

GIFT-IFSC

World-class foreign universities and institutions will be allowed in the GIFT City to offer courses in Financial Management, FinTech, Science, Technology, Engineering and Mathematics.

An International Arbitration Centre will be set up in the GIFT City for the timely settlement of disputes under international jurisprudence.

Services for global capital for sustainable & climate finance in the country will be facilitated in the GIFT City.

Venture Capital and Private Equity Investment

An expert committee will be set up to examine and suggest appropriate measures for a holistic examination of regulatory and other frictions.

Blended Finance

The government will promote thematic funds for blended finance with the government share being limited to 20 per cent and the funds being managed by private fund managers for encouraging important sunrise sectors such as Climate Action, Deep-Tech, Digital Economy, Pharma and Agri-Tech.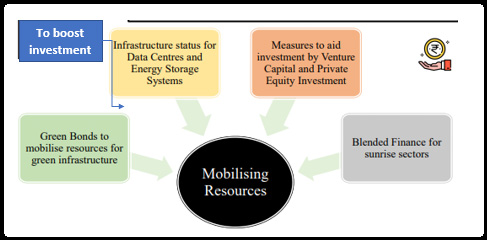 Financial Assistance to States for Capital Investment

The outlay for the 'Scheme for Financial Assistance to States for Capital Investment' has been raised to Rs 1 lakh crore for 2022-23 from Rs 15,000 crore in the current year to assist the states in catalysing overall investments in the economy.

Following the recommendations of the 15th Finance Commission, the states will be allowed a fiscal deficit of 4 per cent of GSDP in 2022-23.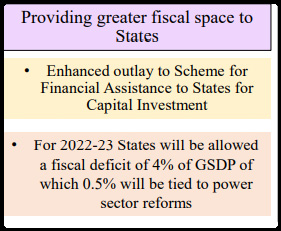 Digital Rupee

To provide a boost to the digital economy in India, Central Bank Digital Currency (CBDC) will be introduced in the form of Digital Rupee by the Reserve Bank of India starting 2022-23.

Fiscal Management

The total expenditure in 2022-23 is estimated at Rs 39.45 lakh crore, while the total receipts other than borrowings are estimated at Rs 22.84 lakh crore.
The fiscal deficit in the current year is estimated at 6.9 per cent of GDP.
The fiscal deficit in 2022-23 is estimated at 6.4 per cent of GDP.

Tax reforms

Direct tax

Introduction of new 'Updated return' to allow taxpayers to file an Updated Return on payment of additional tax if they have committed some mistakes while filing a return.
To ensure a level playing field between cooperative societies and companies, the Alternate Minimum Tax for cooperative societies has been reduced from 18.5 per cent to 15 per cent.
The surcharge on cooperative societies having a total income of more than Rs 1 crore and up to Rs 10 crores has also been reduced from 12 per cent to 7 per cent.
The Budget has also given tax relief to persons with disability.
To ensure parity among the employees of the Central and State government, the tax deduction limit has been raised from 10 per cent to 14 per cent on the employer's contribution to the NPS account of State Government employees.
Start-ups

Eligible start-ups established before March 2023 have been provided with a tax incentive for three consecutive years out of ten years from incorporation.

Taxation of virtual digital assets

The Budget has proposed to tax any income from the transfer of any virtual digital asset at the rate of 30 per cent.

Tax incentives to IFSC

Budget 2022-23 proposes to exempt income earned by non-residents from the portfolio of securities/financial products/funds/royalties etc. subject to certain specific conditions.

Rationalization of surcharge

The surcharge on AOPs has been capped at 15 per cent which was up to 37 per cent (graded surcharge) earlier.
The surcharge on those long-term capital gains arising on transfer of any type of assets has been capped at 15 per cent.

Indirect taxes

Special Economic Zones

Reforms will be undertaken in the Customs Administration of SEZs and they will be made completely IT-driven where everything will be done entirely on the Customs National Portal and will include only risk-based checks.

Project imports and capital goods

The Budget has proposed to phase out the concessional rates in capital goods and project imports gradually and apply a moderate tariff of 7.5 per cent to provide a level playing field to local producers.

Review of customs exemptions and tariff simplification

Customs exemptions have been proposed to be phased out gradually on more than 350 exemption entries. Some of them include agricultural produce, chemicals, fabrics, medical devices and drugs and medicines for which sufficient domestic capacity exists.
Several concessional rates are also being incorporated in the Customs Tariff Schedule itself to simplify the existing procedure.
These steps will help in achieving the objective of 'Make in India' and 'Atmanirbhar Bharat'.

Sector-specific tax reforms

The Union Budget for 2022-23 has proposed to increase the basic customs duty (BCD) on the import of commonly used items, including headphones and earphones, loudspeakers, smart meters, imitation jewellery, solar cells, solar modules to promote domestic manufacturing.
Customs duty on imported cut and polished diamonds, frozen mussels, frozen squids, asafoetida, cocoa beans, methyl alcohol and acetic acid has been reduced.
The BCD in on camera lens for use in the manufacture of camera modules for cellular mobile phones has been reduced from 15 per cent to 2.5 per cent.
MSME

The government has proposed to raise BCD on the import of umbrellas to 20% from the existing 10% and also withdrew exemption to parts of umbrellas.
Rationalisation of exemptions is also being carried out on implements and tools for the agri-sector which are manufactured in India.
Customs duty exemption given to steel scrap last year is being extended for another year to provide relief to MSME secondary steel producers.

Exports

To boost exports, exemptions are being provided on items such as trimming, fasteners, buttons, zippers etc. that may be needed by exporters of handicrafts, textiles and leather garments, leather footwear and other goods.
Duty is being reduced on certain inputs required for shrimp aquaculture to promote its exports.

To encourage the blending of fuel, an additional duty has been proposed to be imposed on unblended fuel.
Conclusion
The Union Budget 2022-23 has been a step in the right direction given the risks posed by the Covid-19 pandemic and is a concerted effort to boost not only domestic manufacturing but also exports. The Budget will thus help India go a long way forward.