Bio-Medical Waste Management in India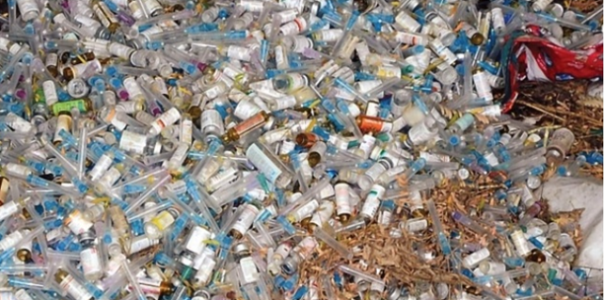 Based on the data shared by the Central Pollution Control Board and state pollution control boards of Delhi, Haryana, Rajasthan and Uttar Pradesh, the Environment Pollution (Prevention and Control) Authority (EPCA) submitted a report to the Supreme Court recently, stating that a rise in COVID 19 cases caused a "drastic increase" in bio-medical waste in these four states.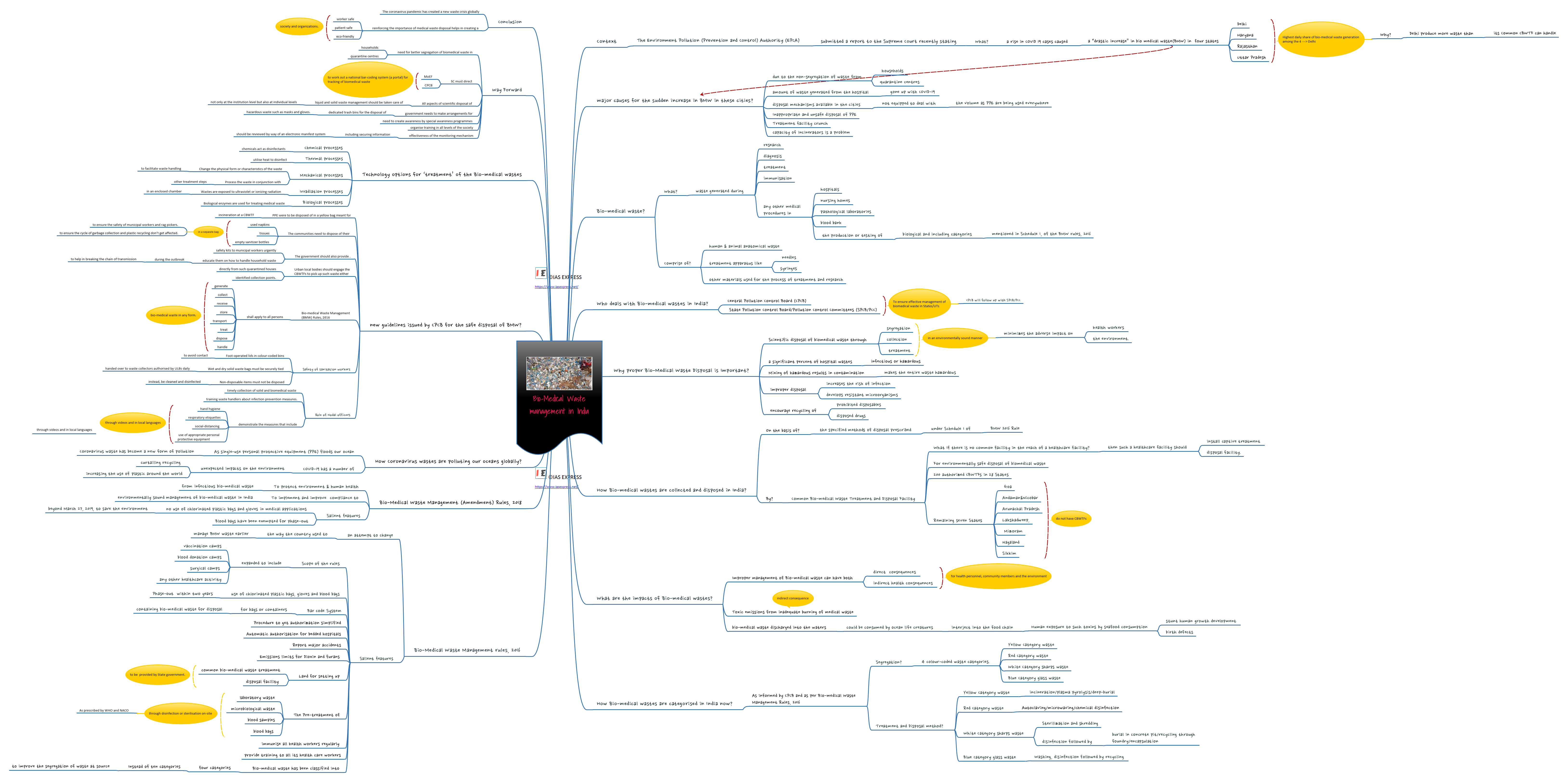 As per the data shared with EPCA, In the case of Delhi, The quantity of bio-medical waste went up from 25 tonnes per day in May to 372 tonnes per day in June, which then fell to 349 tonnes per day in July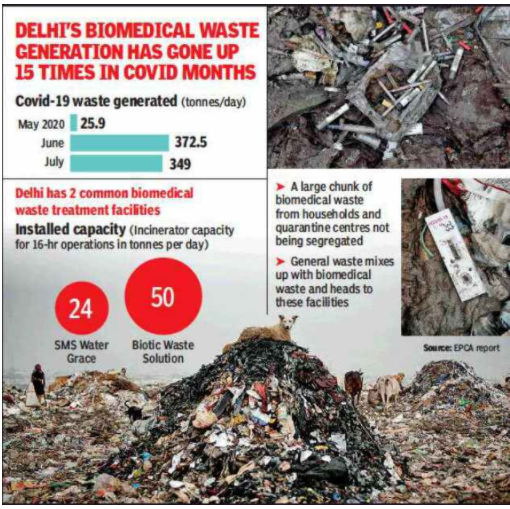 Mindmap Learning Programme (MLP)
Absorb information like a sponge!
What are the major causes for the sudden increase in bio-medical wastes in these cities?
The recent huge increase in bio-medical waste is mainly due to the non-segregation of waste from households and quarantine centres.
The amount of waste generated from the hospital has certainly gone up with so many disposable items now with the pandemic.
A government or a private hospital would usually produce 500 grams of bio-medical waste (like syringes, urine bags, gauze etc) per bed daily before the Covid-19 outbreak.
Now, that number has gone up to between 2.5kg to 4kg per bed, daily, according to SMS Water Grace BMW Private Limited, one of the two CBWTFs in Delhi, which is mandated to collect waste from labs, quarantine centres, and hospitals.
A large Covid-19 facility can produce an average of 1800 to 2200 kg of bio-medical waste per day.
The disposal mechanisms available in the cities simply aren't equipped to deal with the volume as PPE are being used everywhere, from hotels to hospitals, railway stations to airports, crematoriums to burial grounds.
Inappropriate and unsafe disposal of masks, goggles, splash-proof aprons, plastic coverall, hazmat suits, and nitrile gloves etc.
Much of this is Plastic. For example, N-95 masks, face shields are made up of plastic.
These are ideally meant to be sterilised, shredded and sent for recycling.
It will impact all spheres of the environment in one way or another.
It will increase marine pollution and adversely affect the marine ecosystem.
Treatment facility crunch:
The country has 200 bio-medical waste treatment facilities.
Of these two are in Delhi and one is in Mumbai.
These facilities are already running at 60% capacity that is a 15% jump since March according to CPCB data.
Since many cases have not surged in many cities, the way they have in Delhi and Mumbai, The national average is low.
The CBWTFs are running at 70-75% and 70% capacities, according to CPCB and the Maharashtra Pollution Control Board respectively in these two cities.
The capacity of incinerators is a problem
In this context, let us make an in-depth analysis of bio-medical waste, the issues associated with it and the new guidelines issued by CPCB recently.
What is Bio-medical waste?
It comprises of human & animal anatomical waste, treatment apparatus like needles, syringes and other materials used in health care facilities in the process of treatment and research.
This waste is generated during research, diagnosis, treatment, immunisation or any other medical procedures in hospitals, nursing homes, pathological laboratories, blood bank or in the production or testing of biological and including categories mentioned in Schedule I, of the BMW rules, 2016.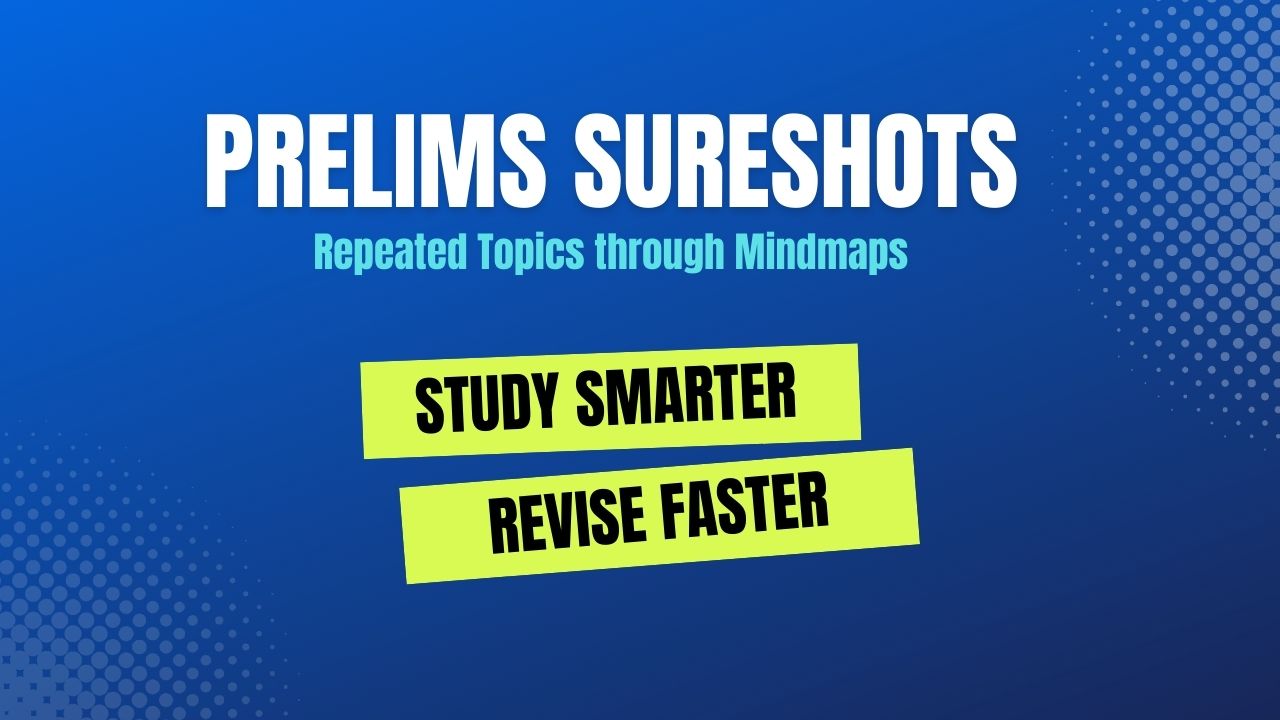 Who deals with Bio-medical wastes in India?
To ensure effective management of biomedical waste in States/UTs, the Central Pollution Control Board would be following up with all State Pollution Control Board or Pollution Control Committees (SPCBs/PCCs).
Why proper Bio-Medical Waste Disposal is of utmost importance?
Scientific disposal of biomedical waste through segregation, collection and treatment in an environmentally sound manner minimizes the adverse impact on health workers and the environment.
The amount of waste generated in India is estimated to be 1-2 kg per bed per day in a hospital. 85% of the hospital waste is non-hazardous whereas 15% is infectious or hazardous.
Mixing of hazardous results in contamination and makes the entire waste hazardous.
There is a necessity to segregate and treat because improper disposal increases the risk of infection and also develops resistant microorganisms.
It can encourage recycling of prohibited disposables and disposed drugs
How Bio-medical wastes are collected and disposed of in India?
The collection and disposal is treated and disposed of as per the specified methods of disposal prescribed under Schedule I of the BMW 2016 Rules.
Bio-medical waste generated from the hospitals shall be treated and disposed of by Common Bio-medical Waste Treatment and Disposal Facility.
If there is no common facility in the reach of a healthcare facility, then such a healthcare facility should install captive treatment and disposal facility.
For environmentally safe disposal of biomedical waste, There are 200 authorized Common Bio-medical Waste Treatment and Disposal Facilities (CBWTFs) in 28 States
Remaining seven States namely Goa, Andaman Nicobar, Arunachal Pradesh, Lakshadweep, Mizoram, Nagaland and Sikkim do not have CBWTFs.
What are the impacts of Bio-medical wastes?
Improper management of Bio-medical waste can have both direct and indirect health consequences for health personnel, community members and the environment.
Toxic emissions from inadequate burning of medical waste can be seen as an indirect consequence.
The most serious effect of biomedical waste is on seas as bio-medical waste discharged into the waters that could be consumed by ocean life creatures.
By consuming sea creatures, these toxins will eventually reach humans as these toxins would interject into the food chain.
Human exposure to such toxins can stunt human growth development and cause birth defects.
How Bio-medical wastes are categorised in India now?
As informed by CPCB and as per Bio-medical Waste Management Rules, 2016, Bio-medical waste is required to be segregated in 4 colour-coded waste categories.
For Yellow Category waste
Common methods of treatment and disposal of bio-medical waste are by incineration/plasma pyrolysis/deep-burial.
For Red Category waste
Autoclaving/microwaving/chemical disinfection
For White Category sharps waste
Sterilization and shredding, disinfection followed by burial in concrete pit/recycling through foundry/encapsulation
For Blue Category glass waste
Washing, disinfection followed by recycling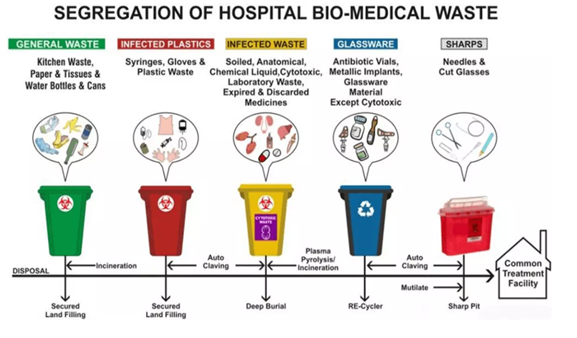 Bio-Medical Waste Management Rules, 2016
It was an attempt to change the way the country used to manage this waste
Under this regime, the coverage has increased and also provides for pre-treatment of lab waste, blood samples, etc.
It mandates a bar code system for proper control.
It has simplified categorisation and authorisation.
Thus, it can make a big difference to the Clean India Mission.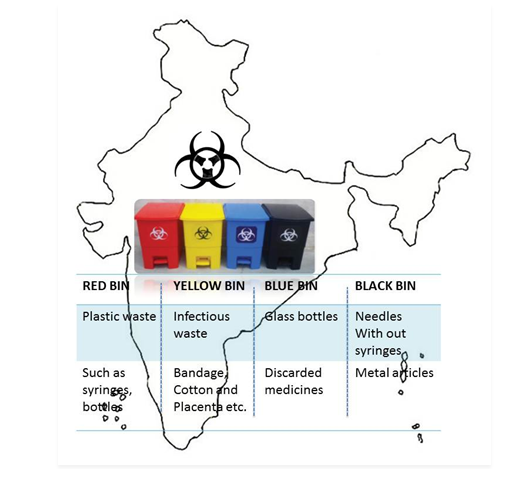 Salient features of it:
The scope of the rules has been expanded to include vaccination camps, blood donation camps, surgical camps or any other healthcare activity
The use of chlorinated plastic bags, gloves and blood bags to be Phase-out within two years
As prescribed by WHO or NACO, The Pre-treatment of the laboratory waste, microbiological waste, blood samples and blood bags through disinfection or sterilisation on-site to be done.
To immunise all health workers regularly and provide training to all its health care workers
Bar-Code System to be established for bags or containers containing bio-medical waste for disposal
Report major accidents
Existing incinerators to achieve the standards for retention time in the secondary chamber and Dioxin and Furans within two years
Instead of ten categories, Bio-medical waste has been classified into four categories to improve the segregation of waste at source
Procedure to get authorization simplified
Automatic authorisation for bedded hospitals
The new rules prescribe more stringent standards for an incinerator to reduce the emission of pollutants in the environment
Emissions limits for Dioxin and furans has been included
Land for setting up common bio-medical waste treatment and disposal facility will be provided by the State government.
If a service of `common bio-medical waste treatment facility is available at a distance of seventy-five kilometre, No occupier shall establish on-site treatment and disposal facility.
To ensure the timely collection of bio-medical waste from the HCFs and assist the HCFs in the conduct of training, Operator of a common bio-medical waste treatment and disposal facility has been prescribed.


Bio-Medical Waste Management (Amendment) Rules, 2018

Bio-Medical Waste Management Rules, 2016 are amended for protection of environment & human health from infectious bio-medical waste and to implement and improve compliance to environmentally sound management of bio-medical waste in India.
The amended rules stipulate that generators of bio-medical waste such as hospitals, nursing homes, clinics, and dispensaries etc will not use chlorinated plastic bags and gloves in medical applications beyond March 27, 2019, to save the environment.
The Blood bags have been exempted for phase-out, as per the amended BMW rules, 2018.
How Coronavirus wastes like masks, gloves are polluting our oceans globally?
As single-use personal protective equipment (PPE) floods our ocean Coronavirus waste has become a new form of pollution
COVID-19 has a number of unexpected impacts on the environment, curtailing recycling and increasing the use of plastic around the world.
Waterlogged masks, gloves, hand sanitizer bottles and other coronavirus waste are already being found on our sea beds and washed up on our beaches
Governments need to act now to ensure a green recovery that incentivizes sustainability.
Measures to tackle plastic pollution can help us improve ocean health, tackle climate change, support biodiversity and build sustainable livelihoods.
What are the new guidelines issued by CPCB for the safe disposal of it?
In order, to ensure safe disposal of biomedical waste generated during treatment, diagnosis and quarantine of patients with the novel Coronavirus disease (COVID-19), the Central Pollution Control Board of India has come out with special guidelines.
The first guideline was published on April 18
This was the third revision made to it.
On the basis of current knowledge and practices in the management of other infectious waste generated in hospitals while treating viral and contagious diseases, The new guidelines were formulated

Accordingly, used masks, tissues, head covers, shoe covers, disposable linen gowns, non-plastic and semi-plastic coveralls were to be disposed of in a yellow bag meant for incineration at a common biomedical waste treatment facility (CBWTF).
The communities need to dispose of their used napkins, tissues, empty sanitizer bottles in a separate bag, to ensure the safety of municipal workers and rag pickers.
It will also assure that the cycle of garbage collection and plastic recycling don't get affected.
The government should also provide safety kits to municipal workers urgently and educate them on how to handle household waste during the outbreak, to help in breaking the chain of transmission.
Urban local bodies should engage the common bio-medical waste treatment facilities (CBWTFs) to pick up such waste either directly from such quarantined houses or identified collection points.
Bio-medical Waste Management (BMW) Rules, 2016– These rules shall apply to all persons who generate, collect, receive, store, transport, treat, dispose, or handle bio-medical waste in any form.
It also addresses the safety of waste handlers and sanitation workers associated with such healthcare facilities.
The guidelines emphasise extra care to be taken at COVID-19 isolation wards.
Foot-operated lids in colour-coded bins must be introduced to avoid contact, according to the guidelines.
General solid waste like medicine wrappers and cartons, syringes, fruit peels, empty bottles, discarded paper and other items not contaminated by patients' secretions and body fluids must be collected separately, according to Solid Waste Management Rules, 2016.
Wet and dry solid waste bags must be securely tied and handed over to waste collectors authorised by ULBs daily.
Non-disposable items must not be disposed of as much as possible and should, instead, be cleaned and disinfected keeping hospital rules in mind
Role of Nodal officers
The guidelines authorise ULBs to hire services of professional waste management agencies for timely collection of solid and biomedical waste if collection and transportation operations are inadequate due to existing staff conditions.
Designated nodal officers for biomedical waste management in hospitals must be made responsible for training waste handlers about infection prevention measures.
The measures that include hand hygiene, respiratory etiquettes, social-distancing and use of appropriate personal protective equipment must be demonstrated through videos and in local languages.
Nodal officers, in turn, need to be trained by health departments and professional agencies in association with the state pollution control boards (SPCBs) or pollution control committees (PCCs).


What are Technology options for 'treatment' of the Bio-medical wastes?

Chemical processes

chemicals act as disinfectants in these processes
Majority of chemical processes are water-intensive and it requires neutralising agents.

Thermal processes

These processes utilise heat to disinfect
They operate depending on the temperature.

Mechanical processes

These processes are used to

Change the physical form or characteristics of the waste to facilitate waste handling
Process the waste in conjunction with other treatment steps.

Irradiation processes

Wastes are exposed to ultraviolet or ionizing radiation in an enclosed chamber In these processes

Biological processes

Biological enzymes are used for treating medical waste.
It is claimed that biological reactions decontaminate the waste and cause the destruction of all the organic constituents so that only plastics, glass, and other inert will remain in the residues.
Way Forward:
There is a need for better segregation of biomedical waste in households and quarantine centres housing Covid-19 patients.
The SC must direct the Ministry of Forests and Environment (MoEF) and CPCB to work out a national bar-coding system (a portal) for tracking of biomedical waste.
The government needs to make arrangements for dedicated trash bins for the disposal of hazardous waste such as masks and gloves.
All aspects of scientific disposal of liquid and solid waste management should be taken care of not only at the institution level but also at individual levels.
The effectiveness of the monitoring mechanism, including securing information should be reviewed by way of an electronic manifest system from the handlers of such waste and its online reporting by the State Pollution Control Board or Pollution Control Committees by developing necessary software.
There is the need to create awareness by special awareness programmes and organising training in all levels of the society.
Conclusion
The coronavirus pandemic has created a new waste crisis globally. India is nowhere different from the trend. It is quite visible from the report submitted by Environmental Pollution (Prevention Control Authority) EPCA to SC recently.
Considering the medical care is most vital to or earth and life, reinforcing the importance of medical waste disposal helps in creating a worker safe, patient safe and eco-friendly society and organizations.
Practice question for MAINS
Examine how COVID-19 crisis has created a new waste crisis of plastic and Bio-medical waste globally. Suggest a way forward (250 Words)