Bhagat Singh (1907-1931): Important Personalities of Modern India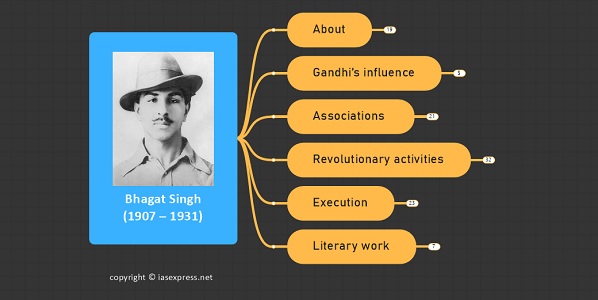 From Modern Indian History Notes » Important Personalities of Modern India
Introduction
Bhagat Singh, also known as 'Shaheed (martyr) Bhagat Singh', was an Indian revolutionary and freedom fighter who fought against the British with extraordinary zeal and courage. He popularised the slogan of 'Inquilab Zindabad' which eventually became a catchphrase of the Indian national movement. He played a crucial role in revolutionising India's struggle for Independence and that is why the young martyr is treated as the hero of India's Independence movement.
Early life and education
Bhagat Singh's full name was Bhagat Singh Sandhu. He was born on September 27, 1907, in a Jat Sikh family in Banga village of Faisalabad district (now Lyallpur), western Punjab, British India (now in Pakistan's Punjab province).
His parents were Kishan Singh and Vidyavati Kaur. Bhagat Singhs's family had a legacy of active involvement in the freedom struggle. His father and uncles were freedom fighters and were jailed for taking part in India's nationalist movement. They were members of the Ghadar party which was led by Kartar Singh Sarabha and Har Dayal.

At the time of birth of Bhagat Singh, his father Kishan Singh and his uncles Ajit Singh and Swaran Singh were serving prison sentences for opposing the Colonization Bill implemented in 1906.

Given the family's nationalist tendencies and patriotism, Bhagat Singh's grandfather did not allow Bhagat Singh to enrol at any school which was loyal to the British government. Therefore, Bhagat Singh attended Dayanand Anglo-Vedic High School (operated by Arya Samaj) in Lahore for his school education and then joined National College in Lahore.
From his early days, Bhagat Singh was a follower and admirer of Marxism and drew inspiration from the writings of Vladimir Lenin, Leon Trotsky and Mikhail Bakunin.
Bhagat Singh ardently followed Kartar Singh Sarabha who was a leader of the Ghadar party and an active participant in India's freedom struggle. The latter was also a martyr of India, losing his life at the young age of 19.
He was an avid reader as well. So was he fond of reading that till the very young age of 21, he had read around fifty books which included writings of Ram Prasad Bismil, and many Russian and European writers.
The Jallianwala Bagh tragedy deeply moved Bhagat Singh. He visited the site when he was 12 years old.
In 1921, he along with the villagers had taken part in the protest against the killing of a significant number of victims at Gurudwara Nankana Sahib.
He was also a devout follower of Gandhi and his ideals of non-violence. However, Gandhi's calling off the Non-Cooperation Movement made him unhappy and he joined the Young Revolutionary Movement.
In 1923, Bhagat Singh joined the National College of Lahore where he began engaging in revolutionary nationalist activities. During these days, he also took part in college dramatics and writing competitions actively.

He also won an essay competition which was on the topic – "The Problems in Punjab due to Freedom Struggle in India."

In 1927, Singh's parents planned to have him married but he rejected the idea saying: "my bride shall be only death" and left. After several reassurances from his parents that they wouldn't force him to marry, he returned to Lahore.
Contribution to the national movement
Bhagat Singh began to protest against British rule in India in his youthful days and soon fought for national independence.
It was during his college days that he founded the Naujawan Bharat Sabha – Youth Society of India (a socialist organisation) in March 1926 to overthrow British rule in India.
In 1927, he was arrested on the charge of having been involved in the Lahore bombing case that took place in 1926. He was released after 5 weeks on a bond of 60,000 rupees.
After his release, he began writing and editing for Urdu and Punjabi newspapers which were published in Amritsar. He also wrote for Kirti (a journal published by Kirti Kisan Party) and for Veer Arjun under pseudonyms.
His writings had a great influence on Indian youth which resulted in the Indians, especially youth opposing all British activities often causing huge disruptions.
In 1928, he reorganised the Hindustan Republican Association (HRA), which later became the Hindustan Socialist Republican Army (HSRA). Other members of the party included Ram Prasad Bismil, Shahid Ashfaqullah Khan, Chandrashekhar Azad, Bhagwati Charan Vohra and Sukhdev.
Bhagat Singh was deeply affected by Lala Lajpat Rai's death which was the result of the severe injury that the latter suffered while holding a protest march against the British's Simon Commission in Lahore in 1928. Bhagat Singh decided to take revenge by killing the police officer, James A.Scott (superintendent of police) who had ordered the lathi charge that resulted in Rai's death.
Bhagat Singh and other members of HSRA such as Sukhdev, Rajguru and Chandrashekhar Azad drew up a plan to kill the officer. On December 17, 1928, they executed the plan at the district police headquarters in Lahore. However, they mistakenly killed Scott's assistant John P. Saunders.
After the killing, he escaped from Lahore to Howrah disguising himself as a married man with Bhagwati Charan Vohra's wife Durgavati Devi since the police were looking for an unmarried Sikh boy.
On 8 April 1929, he along with Batukeshwar Dutt threw bombs at Central Legislative Assembly to oppose the Public Safety Bill and Trade Dispute Bill. Their intent was not to kill anyone but only to scare the British though a few people suffered some injuries. After throwing bombs, they did not run away but stood there shouting the slogan of 'Inquilab Zindabad' ("Long live the revolution").

The plan was to get arrested and stand trial so they could further promote their cause.
They also showered leaflets which stated that 'it takes a loud noise to make the deaf hear.'
Trial and execution
Bhagat Singh along with his co-conspirator was arrested and sentenced to life imprisonment.
During the trial, he offered no defence. However, due to further investigation, the police discovered the connection between Bhagat Singh and the murder of officer Saunders (also known as the Lahore Conspiracy Case) and he was re-arrested.
Meanwhile, Singh was shifted from a Delhi prison to Mianwali where he and his co-prisoners protested against discrimination between Indian and European prisoners.

In 1929, while serving the prison sentence, they went on a hunger strike and demanded better food, books, newspapers etc. arguing that they were political prisoners, not criminals.

After several hearings in the Lahore Conspiracy case, Bhagat Singh along with Rajguru and Sukhdev was awarded the death sentence.
Eventually, on March 23, 1931, Singh (at the age of 23) was executed along with Rajguru and Sukhdev in Punjab's Hussainwala (now in Pakistan). This day is celebrated as 'Shaheed Diwas' (Martyrs' Day) to pay tribute to the trio.
Singh's execution inspired numerous youths in India to take up the revolutionary path and played a vital role in energizing the fight against the British empire.
Ideology
Bhagat Singh was a keen reader of Karl Marx, Angels, Lenin, Trotsky and Bakunin. The Marxist ideology left a deep imprint on him and he was influenced by anarchism and communism.
He was a visionary, with a pluralist and egalitarian perception of independent India. He not only desired freedom from British rule but also poverty, untouchability, communal strife and all types of discrimination or exploitation.
He as a journalist raised his voice against the aforementioned social evils in Kirti, Arjun and Pratap, some of the well-known newspapers of their times. His articles focused on the various aspects of the nationalist struggle, combating communalism, untouchability, students, world brotherhood, conditions of the working class and peasantry including language and politics etc.
Some of the topics of his articles such as 'Religion and our freedom struggle', Achoot ka Sawaal (On Untouchability) and Sampradayik Dangeaurunka Ilaj (Communal riots and their solutions) show his concerns.
His organisation, the Hindustan Socialist Republican Army (HSRA) aimed at such a revolution which would usher in a new era, demolishing the existing socioeconomic and political structure of Indian society. Their revolution was not for anarchy or lawlessness but for social justice
During his last days in prison, noticing recurrent Hindu-Muslim riots which led to the conflict between the two religions, Singh dropped his belief in religion and became an atheist considering religion to be a hindrance in the revolutionaries' struggle for independence.
His article, 'Why I am an Atheist', written during his stay in prison made clear that the revolutionaries now need no religious inspiration as they have an advanced revolutionary ideology, based on reason instead of blind faith.
His ideas of social and economic justice and his passionate desire to rise above narrow caste and religious considerations would always remain crucial as it is today.
Literary works
"The Problem of Punjab's Language and Script "(1923).
"Vishv Prem" ("In love with the world") (1924) and "Yuvak" (1925) published in Matwala.
"Holi Ke Din Rakt Ke Chinte" ("Blood drops on Holi Day") published in 1926.
"The Red Pamphlet."
"Court Statements".
"Letter to Young Political Workers".
"Why I Am an Atheist" (1931).
"No Hanging, Please Shoot Us."
"Letter to Father."
"Introduction to Dreamland."
"The Fragrance of Freedom."
Manuscripts: "The Ideal of Socialism", "Autobiography", "History of Revolutionary Movement in India", "At the Door of Death" and "Jail Notebook".
Others.
Famous quotes
"I am a man and all that affects mankind is my concern."
"Revolution is an inalienable right of mankind. Freedom is an imperishable birth right of all".
"If the deaf have to hear, the sound has to be very loud".
"Merciless criticism and independent thinking are two traits of revolutionary thinking. Lovers, lunatics and poets are made of the same stuff".
"Bombs and pistols don't make a revolution. The sword of revolution is sharpened on the whetting stone of ideas".
"People get accustomed to the established order of things and tremble at the idea of change. It is this lethargic spirit that needs be replaced by the revolutionary spirit"
"Labour is the real sustainer of society".
"They may kill me, but they cannot kill my ideas. They can crush my body, but they will not be able to crush my spirit".
"I am such a lunatic that I am free even in jail".
"Rebellion against king is always a sin according to every religion."
Learn More