Savitribai Phule – Biography, Contributions, Literary Works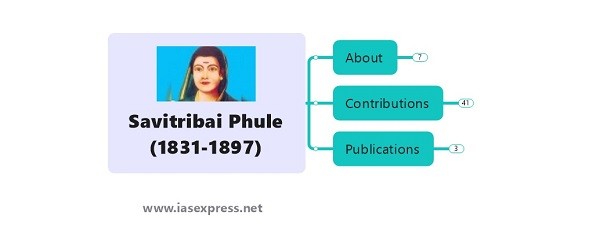 Savitribai Phule (1831-1897) was a social activist, reformer, educationist and author. She was the first woman teacher in India and established the first school for girls in India. She and her husband, Jyotiba Phule, persistently fought for women's rights in British India. She also played an essential role in fighting against caste discrimination in India.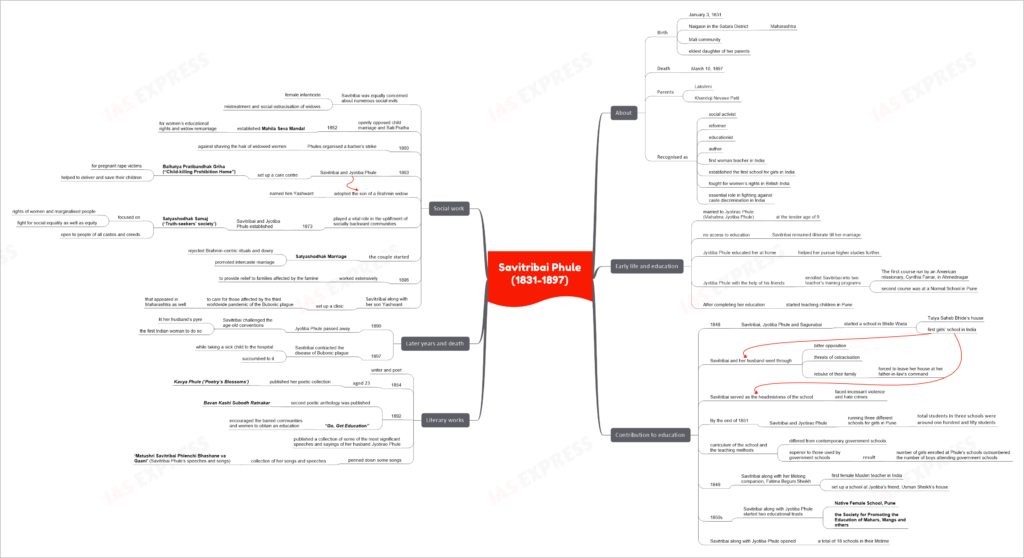 Early life and education
Savitribai was born on January 3, 1831, at Naigaon in the Satara District of Maharashtra.
Her parents were Lakshmi and Khandoji Nevase Patil who belonged to the Mali community. Mali community was considered to be a low caste in those days.
Savitribai Phule was the eldest daughter of her parents. She was married to Jyotirao Phule (Mahatma Jyotiba Phule) at the tender age of 9.
In those times, women had no access to education and thus Savitribai remained illiterate till her marriage. It was Jyotiba Phule, who educated her at home and helped her pursue higher studies further.
Jyotiba Phule with the help of his friends, Sakharam Yeshwant Paranjpe and Keshav Shivram Bhavalkar, enrolled Savitribai into two teacher's training programs.

The first course was at an institution which was run by an American missionary, Cynthia Farrar, in Ahmednagar. The second course was at a Normal School in Pune.

After completing her education, Savitribai started teaching children in Pune along with Jyotiba's mentor, Sagunabai.
Contribution to education
In 1848, Savitribai, Jyotiba Phule and Sagunabai started a school in Bhide Wada, which was Tatya Saheb Bhide's house. Tatya Saheb was an ardent supporter of the trio's work.

This was the first girls' school in India. Savitribai and her husband went through bitter opposition and threats of ostracisation for doing so.

Savitribai served as the headmistress of the school and thus faced incessant violence and hate crimes. People would often hurl dung and stones at Savitribai when she went to teach.

The couple had to face the rebuke of their family as well. Savitribai along with her husband was forced to leave her house at her father-in-law's command.

By the end of 1851, Savitribai and Jyotirao Phule were running three different schools for girls in Pune. The three schools in total had around one hundred and fifty students enrolled.
The curriculum of the school and the teaching methods differed from contemporary government schools, rather they were superior to those used by government schools.

This resulted in the number of girls enrolled at Phule's schools outnumbering the number of boys attending government schools.

In 1849, Savitribai along with her lifelong companion, Fatima Begum Sheikh, regarded as the first female Muslim teacher in India, set up a school at Jyotiba's friend, Usman Sheikh's house.
In the 1850s, Savitribai along with Jyotiba Phule started two educational trusts the Native Female School, Pune and the Society for Promoting the Education of Mahars, Mangs and others.
Savitribai along with Jyotiba Phule opened a total of 18 schools in their lifetime.
Social work
Besides education, Savitribai was equally concerned about numerous social evils such as female infanticide, mistreatment and social ostracisation of widows.
Savitribai openly opposed child marriage and Sati Pratha. In 1852, she established Mahila Seva Mandal for women's educational rights and widow remarriage.
In 1860, Phules organised a barber's strike against shaving the hair of widowed women.
In 1863, Savitribai along with her husband, Jyotiba Phule set up a care centre called Balhatya Pratibandhak Griha ("Child-killing Prohibition Home") for pregnant rape victims and helped to deliver and save their children.
The couple adopted the son of a Brahmin widow and named him Yashwant.
She also played a vital role in the upliftment of socially backward communities in India. In 1873, Savitribai and Jyotiba Phule established the Satyashodhak Samaj ('Truth-seekers' society').

The organisation focused on the rights of women and marginalised people and fight for social equality as well as equity. The body was open to people of all castes and creeds.

The couple also started the Satyashodhak Marriage which rejected Brahmin-centric rituals and dowry and promoted intercaste marriage.
In 1896, she worked extensively to provide relief to families affected by the famine.
In 1897, she along with her son Yashwant set up a clinic to care for those affected by the third worldwide pandemic of the Bubonic plague that appeared in Maharashtra as well.
Later years and death
In 1890, when Jyotiba Phule passed away, Savitribai challenged the age-old conventions and became the first Indian woman to light her husband's pyre.
In 1897, Savitribai contracted the disease of Bubonic plague while taking a sick child to the hospital and succumbed to it on March 10, 1897.
Literary works
Besides, pioneering social reforms in India, Savitribai was a writer and poet.
In 1854, at the age of 23, she published her poetic collection Kavya Phule ('Poetry's Blossoms').
In 1892, her second poetic anthology was published named Bavan Kashi Subodh Ratnakar. In the same year, she published a poem entitled "Go, Get Education" where she encouraged the barred communities and women to obtain an education.
Apart from this, she also published a collection of some of the most significant speeches and sayings of her husband Jyotirao.
She also penned down some songs. A collection of her songs and speeches is named 'Matushri Savitribai Phlenchi Bhashane va Gaani' (Savitribai Phule's speeches and songs).
Famous quotes
"Awake, Arise and Educate, / Smash Traditions- Liberate,"
"As I do the sacred task of teaching my fellow sisters, the stones or cow dung that you throw seem like flowers to me. May God bless you!"
"The lack of learning is nothing but gross bestiality. It is through the acquisition of knowledge that (he) loses his lower status and achieves a higher one."
"We shall overcome, and success will be ours in the future. The future belongs to us."
Learn More