AYUSH Sector in India – Objectives, Scope, Challenges, Way Forward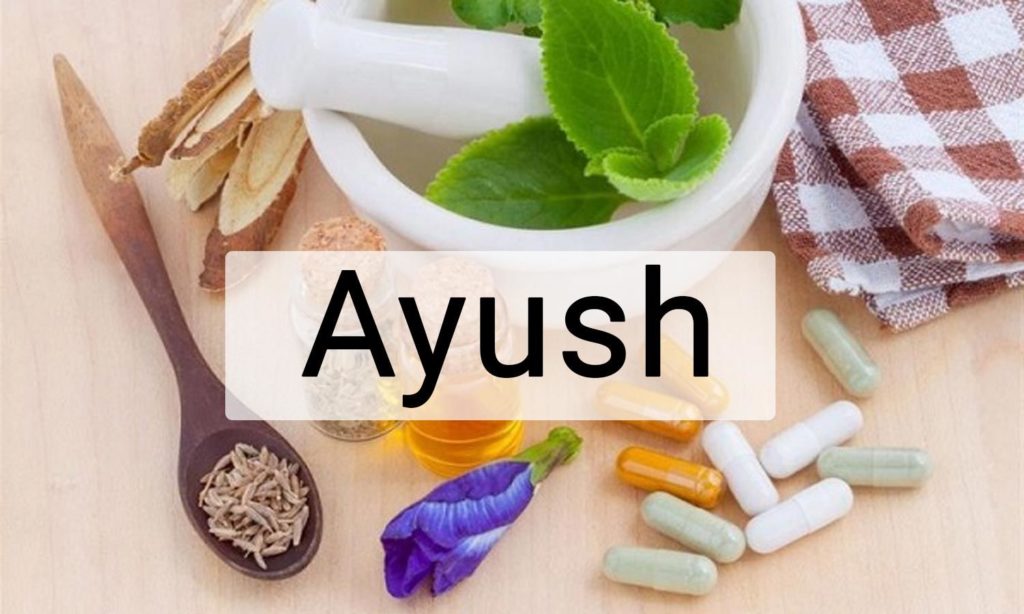 The Covid-19 pandemic has brought the spotlight on the health-promoting and disease-preventive solutions of Ayush disciplines. Recently, the operational integration of Ayush Grid, the emerging IT backbone for AYUSH Sector with the National Digital Health Mission (NDHM), was endorsed at a high-level meeting. This integration will be immensely beneficial to the public for availing varied options for their health needs. The integration will also accelerate the mainstreaming of the AYUSH disciplines of healthcare. In this context, let's make a detailed analysis of the AYUSH sector in India.

Origin of the AYUSH sector in India
AYUSH is an acronym for Ayurveda, Yoga and Naturopathy, Unani, Siddha, and Homeopathy. These are the six indigenous systems of medicine practised in India.
A department called Department of Indian System of medicine was created in March 1995 and renamed to AYUSH in November 2003 with a focus to provide increased attention for the development of these systems.
Very recently, in 2014, a separate ministry was created under the Union Government of India, which is headed by a minister of state.
Planning regarding these systems of medicine was a part of the 5-year planning process since 1951.
Currently, AYUSH system is a part of the mainstream health system implemented under National Rural Health Mission (NRHM).
NRHM came into play in 2005 but implemented at ground level in 2006 and introduced the scheme of "Mainstreaming of AYUSH and the revitalization of local health traditions" to strengthen public health services.
Objectives
To provide a choice of treatment system to the patients.
To strengthen the facility functionally and the implementation of national health programs.
To upgrade the educational standards in the Indian Systems of Medicines and Homoeopathy colleges in the country.
To strengthen existing research institutions and ensure a time-bound research program on identifying diseases for which these systems have an effective treatment.
To draw up schemes for promotion, cultivation and regeneration of medicinal plants used in these systems.
To evolve pharmacopoeial standards for Indian Systems of Medicine and Homoeopathy drugs.
What is the scope for the AYUSH sector in India?
Traditional sector has been practised over the ages in India.
India has a strong manufacturing base for the production of AYUSH medicines.
India is recognized the world over as an alternate medicine source.
India has a strong support system- 484 educational institutions and 25,861 hospitals/ dispensaries to treat or handle a large population.
World over natural and traditional approaches being welcomed
Increased scope for innovation and change in approach for AYUSH therapies
Estimated global market size: US$ 65 billion
Nutraceuticals:

The global market size is Rs. 5148 billion and Indian share 0.9%

Ayurveda coupled with medical and experiential tourism makes a potential for 1billion tourists annually.
Exports of medicinal plants (3500 out of 45,000 species found in India are of medicinal value)
There is a strong thrust on the promotion of the sector by the Government of India.
AYUSH sector scenario in India
The AYUSH market currently stands at a whopping $10 billion and is projected to see an impressive 50% increase over the course of the next five years.
Having no FDI limits, this sector has massive potential for exponential growth, especially in times of public health crises.
India is one of the few nations in the world that has an entire ministry dedicated to the research and development of such 'alternative' medical practices which ensures efficient fostering of developments that take place in the field.
With over 3000 hospitals and 500 colleges dedicated to the proliferation of AYUSH practices, India has emerged as a world leader in this sector of medicine.
Multiple wellness parks have been established around the country that stress on the importance of AYUSH practices. These have played a major role in pushing the idea of such medicine into the urban population.
Having ancient roots in such practices, the rural population of India has always looked for Ayurvedic home remedies which further strengthens the position of the sector. An almost equal level of penetration in both the rural and urban sectors makes for extremely fruitful returns.
An increase in the budget of AYUSH along with a focus on standardization has furthered this idea.
India, being the second largest exporter of alternative medicine also exports to nations that are beginning to consume these practices at an exponential rate.
Yoga, acupuncture and other such wellness practices are gaining immense popularity, especially in the developed countries, which makes for an even more exciting foray into the market.
The global market registered a Compound Annual Growth Rate (CAGR) of 19.9% over the forecast period at the helm of which is India with a stronghold in both local production and exports.
Given India's incumbent ancient knowledge and well-developed distribution channels, this export market will only continue to grow due to an increase in demand from international markets.
Increasing demand from India's top AYUSH export partners, namely USA, Japan, UAE and other developed nations ensure stability both locally and internationally.
Efforts to mainstream AYUSH
1.      e-AUSHADHI Portal
It has been launched by the Ministry of AYUSH for online licensing of Ayurveda, Siddha, Unani and Homoeopathy drugs and related matters.
It is intended for increased transparency, improved information management facility, improved data usability and increased accountability.
2.      Morarji Desai National Institute of Yoga (MDNIY)
It is an autonomous organization under Ministry of AYUSH
It has established 19 Preventive Health Care Units of Yoga in Central Government Health Scheme (CGHS) Wellness Centres in Delhi and NCR.
Regular Yoga training programs are being held in these Units.
3.      Central Council for Research in Siddha (CCRS)
It conducts special Out Patient Department (OPD) for non-communicable diseases and geriatric population.
4.      Enabling choice for the patients for different systems of medicine
To provide a choice of treatment system to the patients, Ministry of AYUSH co-locates AYUSH facilities at Primary Health Centres (PHCs), Community Health Centres (CHCs) and District Hospitals (DHs)
5.      National Program for Prevention and Control of Cancer, Diabetes, Cardiovascular Diseases and Stroke (NPCDCS)
Implementation: Ministry of AYUSH along with the Directorate General of Health Services (DGHS).
For health promotion, prevention and management of non-communicable diseases or lifestyle-related disorders.
6.      Homeopathy for Healthy Child
It is a public health program.
Developed by Central Council for Research in Homoeopathy (CCRH)
It has been integrated with RashtriyaBalSwasthyaKaryakram (RBSK)
Impact of AYUSH on Indian Society
The AYUSH medical system is very effective for lifestyle associated disorders.
It provides natural cure, which helped in curing of many severe diseases such as Depression, which is not seen even in other conventional medical systems.
It focuses on the prevention method.
It can help India achieve its Intended Nationally Determined Contribution(INDC) as promotion of sustainable lifestyle which is one of the goals under the INDCs.
It will provide growth opportunity to the indigenous medical research and employment opportunities in the upstream and the downstream of the AYUSH supply chain.
At a time when the best antibiotic become futile because of "Superbugs", AYUSH may open the doors of future technologies for healthy life.
Perspectives on the innovation of AYUSH sector
Innovation and innovation-opportunities in a Traditional Knowledge sector, such as AYUSH, should be conceived from a very different perspective from that of the conventional science/technology sector.
In the Traditional Knowledge sector, there are richer possibilities of success through retrospective and inward exploration than in a normal perspective/outward innovation exercise.
Measures To Create Innovation Ecosystems:
Major financial and management policy inputs are needed to strengthen the Education–Research–Service–Industry components individually and severally, to see that all four components develop hand-in-hand into a continuum that prove complementary to each other.
This will require disrupting the existing top-down bureaucratic rigidity and conservativism.
Measures To Encourage Young Talents, And Local Institutions:
One of the important means of attempting to strengthen the system should be to identify existing young talents in local educational and R&D institutions, and to encourage and reward them for good work with incentives, such as innovation fellowships, development funds, centralized training programs, and Continuing Medical Education Scheme (CMEs)
Measures To Create And Provide Support To Promote Innovation:
The budget allocation to the AYUSH sector by the Government of India should be adequately raised to increase investment in programs and activities that promote innovation.
Measure To Create Awareness
This can be done by organizing Seminars, lectures, workshops on Innovation.
The drug of choice for the treatment of COVID-19 remains an unsolved issue.
Major scientific bodies are engaged in the discovery of preventive solutions and curative medicines for COVID-19
Ayurveda medicines have sufficient potentialities to apply in the battle of COVID-19 in preventive and curative aspects. But there is a  need to develop modern scientific evidence on potentiality of Ayurveda​ on COVID-19 management.
Such public health initiatives are supported under​ WHO Guidance for Managing Ethical Issues in Infectious Disease​, which allows for "monitored emergency use of unregistered and experimental interventions" (MEURI).
The Ayurveda fraternity needs to develop universal guidelines of Ayurveda​ management on COVID-19 after generating proper scientific evidence.
Challenges
Low scale of operations
Low on Technology
Lack of globally accepted standards
Formulations don't qualify for certifications
Not fully integrated with mainstream markets
No efforts for new market access and branding
Low level of entrepreneurial aggressiveness
Irregular supply of inputs/ raw material
AYUSH Sector might become irrelevant to the issues of health care if there is no innovation/ R&D
It faces criticisms for non- standard, unsafe and harmful formulations.
Brand recognition and rise of alternate traditional medical systems of Chinese, South American and African pose a threat to AYUSH sector export.
Non-documentation of traditional skills might lead to dissipation of knowledge.
Way Forward
1.      Policy Support:
Encouraging private investment, including incentives for large healthcare companies
Liberal tax incentives for promotion of R&D
Establish an accreditation mechanism for wellness/ treatment centres
Support for digitization/ IT-based database management for:

Documenting traditional medicines
Tracing of raw material/ medicinal plant species

Emphasis on organic cultivation of raw materials
Thrust on market development and branding for Ayurveda drugs/ therapies
2.      Clustering
Holistic Cluster Development:

Conclusion
AYUSH has huge potential to promote better health and thus positively impact the Indian economy.
It is witnessing a meteoric rise on the back of promotional and educational initiatives by the Government, medical tourism, and consumer awareness regarding the advantages of using alternative medicines.
Practice Question for Mains
The time is ripe to systematically promote and mainstream AYUSH. Substantiate. (250 Words)