2023 Nobel Prize in Economic Sciences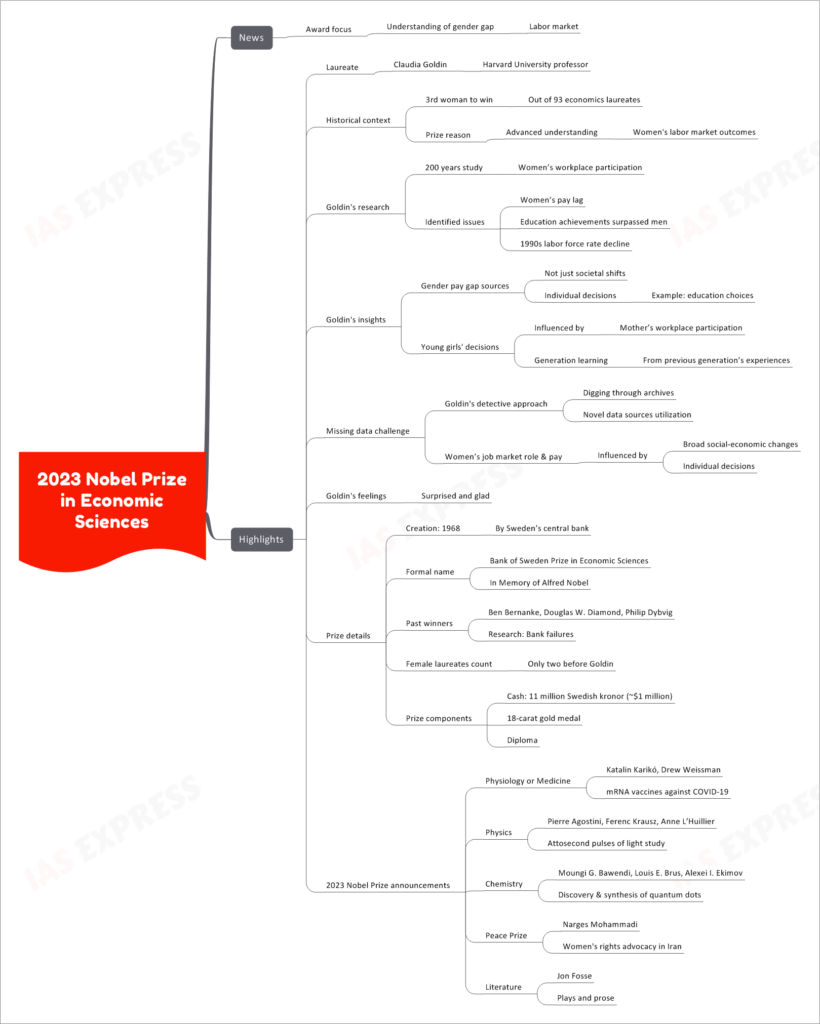 The 2023 Nobel Prize in Economic Sciences has been awarded to Claudia Goldin, a distinguished professor at Harvard University. Her groundbreaking research in economics has significantly advanced our understanding of the gender gap in the labor market.
Award Focus: Understanding the Gender Gap in the Labor Market
The Nobel Prize in Economic Sciences for 2023 recognizes Claudia Goldin's pivotal work in comprehending the complexities of the gender gap in the labor market, particularly with respect to women's employment outcomes.
Highlights
Laureate: Claudia Goldin
Claudia Goldin, a Harvard University professor, has been honored as the laureate of the 2023 Nobel Prize in Economic Sciences.
Historical Context
Claudia Goldin's win is historic as she becomes the third woman to receive the Nobel Prize in Economic Sciences out of a total of 93 economics laureates.
Her recognition is attributed to her advanced understanding of women's labor market outcomes.
Goldin's Research
A 200-Year Study
Claudia Goldin's research spans a remarkable 200-year history, focusing on women's workplace participation.
Identified Issues
Her extensive research has identified critical issues such as the gender pay gap, women surpassing men in educational achievements, and a decline in the labor force rate during the 1990s.
Goldin's Insights
Gender Pay Gap Sources
Claudia Goldin's work has shown that the gender pay gap is not solely a result of societal shifts but also influenced by individual decisions, including education choices. copyright©iasexpress.net
Young Girls' Decisions
She has highlighted how young girls' decisions regarding their careers are influenced by factors like their mothers' workplace participation. This underscores the importance of generational learning and role models.
Missing Data Challenge
Goldin's research often involved tackling the challenge of missing data. Her detective approach involved extensive efforts, including digging through historical archives and utilizing novel data sources.
Her findings suggest that women's roles and pay in the job market are influenced by broad social-economic changes and individual decision-making.
Goldin's Feelings
Claudia Goldin expressed surprise and gladness upon receiving the prestigious Nobel Prize in Economic Sciences, acknowledging the significance of her work in addressing gender disparities in the labor market.
Prize Details
Creation and Formal Name
The Nobel Prize in Economic Sciences was established in 1968 by Sweden's central bank and is formally known as the "Sveriges Riksbank Prize in Economic Sciences in Memory of Alfred Nobel."
Past Winners
Previous laureates of the Nobel Prize in Economic Sciences include notable figures like Ben Bernanke, Douglas W. Diamond, and Philip Dybvig, recognized for their research on bank failures.
Female Laureates Count
Claudia Goldin's win increases the count of female laureates in the field, which was previously limited to only two. copyright©iasexpress.net
Prize Components
The Nobel Prize in Economic Sciences includes a monetary award of 11 million Swedish kronor (approximately $1 million), an 18-carat gold medal, and a diploma.
2023 Nobel Prize Announcements
The 2023 Nobel Prize announcements also recognized significant achievements in other fields:

Physiology or Medicine: Katalin Karikó and Drew Weissman were awarded for their work on mRNA vaccines against COVID-19.
Physics: Pierre Agostini, Ferenc Krausz, and Anne L'Huillier received the prize for their study of attosecond pulses of light.
Chemistry: Moungi G. Bawendi, Louis E. Brus, and Alexei I. Ekimov were honored for their discovery and synthesis of quantum dots.
Peace Prize: Narges Mohammadi received recognition for her advocacy of women's rights in Iran.
Literature: Jon Fosse was acknowledged for his contributions to plays and prose.