11th Meeting of UAE-India High Level Joint Task Force on Investments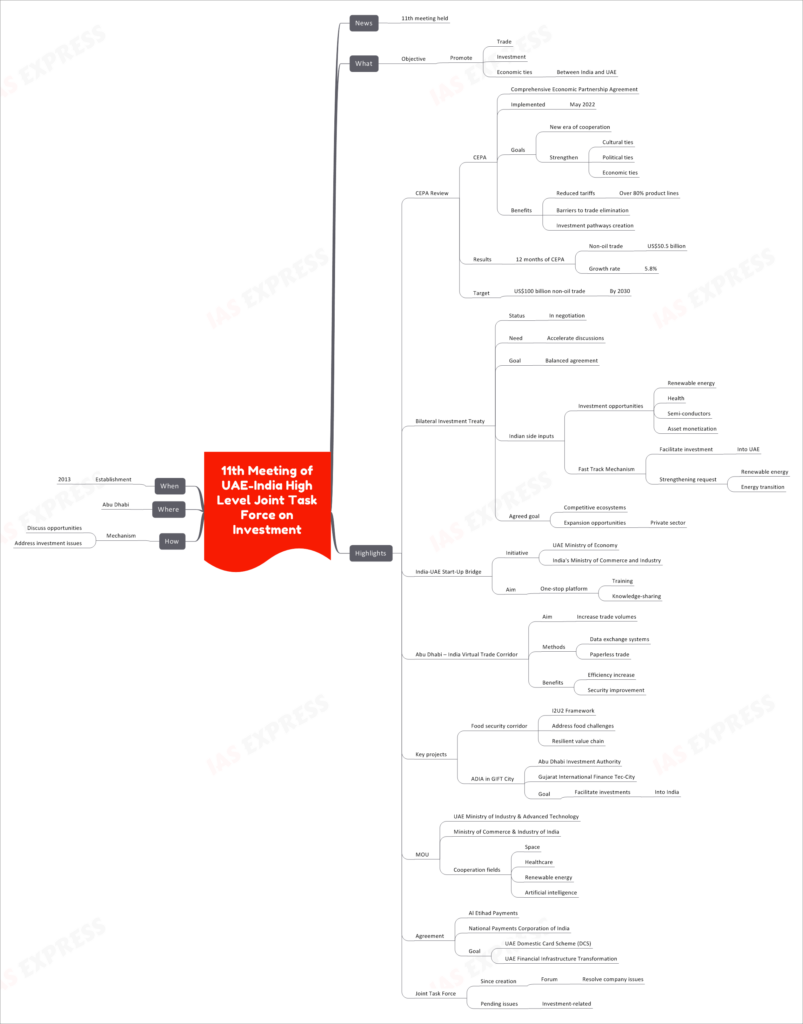 The 11th meeting of the UAE-India High-Level Joint Task Force on Investments has recently been held in Abu Dhabi.
Meeting Objectives
Objective
The primary objective of this meeting is to foster stronger economic relations between India and the UAE by promoting trade and investment.
Meeting Highlights
CEPA Review (Comprehensive Economic Partnership Agreement)
Implementation: CEPA was implemented in May 2022.
Goals: CEPA aims to usher in a new era of cooperation, strengthen cultural, political, and economic ties, and facilitate trade and investment.
Benefits: It has led to reduced tariffs on over 80% of product lines, eliminated trade barriers, and created pathways for investment.
Results: Within 12 months of CEPA, non-oil trade reached US$50.5 billion, growing at a rate of 5.8%. The target is to achieve US$100 billion in non-oil trade by 2030.
Bilateral Investment Treaty
Status: Negotiations are ongoing.
Need: There is a need to accelerate discussions.
Goal: The goal is to establish a balanced agreement.
Indian Side Inputs: India has highlighted investment opportunities in renewable energy, health, semi-conductors, and asset monetization. The Fast Track Mechanism aims to facilitate investment into the UAE, with a focus on renewable energy and energy transition.
Agreed Goal: Both parties aim to create competitive ecosystems and expand opportunities for the private sector. copyright©iasexpress.net
India-UAE Start-Up Bridge
Initiative: A joint effort by the UAE Ministry of Economy and India's Ministry of Commerce and Industry.
Aim: This initiative seeks to establish a one-stop platform for training and knowledge-sharing among startups.
Abu Dhabi – India Virtual Trade Corridor
Aim: The corridor aims to increase trade volumes through data exchange systems and paperless trade, enhancing efficiency and security.
Key Projects
Food Security Corridor: The I2U2 Framework addresses food challenges and aims to create a resilient value chain.
ADIA in GIFT City (Abu Dhabi Investment Authority): This project aims to facilitate investments into India, particularly in Gujarat International Finance Tec-City.
MOU (Memorandum of Understanding)
An MOU was signed between the UAE Ministry of Industry & Advanced Technology and the Ministry of Commerce & Industry of India. The cooperation encompasses space, healthcare, renewable energy, and artificial intelligence.
Agreement – Al Etihad Payments
This agreement between Al Etihad Payments and the National Payments Corporation of India aims to establish the UAE Domestic Card Scheme (DCS) and transform UAE's financial infrastructure.
Joint Task Force
The Joint Task Force, in existence since 2013, serves as a forum to resolve company-related issues, including investment-related concerns.
Meeting Mechanism
Mechanism
The meeting served as a platform to discuss opportunities and address investment-related issues between the two nations. copyright©iasexpress.net
Meeting Details
Location
The 11th meeting was held in Abu Dhabi.
Establishment
The UAE-India High-Level Joint Task Force on Investments was established in 2013, highlighting the long-standing commitment to advancing economic cooperation between the two countries.