[In-depth] Zero FIR – Empowering Victims and Enhancing Women's Safety

Zero FIR is a vital provision in the criminal justice system that enables victims to file a complaint at any police station, regardless of the jurisdiction where the crime took place. This approach ensures a swift and efficient initiation of legal proceedings, prioritizing the needs of the victim and eliminating unnecessary delays.
Recently, the concept of Zero FIR has been in the news due to its application in the ongoing violence in Manipur, where hundreds of Zero FIRs have been registered, posing challenges for the police in conducting investigations amidst rising tensions and limited access to victims.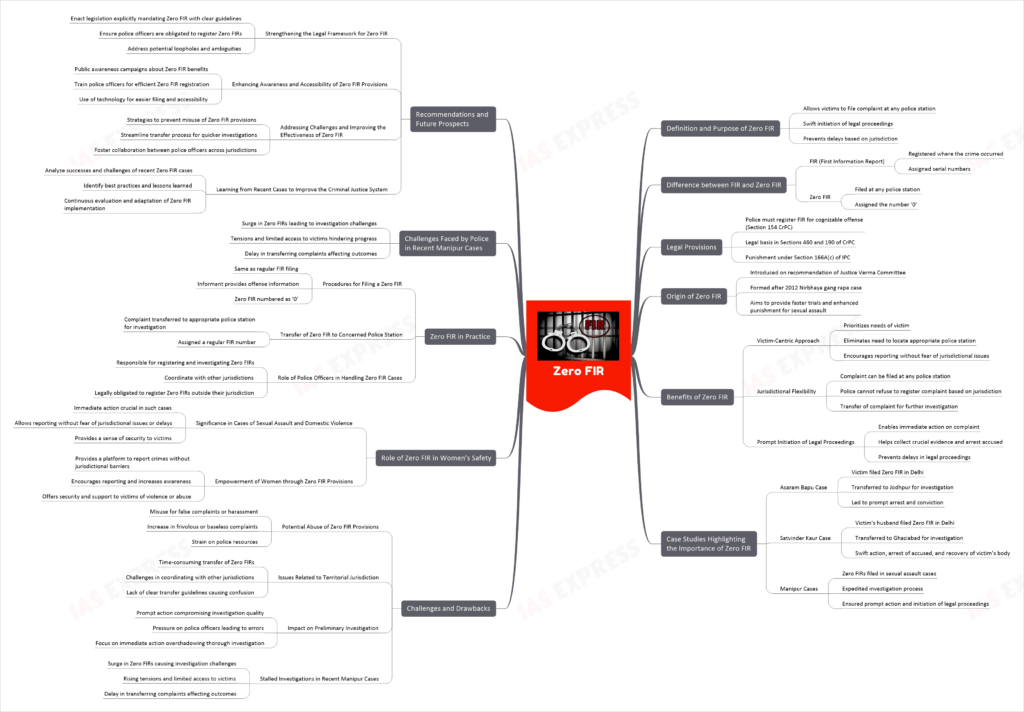 Concept and Legal Framework
Definition and Purpose of Zero FIR
Zero FIR is a provision in the criminal justice system that allows victims to file a complaint at any police station, regardless of the jurisdiction where the crime occurred
Ensures swift initiation of legal proceedings and prioritizes the needs of the victim
Introduced to prevent police from using the excuse of jurisdictional limitations to delay action on complaints
Difference between FIR and Zero FIR
FIR (First Information Report) is a complaint registered at the police station where the crime occurred
Zero FIR can be filed at any police station, irrespective of the jurisdiction where the crime took place copyright©iasexpress.net
FIRs have serial numbers assigned to them, while Zero FIRs are assigned the number '0'
Legal Provisions Related to Zero FIR (Section 154 of CrPC)
Section 154 of the Code of Criminal Procedure (CrPC) mandates that police must register an FIR when they receive information about a cognizable offense
Although Zero FIR is not explicitly mentioned in the CrPC, its legal basis can be found in Sections 460 and 190 of the CrPC
Section 166A(c) of the Indian Penal Code (IPC) provides punishment for a public servant who refuses to record any information given to him under Section 154(1) of the CrPC
Origin of Zero FIR (Justice Verma Committee, 2012 Nirbhaya Case)
The concept of Zero FIR was introduced on the recommendation of the Justice Verma Committee, which was formed after the 2012 Nirbhaya gang rape case
The committee was constituted to suggest amendments to the Criminal Law to provide for faster trials and enhanced punishment for criminals accused of committing sexual assault against women
The introduction of Zero FIR aimed to put a legal obligation on police to take quick action and prevent them from using the excuse of absence of jurisdiction
Benefits of Zero FIR
Victim-Centric Approach
Zero FIR prioritizes the needs of the victim by allowing them to file a complaint at any police station copyright©iasexpress.net
Eliminates the need for victims to locate the appropriate police station, reducing stress and anxiety during a traumatic time
Encourages victims to come forward and report crimes without fear of jurisdictional issues
Jurisdictional Flexibility
Provides flexibility in filing complaints, as victims can register a complaint at any police station, irrespective of the jurisdiction where the crime occurred
Ensures that the police cannot refuse to register a complaint on the grounds of jurisdiction
Facilitates the transfer of the complaint to the appropriate police station for further investigation
Prompt Initiation of Legal Proceedings
Zero FIR enables the police to take immediate action on a complaint, regardless of the jurisdiction
Helps in the collection of crucial evidence and the arrest of the accused at the earliest
Prevents delays in the initiation of legal proceedings, which can be detrimental to the case
Case Studies Highlighting the Importance of Zero FIR
Asaram Bapu Case
Asaram Bapu, a high-profile spiritual leader, was accused of sexually assaulting a minor girl at his ashram in Jodhpur, Rajasthan
The victim's family filed a Zero FIR at a police station in Delhi, which was later transferred to Jodhpur for investigation
The prompt registration of the Zero FIR led to the arrest of Asaram Bapu and a speedy trial, resulting in his conviction copyright©iasexpress.net
Satvinder Kaur Case
Satvinder Kaur was abducted and murdered, with her husband filing a Zero FIR at a police station in Delhi
The case was transferred to the appropriate police station in Ghaziabad, Uttar Pradesh, for investigation
The Zero FIR allowed the police to act swiftly, leading to the arrest of the accused and the recovery of the victim's body
Manipur Cases
In the recent Manipur sexual assault case, two Kuki women were paraded naked and molested by a mob from the Metei community
A Zero FIR was filed at the Nongpok Sekmai Police Station in Thoubal district, which expedited the investigation process
In another case involving the abduction, rape, and murder of two Kuki-Zomi women, a Zero FIR was registered at Saikul police station in Kangpokpi district and later transferred to Porompat police station in Imphal East district for investigation
The use of Zero FIR in these cases highlights its importance in ensuring prompt action and the initiation of legal proceedings
Challenges and Drawbacks
Potential Abuse of Zero FIR Provisions
Zero FIR can be misused by individuals to file false complaints or harass others
The ease of filing a complaint at any police station may lead to an increase in frivolous or baseless complaints copyright©iasexpress.net
Police resources may be stretched thin due to the increased workload from handling multiple Zero FIRs
Issues Related to Territorial Jurisdiction
The transfer of Zero FIRs to the appropriate police station can be time-consuming and may cause delays in the investigation process
Police officers may face challenges in coordinating with other jurisdictions during the investigation
The lack of clear guidelines on the transfer of Zero FIRs can lead to confusion and inefficiencies in the system
Impact on Preliminary Investigation
The prompt initiation of legal proceedings through Zero FIR may sometimes compromise the quality of the preliminary investigation
Police officers may be pressured to act quickly, leading to hasty decisions and potential errors in the investigation process
The focus on immediate action may overshadow the need for a thorough and meticulous investigation
Stalled Investigations in Recent Manipur Cases
The recent surge in Zero FIRs filed in Manipur has led to challenges for the police in conducting investigations
Rising tensions and limited access to victims have hindered the progress of investigations
The delay in transferring complaints to the relevant police station for investigation has further stalled the process, potentially affecting the outcome of the cases
Role of Zero FIR in Women's Safety
Significance in Cases of Sexual Assault and Domestic Violence
Zero FIR is particularly important in cases of sexual assault and domestic violence, where immediate action is crucial copyright©iasexpress.net
Allows victims to report crimes without fear of jurisdictional issues or delays in the initiation of legal proceedings
Ensures that police cannot refuse to register a complaint on the grounds of jurisdiction, providing a sense of security to victims
Empowerment of Women through Zero FIR Provisions
Zero FIR empowers women by providing them with a platform to report crimes without facing jurisdictional barriers
Encourages women to come forward and report crimes, leading to increased awareness and better prevention of such incidents
Provides a sense of security and support to women who have experienced violence or abuse
Zero FIR in Practice
Procedures for Filing a Zero FIR
The procedure to file a Zero FIR is the same as a regular FIR
The informant visits a police station and furnishes all the information pertaining to the commission of an offense
The police will number the FIR as '0' instead of giving a regular FIR number
Transfer of Zero FIR to the Concerned Police Station
After registering a Zero FIR, the police station must transfer the complaint to the appropriate police station having jurisdiction over the incident for further investigation
The relevant police station then assigns a regular FIR number to the transferred Zero FIR copyright©iasexpress.net
Role of Police Officers in Handling Zero FIR Cases
Police officers are responsible for registering Zero FIRs and initiating any timely investigation required to collect transitory evidence
They must coordinate with other jurisdictions during the investigation process
Police officers are legally obligated to register a Zero FIR, even if the crime occurred outside their jurisdiction
Challenges Faced by Police in Recent Manipur Cases
The surge in Zero FIRs filed in Manipur has led to challenges for the police in conducting investigations
Rising tensions and limited access to victims have hindered the progress of investigations
The delay in transferring complaints to the relevant police station for investigation has further stalled the process, potentially affecting the outcome of the cases
Recommendations and Future Prospects
Strengthening the Legal Framework for Zero FIR
Enact legislation that explicitly mandates the concept of Zero FIR, providing clear guidelines and preventing misuse
Ensure that police officers are legally obligated to register a Zero FIR, even if the crime occurred outside their jurisdiction
Address potential loopholes and ambiguities in the legal framework to ensure the effectiveness of Zero FIR provisions
Enhancing Awareness and Accessibility of Zero FIR Provisions
Launch public awareness campaigns to educate citizens about the existence and benefits of Zero FIR copyright©iasexpress.net
Train police officers on the proper procedures for registering and transferring Zero FIRs, ensuring a consistent and efficient process
Encourage the use of technology, such as online portals and mobile applications, to facilitate the filing of Zero FIRs and improve accessibility
Addressing Challenges and Improving the Effectiveness of Zero FIR
Develop strategies to address the potential abuse of Zero FIR provisions, such as implementing checks and balances to prevent false complaints
Streamline the process of transferring Zero FIRs to the appropriate police station, reducing delays in the investigation process
Foster collaboration and coordination between police officers across jurisdictions to improve the handling of Zero FIR cases
Learning from Recent Cases to Improve the Criminal Justice System
Analyze the successes and challenges of recent cases involving Zero FIR, such as the Manipur sexual assault case and the Kuki women case
Identify best practices and lessons learned from these cases to inform future policy reforms and improvements in the criminal justice system
Continuously evaluate and adapt the implementation of Zero FIR provisions to ensure their effectiveness in promoting justice and protecting victims
In coclusion, Zero FIR is a significant provision in the criminal justice system that enables victims to file a complaint at any police station, regardless of the jurisdiction where the crime occurred. This approach ensures a swift and efficient initiation of legal proceedings, prioritizing the needs of the victim and eliminating unnecessary delays. While there are challenges and drawbacks associated with Zero FIR, such as potential abuse and jurisdictional issues, the benefits it offers in terms of victim-centric approach and prompt action in cases of sexual assault and domestic violence are undeniable. Moving forward, it is essential to strengthen the legal framework, enhance awareness, and address challenges to improve the effectiveness of Zero FIR and its role in the criminal justice system. copyright©iasexpress.net
Practice Questions
Analyze the role of Zero FIR in ensuring a victim-centric approach within the criminal justice system and discuss its significance in cases of sexual assault and domestic violence. (250 words)
Examine the challenges and drawbacks associated with the implementation of Zero FIR. Suggest measures to address these challenges and improve the effectiveness of Zero FIR in the criminal justice system. (250 words)
Learn More