Transgender Rights in India – Key Issues and Challenges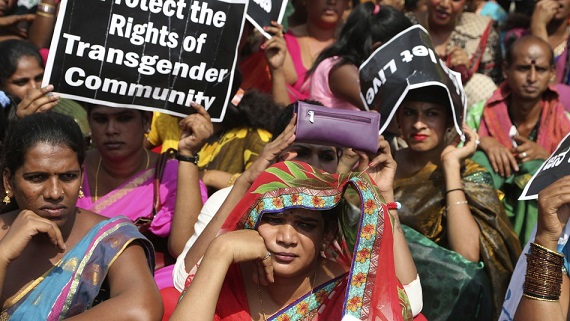 Recently, the Lok Sabha has passed the Transgender Persons (Protection of Rights) Bill, 2016 with some amendments. The bill aims at empowering the transgender community in the country by giving them a separate identity. The main objective of the bill is to define transgender and prohibit discrimination against the transgender community. However, it falls short of addressing certain key issues being faced by the community.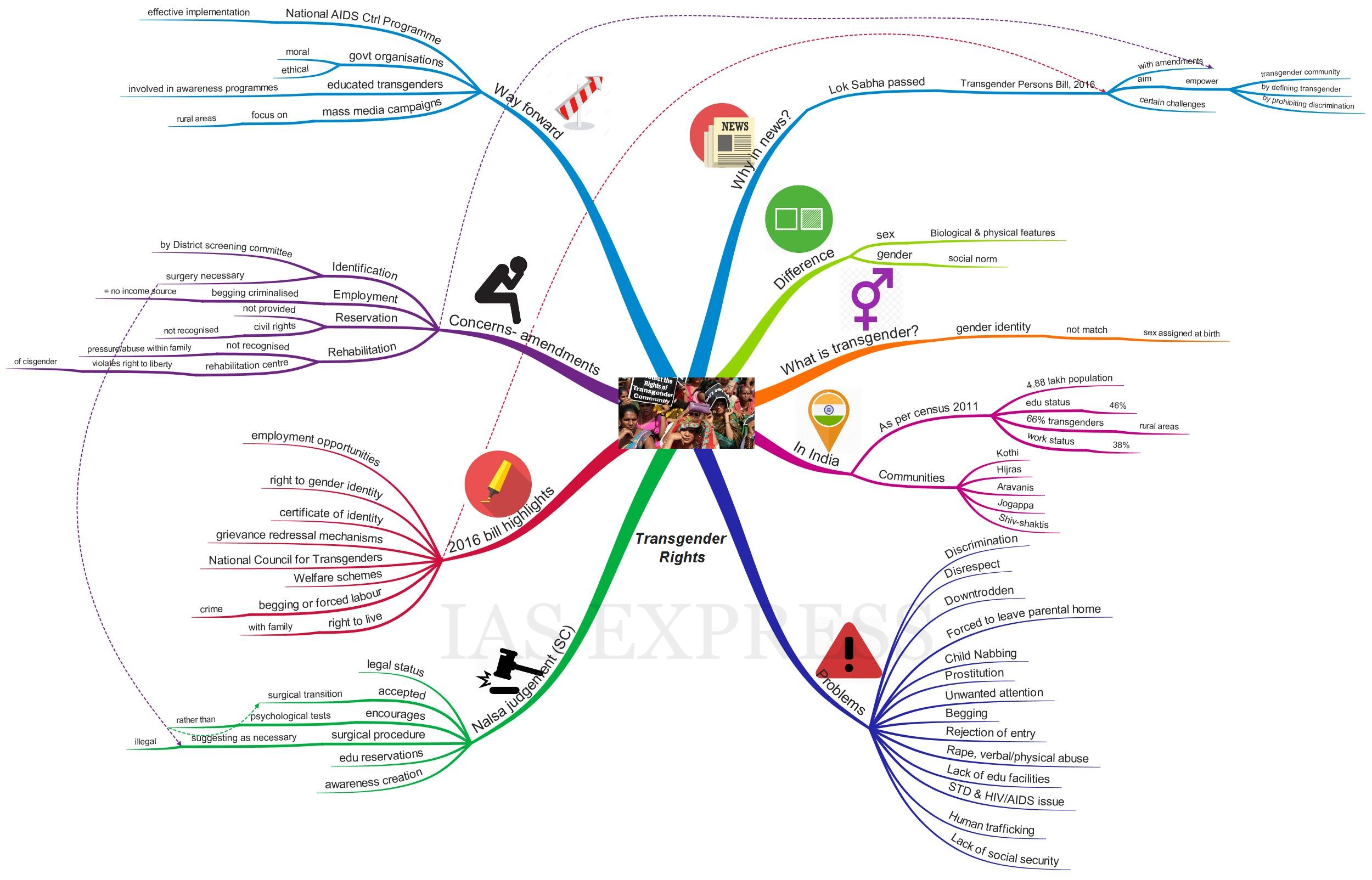 What is the difference between Sex and Gender?
According to World Health Organization (WHO), Sex refers to the biological and physiological features that define men and women whereas Gender refers to the socially determined roles, behaviour, activities, and attributes that a concerned society considers suitable for men and women.
What is a transgender?
Transgender is a term used to refer people whose gender identity does not match with the sex that they were assigned at the time of their birth.
Transgender people are sometimes called as transsexual if they desire medical support for the transition from one sex to another.
Transgender also includes persons who are gender queer.
Transgender community in India
As per census 2011,

the total population of transgender in India is 4.88 lakh.
The census also mentions their educational status to be just 46% compared to 76% among the general population.
Among the counted transgender persons, 66% lived in rural areas and 38% are of the working population.

There are different types of transgender communities in India. The most prominent of them are

Kothi (represent themselves as male),
Hijras (Biological males, however, reject masculine identity),
Aravanis (Woman wrapped in a male body),
Jogappa (Serve as the servant of Goddess Renuka Devi),
Shiv-shaktis (Males but have feminine gender expressions).

Transgender is, in fact, an integral part of the society in India, however, most neglected and denied one also.

In India, they can be found and seen in each and every place as the most neglected one.
When the child takes birth in any Hindu family, they are called to give blessings to the child and even at the time of marriages, they are invited to bless the newly couple.
Except for these situations, they are treated as sin and curse to the society.
What are the problems being faced by the transgender community in India?
Discrimination: It is the main issue of transgender. They are discriminated with respect to education, employment, entertainment, justice etc.
Disrespect: They are disrespected in each and every aspect of life except in some cases such as after the childbirth for their blessings due to their identity as Transgender.
Downtrodden: These people are treated badly or oppressed by people in power. They are prone to struggle for social justice due to their identity as Transgender.
Forced to leave parental home: When their identity is revealed, they are forced to leave their parental home by the society since they cannot be a part and parcel of normal community and class.
Child Nabbing: This community always searches for those babies/infants/children who are born with this feature of transgender. When they come to know, they try to nab the child from their parents.
Prostitution: They are forced to enter the profession of prostitution by their community, friends or relatives. Even in a few cases, it is found that their parents are involved in it.
Unwanted attention: People give unwanted attention to the Transgender in public. They try to create the scene by insulting, punishing, abusing or cursing them.
Begging: Since no other means of livelihood available for them due to discrimination or denial, they are forced to either enter the prostitution or beg to eat the next meal.
Rejection of entry: They are denied entry into religious places, public places such as hotels, restaurants, theaters, parks etc. Sometimes, they are even denied entry into public toilets due to their identity.
Rape, Verbal and Physical abuse: This is the most common issue that the Transgender people face.
Lack of educational facilities: Unlike normal people, they are not entitled to take education in schools and colleges. Even in terms of education, they are treated differently.
STD and HIV/AIDS issue: The term MSM refers to Men who have sex with Men. Due to this, Transgender persons are likely to have issues like STI (Sexually Transmitted Diseases) and HIV/AIDS.
Human Trafficking: As they are most neglected, they are more prone to face the problem of human trafficking also.
Other exclusions like lack of social security etc.
Preamble talks about social, economic, and politically equal status for the Transgenders.
Article 14 – mentions Transgenders and has given Right to Equality.
Article 15 – prohibits discrimination with respect to caste, sex, religion, race, and place of birth.
Article 21 – provides right to privacy and personal dignity to the transgender.
Article 23 – prohibits trafficking them for begging or any other forms of forced labour.
What are the Supreme Court directives towards the transgender? (Nalsa Judgement)
In 2014, the Supreme Court passed a judgement which was a result of the petition filed by the National Legal Services Authority (NALSA). The judgement is also known as the NALSA Judgement,
SC provides legal status for the Transgender.
It bestows a legal recognition to Transgenders who wish to get transitioned within male or to female through surgeries. The court rejects biological tests for the procedure of recognition and encourages psychological tests.
SC also declared that the suggestion of SRS (Sex Reassignment Surgery) as a condition for changing the Transgender person's gender to be illegal.
SC also ordered the Central and State governments to extend educational reservations for the Transgender.
It has also insisted on creating awareness in the society so that they are not stigmatized by the public.
What are the highlights of the Transgender Persons (Protection of Rights) Bill, 2016?
It makes it mandatory for public and private sectors to provide them with employment opportunities.
It recognises their right to "self-perceived gender identity".
A transgender person must get a certificate of identity as proof of recognition of identity as a transgender person and to invoke rights under the Bill.
It has provisions for a grievance redressal mechanism in establishments.
It also provides for the establishment of a National Council for Transgenders.
It gives responsibility to the government for preparing welfare schemes and programmes which are "transgender-sensitive, non-stigmatising and non-discriminatory".
The bill maintains that it is a crime to force transgender persons into begging or bonded or forced labour.
The Bill recognises the rights of transgender persons to live with their families without exclusion and utilise the facilities of those households in a non-discriminatory manner.
What are concerns with the recent Amendments (2018)?
Identification
It defines a transgender as a person whose gender does not match with the gender assigned to that person at birth.
It also includes trans-man or trans-woman, a person with intersex variations, gender- queer and person having such socio-cultural identities as kinner, hijra, aravani and jogta.
But the bill provides for a district screening committee which will be given the power to certify people as transgender or not.
A person who wishes to transition from one gender identity to another will be certified as male/female only after a gender reassignment surgery.

This condition violates the principle of self-identification as laid down by the supreme court.
It also violates the Nalsa judgment that had specifically laid out that any insistence on surgery for declaring one's gender is immoral and illegal.
Employment
The Bill criminalises begging and prescribes a jail term for 6 months to 2 years for anyone who forces or lures a transgender person to indulge in the act of begging.
This may negatively impact the community because, in the absence of employment, transgender persons engage in begging as a source of livelihood.
The Bill mentions that the State will make sure of the "rescue, protection and rehabilitation" of transgender persons.
But it fails to provide backward class reservation to transgenders in education and public employment.
Furthermore, the issue of recognition of civil rights in marriage, divorce, and adoption among transgender persons have not been resolved yet.
Rehabilitation
The bill prohibits forcible separation of transgender persons (including transgender children) from their families, except through court orders.
They should either live with their natal "family" (blood or adoptive relations) or sent to rehabilitation centres.
But the bill failed to observe that it was within the family that several transgender persons faced harassment as well as abuse, and often pressured to flee their homes.
Moreover, the bill states that, if a parent or immediate family member cannot take care of a transgender, they should be sent to a rehabilitation centre.
This violates the right to liberty of a cisgender people (people who identify with the same gender identity they were assigned at birth) and make them subjects of "care" which they do not want or require.
What is the way forward?
Just legal recognition would not be sufficient to address the day-to-day social and economic challenges being faced by transgenders. The government needs to do much more to remove the social exclusion and health challenges being faced by the transgender community.
The gap in the National AIDS control programme should be resolved and a separate wing should be established to address the AIDS issue in the transgender population.
Government organizations should function morally and ethically towards the transgender persons. For instance, police harassment has been a major problem and should be severely curbed. If the government itself discriminates and oppress the transgenders, how come the normal people would respect them.
Educated transgenders should be involved in the programmes to remove the shyness, make them comfortable, inspired and understand their issues more effectively.
Mass media awareness should be created and more campaigns should focus on targeting rural areas (high transgender population) rather than only in metropolitan cities.
A touching video to remember this issue better
Can a trans man/woman adopt a child in India?
The right to adopt a child, according to the Indian adoption laws, however, is bleak for transgender men and women. In the absence of the endorsement of law, in most practical situations, legal adoptions are pretty much a far-off dream. Just in case the recent Vicks ad made you believe otherwise, you are sadly mistaken. A trans woman cannot walk into an adoption centre or orphanage seeking to adopt a child.
The Central Adoption Resource Agency (CARA), however, in its affidavit filed in the Bombay High Court on 2nd December' 15, has refuted the allegation that gays, lesbians and the transgender can't adopt children as per the new adoption guidelines.
The CARA deputy director Binod Kumar Sahum, in its affidavit has stated, "Prospective parents should be physically, emotionally and mentally stable, financially capable, motivated to adopt a child and should not have a life-threatening medical condition. Adoption, in general, is hard for any single man or woman, so considering the social norms in the country; one can only imagine how painstaking this task could be for a member of the third gender.
While more and more cases of gender disparity crop up in India, the Vicks ad is merely a baby step towards normalising trans parenthood in our anxiously patriarchal society. Source.