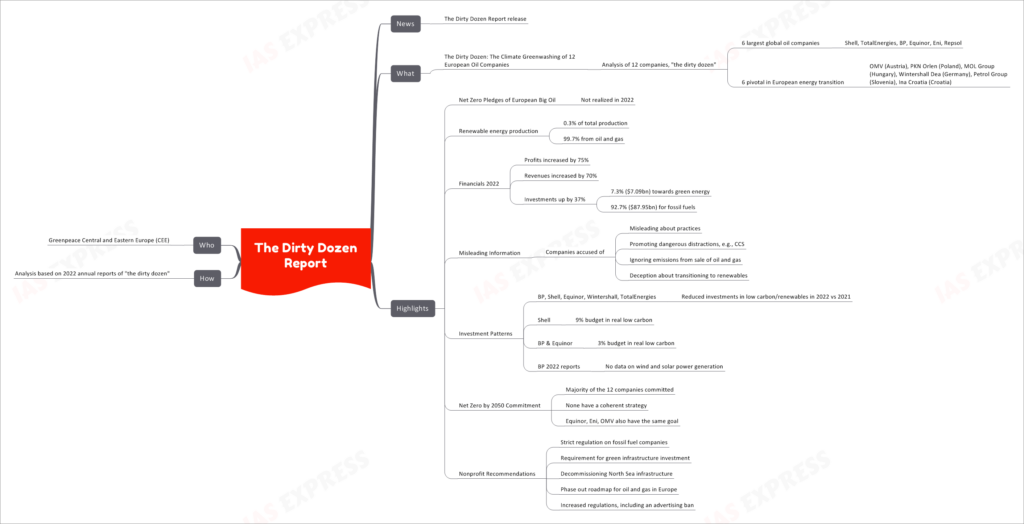 The release of "The Dirty Dozen: The Climate Greenwashing of 12 European Oil Companies" report by Greenpeace Central and Eastern Europe (CEE) sheds light on the discrepancy between the environmental pledges and actions of major oil companies. This comprehensive analysis scrutinizes the practices of twelve European oil companies, uncovering instances of greenwashing and raising concerns about the authenticity of their commitment to combat climate change.
The Dirty Dozen: An Overview
"The Dirty Dozen" report focuses on twelve prominent European oil companies, dividing them into two categories:
Six Largest Global Oil Companies: Shell, TotalEnergies, BP, Equinor, Eni, Repsol
Six Pivotal in European Energy Transition: OMV (Austria), PKN Orlen (Poland), MOL Group (Hungary), Wintershall Dea (Germany), Petrol Group (Slovenia), Ina Croatia (Croatia)
Unveiling Greenwashing Practices
Unfulfilled Net Zero Pledges
The report underscores that the net zero pledges made by European Big Oil were not realized in 2022, casting doubts on the sincerity of their commitments.
Limited Renewable Energy Production
Despite claims of transition to renewable energy, these companies produced only 0.3% of their total energy from renewables, with a staggering 99.7% coming from oil and gas.
Financial Gains Amidst Climate Concerns
In 2022, while profits and revenues of these companies increased by 75% and 70% respectively, investments in green energy constituted only 7.3% ($7.09 billion), whereas 92.7% ($87.95 billion) was allocated to fossil fuels. copyright©iasexpress.net
Accusations of Misleading Information
The report alleges that these companies have misled the public by promoting misleading practices, touting dangerous distractions like carbon capture and storage (CCS), ignoring emissions from oil and gas sales, and making deceptive claims about transitioning to renewables.
Investment Patterns
While some companies reduced investments in low-carbon and renewables in 2022 compared to the previous year, others allocated a mere fraction of their budget to real low-carbon initiatives.
Lack of Coherent Strategies and Recommendations
Net Zero Commitment and Incoherent Strategies
Although most of the companies have pledged to achieve net zero emissions by 2050, the report highlights a lack of coherent strategies to fulfill these commitments. Equinor, Eni, and OMV share the same net zero goal but fall short in providing a well-defined roadmap.
Nonprofit Recommendations
The report suggests several recommendations to address the greenwashing issue:
Enforce strict regulations on fossil fuel companies.
Mandate investments in green infrastructure.
Initiate the decommissioning of North Sea infrastructure.
Establish a phase-out roadmap for oil and gas in Europe.
Strengthen regulations, including a ban on misleading advertising.
Analysis Methodology and Contributor
The analysis conducted in the report is based on the examination of the 2022 annual reports of the twelve companies. The report was published by Greenpeace Central and Eastern Europe (CEE). copyright©iasexpress.net
Learn More