Tele Manas – Features, Services, Achievements
Recently, a counselor at the Tele Manas helpline in Srinagar prevented a caller from self-harm, highlighting the importance of mental health assistance in India.
Tele Manas, or Tele Mental Health Assistance and Networking Across States (Tele-MANAS), is an initiative launched by the Union Ministry of Health and Family Welfare to provide free tele-mental health services across the country, particularly catering to people in remote or under-served areas.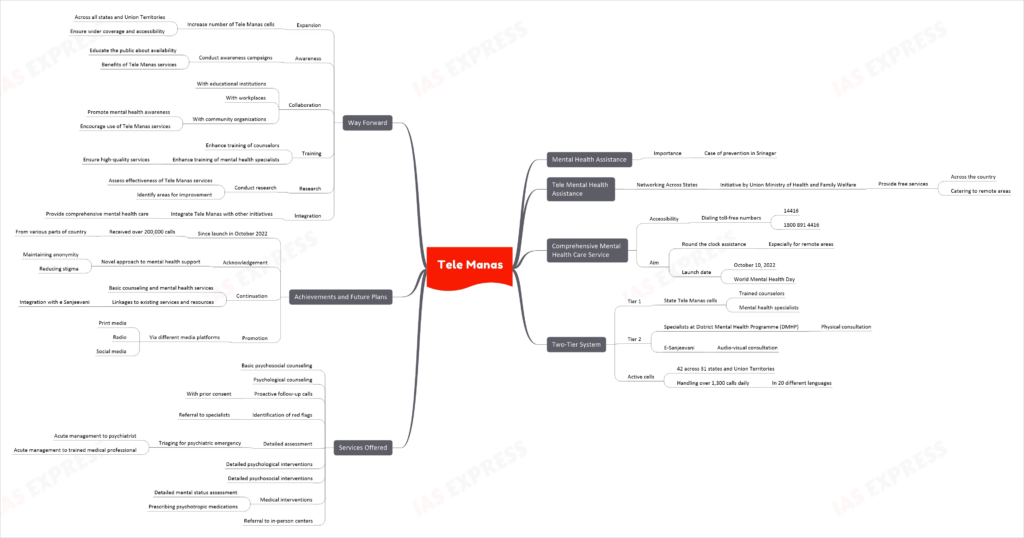 Tele Manas: A Comprehensive Mental Health Care Service
Tele Manas is a comprehensive mental health care service that can be accessed by dialing toll-free numbers 14416 or 1800 891 4416.
The initiative aims to provide mental health assistance round the clock, especially for people in remote or under-served areas. It was launched on October 10, 2022, on the occasion of World Mental Health Day.
Two-Tier System
Tier 1 comprises state Tele Manas cells, which include trained counselors and mental health specialists.
Tier 2 comprises specialists at District Mental Health Programme (DMHP) or Medical College resources for physical consultation and/or e-Sanjeevani for audio-visual consultation.
Currently, there are 42 active Tele Manas cells across 31 states and Union Territories, handling over 1,300 calls daily in 20 different languages.
Services Offered
Tele Manas offers various services, including:
Basic psychosocial and psychological counseling.
Proactive follow-up calls with prior consent. copyright©iasexpress.net
Identification of red flags and referral to specialists.
Detailed assessment, triaging for any psychiatric emergency, or acute management to the psychiatrist or trained medical professional.
Detailed psychological and psychosocial interventions.
Medical interventions, including detailed mental status assessment and prescribing psychotropic medications.
Referral to in-person centers.
Achievements and Future Plans
Since its launch in October 2022, Tele Manas has received over 200,000 calls from various parts of the country. The initiative has been acknowledged as a novel approach to enable people to seek support for their mental health issues while maintaining anonymity, thereby reducing the stigma generally surrounding mental health issues.
Tele Manas will continue to provide callers with basic counseling and mental health services, with linkages to existing vital services and resources, including integration with e Sanjeevani in the coming days. Promotion of Tele Manas services via different media platforms, such as print media, radio, and social media, is being carried out.
Way Forward
Expansion: Increase the number of Tele Manas cells across all states and Union Territories to ensure wider coverage and accessibility.
Awareness: Conduct awareness campaigns to educate the public about the availability and benefits of Tele Manas services.
Collaboration: Collaborate with educational institutions, workplaces, and community organizations to promote mental health awareness and encourage the use of Tele Manas services. copyright©iasexpress.net
Training: Enhance the training of counselors and mental health specialists to ensure high-quality services.
Research: Conduct research to assess the effectiveness of Tele Manas services and identify areas for improvement.
Integration: Integrate Tele Manas with other mental health initiatives and programs to provide comprehensive mental health care.
In conclusion, Tele Manas is a significant step towards addressing mental health issues in India. By providing accessible and affordable mental health care services, it aims to improve the overall mental well-being of the population, particularly those in remote or under-served areas. With continued efforts to expand and improve the initiative, Tele Manas has the potential to make a lasting impact on the mental health landscape in India.
Learn More