Suicide in India – Causes, Prevention, Government Efforts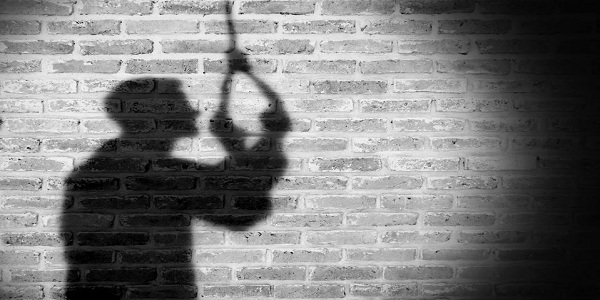 In the last few decades, suicide has emerged as one of the common causes of death in India. A large number of people lose their lives every year to suicide in India. Suicide has emerged as a serious public health issue in our country.  It leaves a major social, economic and emotional burden on those who are left behind. Hence, it has become important to delve deep into the issue and look into the various aspects related to it.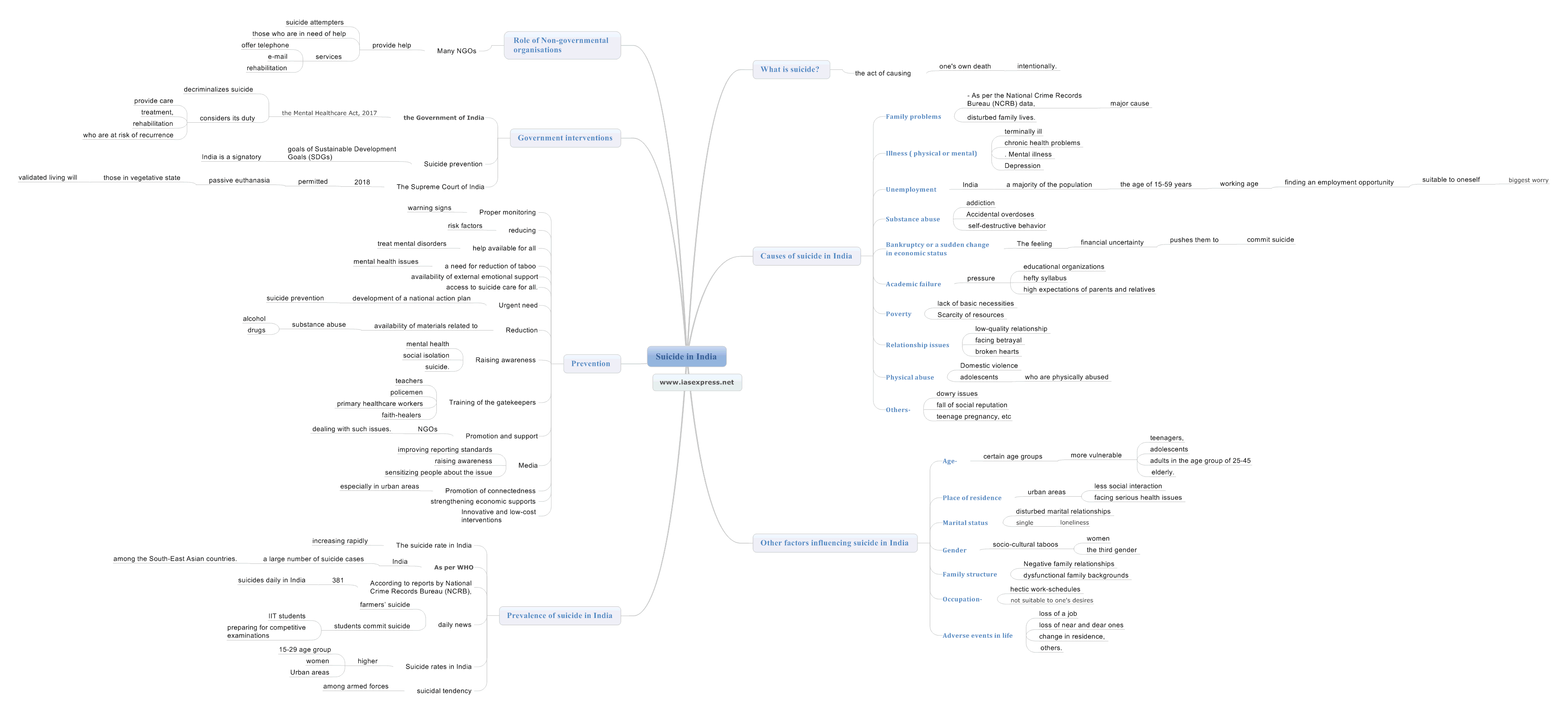 Mindmap Learning Programme (MLP)
Absorb information like a sponge!
What is suicide?
Suicide is the act of causing one's own death intentionally.
Causes of suicide in India
Family problems- As per the National Crime Records Bureau (NCRB) data, family problems are the major cause of suicide in India. Many people lose their lives because of disturbed family lives.
Illness ( physical or mental) – Physical and mental illness is one of the major causes of suicide in India. Many people who are terminally ill or face chronic health problems tend to commit suicide to get relief. Mental illness is one such problem where people cannot differentiate between right and wrong and take the drastic step of killing themselves to ease their pain. Depression has evolved as a major mental health condition leading to suicides in India.
Unemployment– In a country like India where a majority of the population is between the age of 15-59 years and is of working age, finding an employment opportunity suitable to oneself is the biggest worry. Many people attempt suicide due to unemployment.
Substance abuse- Substance abuse and addiction have become a major part of the lives of the younger generation in present times. Accidental overdoses, self-destructive behavior have implications for a persons' health and thus substance abuse is becoming a significant contributor to suicides in India.
Bankruptcy or a sudden change in economic status- According to the National Crime Records Bureau (NCRB) data, bankruptcy or indebtedness has caused a majority of suicidal deaths in India. Many people including businessmen consider suicide the only way out to escape such situations in India. The feeling of financial uncertainty pushes them to commit suicide.
Academic failure-  The pressure of educational organizations, their hefty syllabus, high expectations of parents and relatives' for better academic performance hamper the mental peace of students In India and force them to the brim of committing suicide.
Poverty- Scarcity of resources is a leading cause of suicide in India. Most of the suicides are witnessed in middle-income and low-income groups of society due to lack of basic necessities of life. With increasing poverty, there is a rise in suicide cases in India.
Relationship issues- People in a low-quality relationship filled with conflict and arguments or people facing betrayal in relationships and broken hearts often commit suicide considering it the best way to escape such relationships.
Physical abuse- There is a relationship between physical abuse and suicide. Domestic violence and adolescents who are physically abused generally consider suicide as the only way out.
Others- Other causes include dowry issues, fall of social reputation, teenage pregnancy, etc.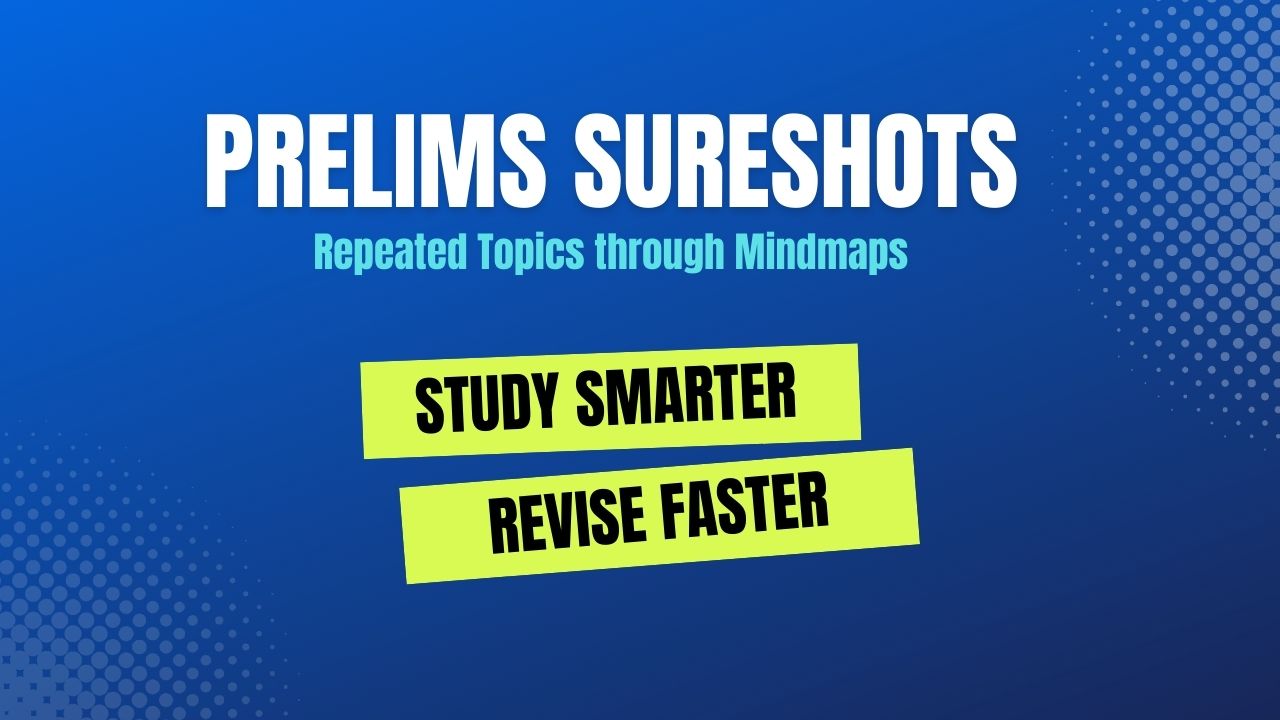 Other factors influencing suicide in India
Age- People in certain age groups are more vulnerable to suicidal feelings in India. These include teenagers, adolescents, adults in the age group of 25-45, and the elderly.
Place of residence- People living in urban areas with less social interaction and facing serious health issues are more prone to suicidal actions in India.
Marital status – A person's marital status also plays a decisive role in suicide. Those who are in disturbed marital relationships tend to commit suicide whereas those who are single are not far behind them in case of committing suicide.
Gender- In India, women tend to commit suicide due to socio-cultural taboos placed on them. Similarly, people belonging to the group of the third gender commit suicide to escape the adverse behavior they face in day-to-day life.
Family structure- Negative family relationships and dysfunctional family backgrounds can also force someone to commit suicide.
Occupation- People involved in hectic work-schedules and occupation which they do not like are more prone to suicidal thoughts.
Adverse events in life- Many people commit suicide when they go through some adverse event in their lives. That may be loss of a job, loss of near and dear ones, change in residence, and others.
Prevalence of suicide in India
The suicide rate in India is increasing rapidly in the last two decades. As per the World Health Organisation(WHO), India has a large number of suicide cases among the South-East Asian countries. According to reports by National Crime Records Bureau (NCRB), there was an average of 381 suicides daily in India. The daily news of farmers' suicide has become a common phenomenon in India. A  large number of students commit suicide to escape the academic pressure in their lives. Suicides among  IIT students and those preparing for competitive examinations have become a major concern. Suicide rates in India are higher in the 15-29 age group. The suicide rate among women is also higher. Urban areas in India report more suicidal cases on average in comparison to rural areas. The suicidal tendency has also been noticed among armed forces in India in recent times.
Prevention
With the rise in the prevalence of suicide in India, there is an urgent need for preventive ways to save people from such a situation. The following measures can prevent suicide beforehand:-
Proper monitoring of the warning signs and reducing the risk factors.
As most of the suicides have mental problems as the root cause, there needs to be help available for all to treat mental disorders. There is a need for reduction of taboo in society about mental health issues, availability of external emotional support, and access to suicide care for all.
Urgent need for the development of a national action plan on suicide prevention in India.
Reduction in availability of materials related to substance abuse like alcohol, drugs, etc.
Raising awareness among people about problems like mental health, social isolation, and suicide.
Training of the gatekeepers like teachers, policemen, primary healthcare workers, and faith-healers in coping skills.
Promotion and support should be provided to the NGOs who are dealing with such issues.
Media can play an active role in preventing suicide by improving reporting standards, raising awareness, and sensitizing people about the issue.
Promotion of connectedness among people especially in urban areas.
In a country like India where economic factors play a key role in suicide, strengthening economic supports can help a lot.
Innovative and low-cost interventions are needed to prevent suicide in India.
Government interventions
The Government of India through the Mental Healthcare Act, 2017 decriminalizes suicide and considers its duty to provide care, treatment, and rehabilitation to those who are at risk of recurrence.
Suicide prevention is also one of the goals of Sustainable Development Goals(SDGs) of which India is a signatory.
The Supreme Court of India in 2018 permitted passive euthanasia for the persons who are in a vegetative state and validated living will.
Role of Non-governmental organizations
Many NGOs provide help to suicide attempters and those who are in need of help. Numerous NGOs offer telephone; e-mail and, rehabilitation services to the needy, and their role cannot be underestimated in the prevention of suicide in India.
Conclusion
Suicide being a major social and public health problem needs a multidimensional approach. It needs cooperation, coordination, information sharing, and commitment among all the stakeholders. India needs an approach where family members, friends, and all the gatekeepers who can identify the warning signs and risk factors can collaborate and prevent this social malaise. With the passing of the Mental Healthcare Act, 2017, and its section to decriminalize attempted suicide, India is on the path to align its laws with emerging knowledge on suicide. Suicide is a multifaceted problem and thus needs a multipronged approach at all levels.
Practise question
Write a note on the state of suicides in India and suggest measures to deal with this problem.