[Editorial] Seed Technology- Why is it Important for Indian Agriculture?

Agriculture and its associated sectors are the bedrock of the Indian economy. Recognizing this, the Indian government, during its G20 presidency, is endorsing a future-forward approach with a focus on technology-driven sustainable farming, which encapsulates organic, regenerative, and natural systems.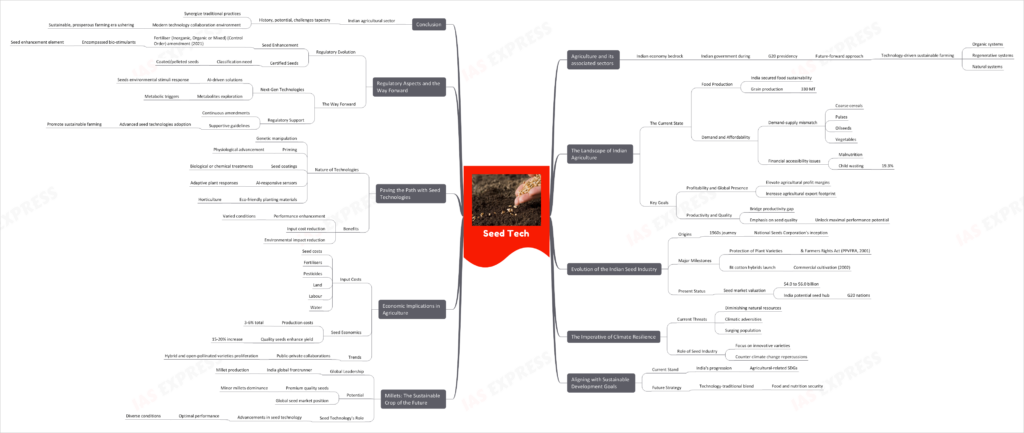 The Landscape of Indian Agriculture
The Current State
Food Production: India has secured food sustainability with grain production touching 330 MT.
Demand and Affordability: There remains a demand-supply mismatch in coarse cereals, pulses, oilseeds, and vegetables. Furthermore, a significant portion of these products is not financially accessible to many, contributing to malnutrition and child wasting, which is pegged at 19.3%.
Key Goals
Profitability and Global Presence: Besides elevating the agricultural profit margins, India aims to increase its agricultural export footprint.
Productivity and Quality: India aspires to bridge the gap between potential and actual productivity for many crops. Emphasis is also being laid on ensuring the availability of high-quality seeds and unlocking their maximal performance potential.
Evolution of the Indian Seed Industry
Origins: The journey began in the 1960s with the National Seeds Corporation's inception.
Major Milestones:

Protection of Plant Varieties & Farmers Rights Act (2001).
Launch of Bt cotton hybrids for commercial cultivation (2002).

Present Status: The seed market in India has flourished to an approximate valuation of $4.0 to $6.0 billion, positioning India as a potential seed hub for G20 nations. copyright©iasexpress.net
The Imperative of Climate Resilience
Current Threats: Indian agriculture grapples with diminishing natural resources, climatic adversities, and a surging population.
Role of Seed Industry: The seed sector needs to focus on innovative varieties and technologies to counter the repercussions of climate change.
Aligning with Sustainable Development Goals
Current Stand: India's progression towards agricultural-related SDGs is yet to meet expectations.
Future Strategy: Leveraging a blend of technology and traditional agricultural wisdom is essential for food and nutrition security.
Millets: The Sustainable Crop of the Future
Global Leadership: India stands as the global frontrunner in millet production.
Potential: Producing premium quality seeds, particularly of minor millets, positions India to dominate the global seed market.
Seed Technology's Role: With advancements in seed technology, seeds can be tailored to ensure optimal performance across diverse conditions.
Economic Implications in Agriculture
Input Costs: The costs of seeds, fertilisers, pesticides, land, labour, and water significantly influence profitability.
Seed Economics: Despite accounting for 3-6% of total production costs, quality seeds can enhance yield by 15-20%.
Trends: A rise in public-private collaborations over the past decade has accelerated the proliferation of hybrid and open-pollinated varieties.
Paving the Path with Seed Technologies
Nature of Technologies:

Genetic manipulation.
Priming or physiological advancement. copyright©iasexpress.net
Seed coatings with biological or chemical treatments.
AI-responsive sensors for adaptive plant responses.
Eco-friendly planting materials for horticulture.

Benefits:

Enhanced performance under varied conditions.
Reduction in input costs and environmental impact.
Regulatory Aspects and the Way Forward
Regulatory Evolution
Seed Enhancement: The amendment of the Fertiliser (Inorganic, Organic or Mixed) (Control Order) in 2021 has now encompassed bio-stimulants, a critical element of seed enhancement.
Certified Seeds: Modifications are required to classify coated/pelleted seeds under the Certified Seed category.
The Way Forward
Next-Gen Technologies: Embracing AI-driven solutions for seeds to respond to environmental stimuli and exploring metabolites as metabolic triggers.
Regulatory Support: Continuous amendments and supportive guidelines will catalyze the adoption of advanced seed technologies, thereby promoting sustainable farming.
Conclusion
With an intricate tapestry of history, potential, and challenges, the Indian agricultural sector stands at the cusp of a transformation. By synergizing traditional practices with modern technology and fostering an environment of collaboration, India is well-positioned to usher in an era of sustainable and prosperous farming.
Practice Question for Mains
How can Indian agriculture benefit from improving seed technology? Explain. (250 words)
Learn More