SC Verdict on Section 377 – The restoration of right to free expression and dignity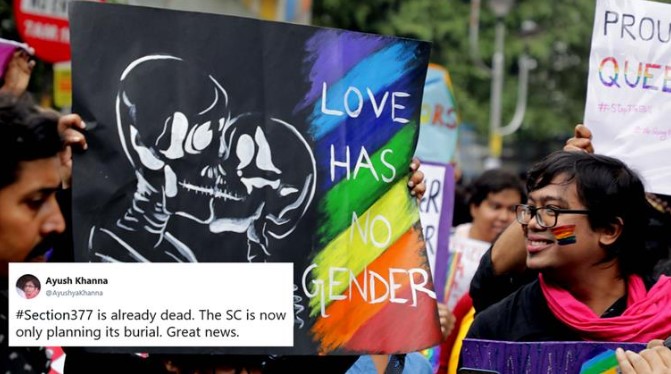 Why in News?
In a landmark judgement, the Supreme Court of India ruled that consensual adult gay sex is not a crime because sexual orientation is natural and human being have no control over it.
What is the judgement about?
The SC overruled its own 2013 judgement and partially struck down Section 377, a controversial British-era law that prohibits consensual gay sex. Thus SC decriminalizes homosexuality.
A part of Section 377 (non-consensual or consent obtained by force), still remains an offence, as also carnal intercourse with children, animals and bestiality.
This historic judgement acknowledged the struggle of LGBT community, and protected their equal rights under the Constitution.
What is the background of the issue?
Section 377 under Indian Penal Code (IPC) criminalizes homosexuality.
It is an archaic law that was introduced during the British era in 1860s and makes gay sex a crime for which the punishment can be a life term and also be liable to fine.

This section treats Lesbian, gay, Bisexual, and Transgender, Queer (LGBTQ) persons as sex-offenders.
It categorised their consensual sex on par with sexual offences such as rape and child molestation.
This has led to stigmatisation and condemnation of LGBTQ individuals in society.
This was a major reason for institutional discrimination faced by the LGBTQ community in health care, which led to ineffective HIV prevention and treatment.

This section was decriminalized with respect to sex between consenting adults by the Delhi High Court in 2009.
That judgement was overturned by the SC in 2013 mentioning that amending or repealing Section 377 should be the function of Parliament, not the judiciary.
Hence same-gender sex remained a crime until the recent SC judgement which overruled its own 2013 judgement.
What are the salient features of the judgement? (Also significance)
Individual

Bodily autonomy is an individual matter of choice and is part of dignity.
Sexual orientation is biological and innate, as an individual has no control over who they get attracted to.
Any repression of this by the state will be a violation of free expression.

Rights

Homosexuals, as individuals, have a fundamental right to live with dignity and possess full range of constitutional rights which include sexual orientation, partner choice and equal protection of laws.
The state cannot decide the boundaries between what is permissible and not.

Society

Section 377 is based on deep-rooted gender stereotypes ingrained in the society.
It is a majoritarian impulse to suppress the sexual minority to live peacefully.
However, the societal morality cannot override constitutional morality and fundamental rights.

Nature

The verdict noted that homosexuality was documented in 1500 species and was not unique to humans.
This firmly dispels the prejudice that homosexuality is "against the order of nature".

Right to love

The court acknowledged the Right to love of citizens.
The societal order restricts the "right to love" through limits imposed by structures such as gender, caste, class, religion and community.
These limits affect the right to love of not just the LGBTQ individuals, but also couples who make relationships across caste and community lines.

Perception

SC mentioned the recent parliamentary re-enactment of the Mental Healthcare Act of 2017.
The current definition in the Act makes it clear that homosexuality is not considered to be a mental illness.
SC reaffirms that mental illness shall not be determined based on non-conformity with moral, social, cultural, religious beliefs.

Awareness

SC urged the Union government to take necessary steps to ensure that the judgement is given wide publicity.
Government was also instructed to initiate programmes to reduce and eliminate the stigma against homosexuality.
Government officials and police should be given regular sensitisation programmes.
What are the concerns with the judgement?
The actual implementation by the government is a worrying aspect considering the performance of recent SC orders on triple talaq and lynching which have not had any visible impact.
The judgement has opened many grey areas, and new guidelines need to be created. For example, what happens when a gay person withdraws "consent" and lodges a complaint against his/her partner?
Moreover, Indian laws on sexual assault (non-consenting) do not recognise men as victims of rape. After the judgement, Police will have to establish the principle of consent.
What is the way forward?
Supreme Court made a right decision decriminalizing the gay sex, which would have positive impact on the lives of LGBTQ community in India. However, there should be clear guidelines and implementation mechanism for this reform to actually come into fruition.
Practice Question:
"The Supreme Court verdict on Section 377 has the potential to restore the right to dignity and free expression". Discuss in your viewpoint.