Sahajanand Saraswati – Biography, Contributions, Literary Works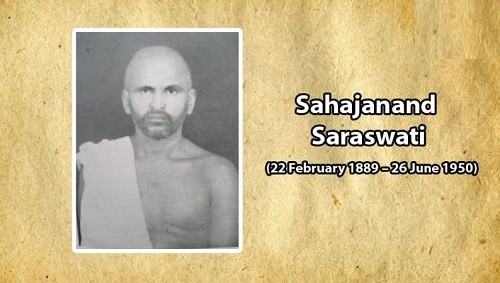 Swami Sahajanand Saraswati (1889-1950) was an ascetic(sanyasi), revolutionary, political activist, philosopher, historian, writer, peasant leader and social reformer. He challenged the colonial state and the oppressive landlords to address the concerns of the farmers and agricultural labourers throughout his political career. As a revolutionary, he dedicated his life to the cause of political and economic independence of the Indian people.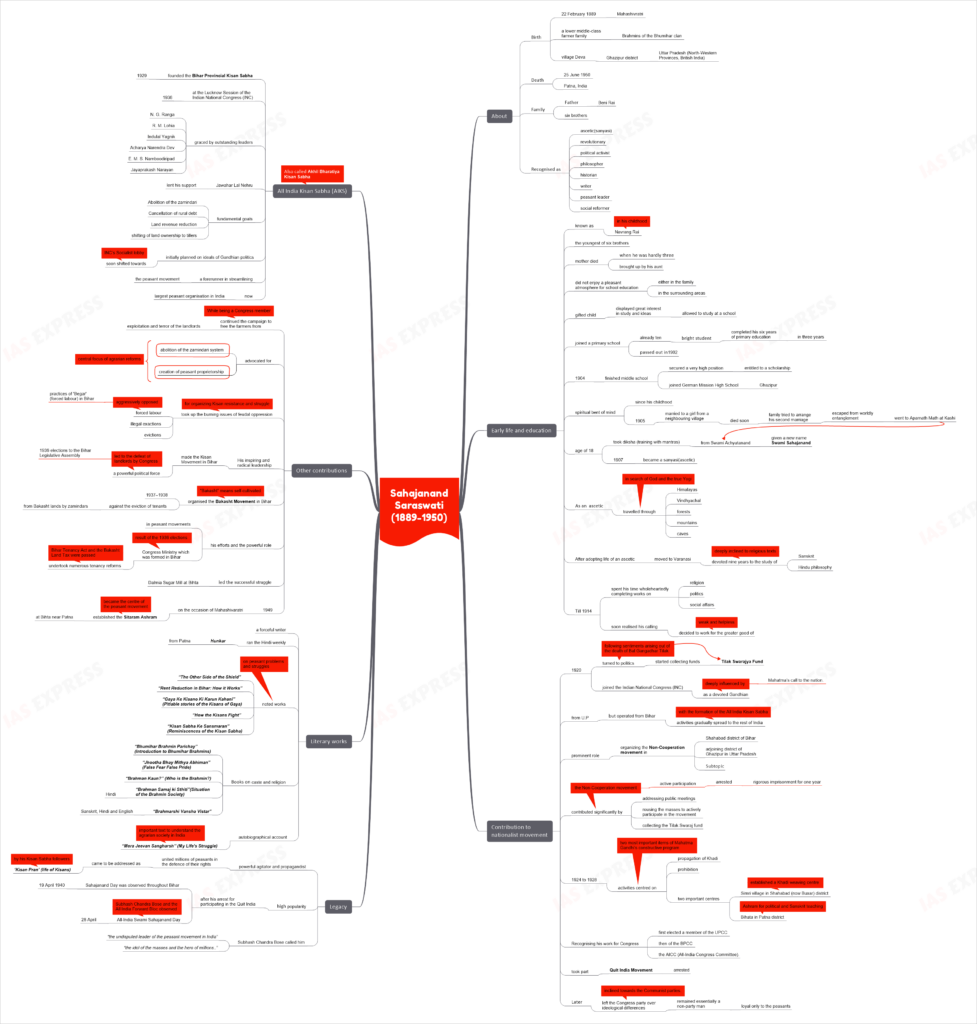 Early life and education
Sahajanand Saraswati was born on 22 February 1889 on the day of Mahashivratri in a lower middle-class farmer family of Brahmins of the Bhumihar clan in the village Deva in the Ghazipur district of Uttar Pradesh (North-Western Provinces, British India).
He was known as Navrang Rai in his childhood. He was the youngest of six brothers. His father's name was Beni Rai. His mother died when he was hardly three years of age. He was brought up by his aunt.
Navrang did not enjoy a pleasant atmosphere either in the family or in the surrounding areas for school education. However, he was a gifted child. From his very childhood, he displayed great interest in study and ideas.
Observing his interest in studies, he was allowed to study at a school. By the time, he joined a primary school, he was already ten. However, he was so bright that he completed his six years of primary education just in three years finishing it in 1902. copyright©iasexpress.net
In 1904, he finished middle school securing a very high position for which he was entitled to a scholarship.
Then, he joined German Mission High School at Ghazipur. He had a spiritual bent of mind since his childhood.
Noticing his spiritual obsession, in 1905, he was married to a girl from a neighbouring village who died soon. His family tried to arrange his second marriage, but he escaped from worldly entanglement and went to Aparnath Math at Kashi.
At the age of 18, he took diksha (training with mantras) from Swami Achyutanand of Aparnath Math and was given a new name Swami Sahajanand. Thus, he became a sanyasi(ascetic) in 1907.
As an ascetic, he travelled through the Himalayas, Vindhyachal, forests, mountains, and caves in search of God and the true Yogi.
He was deeply inclined to religious texts. After adopting the life of an ascetic, he moved to Varanasi where he devoted nine years to the study of Sanskrit and Hindu philosophy.
Till 1914, Sahajanand Swami spent his time wholeheartedly completing works on religion, politics, and social affairs. However, he soon realised his calling and decided to work for the greater good of those who were weak and helpless.
Contribution to the nationalist movement
Sahajanand Saraswati turned to politics in 1920 following sentiments arising out of the death of Bal Gangadhar Tilak, due to which he started collecting funds for the Tilak Swarajya Fund. copyright©iasexpress.net
In 1920, he joined the Indian National Congress (INC) as a devoted Gandhian. Swami Sahajanand Saraswati was deeply influenced by the Mahatma's call to the nation.
Though he was from U.P., he operated from Bihar and his activities gradually spread to the rest of India with the formation of the All India Kisan Sabha.
He played a prominent role in organizing the Non-Cooperation movement in the Shahabad district of Bihar and the adjoining district of Ghazipur in Uttar Pradesh.
He contributed significantly to the Non-Cooperation movement by addressing public meetings, rousing the masses to actively participate in the movement, and collecting the Tilak Swaraj fund. Following his active participation, he was arrested immediately and sentenced to undergo rigorous imprisonment for one year.
From 1924 to 1928, his activities centred on the propagation of Khadi and prohibition, the two most important items of Mahatma Gandhi's constructive program.
Simri village in Shahabad (now Buxar) district and Bihata in Patna district became two important centres of his activities. He established a Khadi weaving centre at Simri and an Ashram for political and Sanskrit teaching at Bihata.
Recognising his work for Congress, he was first elected a member of the UPCC and then of the BPCC and the AICC (All-India Congress Committee). copyright©iasexpress.net
He also took part in the Quit India Movement and was arrested. Later, he left the Congress party over ideological differences and was inclined towards the Communist parties.
However, Sahajanand Saraswati remained essentially a non-party man and was loyal only to the peasants.
All India Kisan Sabha (AIKS)
Swami Sahajananda Saraswati founded the Bihar Provincial Kisan Sabha in 1929 and laid the foundation of the All India Kisan Sabha (AIKS) at the Lucknow Session of the Indian National Congress (INC) in 1936.
The AIKS or Akhil Bharatiya Kisan Sabha was graced by outstanding leaders like N. G. Ranga, R. M. Lohia, Indulal Yagnik, Acharya Narendra Dev, E. M. S. Namboodiripad, Jayaprakash Narayan and others. Jawahar Lal Nehru also lent his support to AIKS.
In 1936, AIKS propounded the following as fundamental goals in its manifesto:

Abolition of the zamindari.

Cancellation of rural debt.

The shifting of land ownership to tillers.

The movement was initially planned on ideals of Gandhian politics, but it soon shifted towards the INC's Socialist lobby.
The AIKS became a forerunner in streamlining the peasant movement. It is now the largest peasant organisation in India.
Other contributions
While being a Congress member, Sahajanand Saraswati continued the campaign to free the farmers from the exploitation and terror of the landlords. He advocated for the abolition of the zamindari system and the creation of peasant proprietorship as the central focus of agrarian reforms. copyright©iasexpress.net
He took up the burning issues of feudal oppression, such as forced labour, illegal exactions, evictions, etc., for organizing Kisan resistance and struggle. He aggressively opposed the practices of 'Begar' (forced labour) in Bihar.
His inspiring and radical leadership made the Kisan Movement in Bihar a powerful political force that led to the defeat of landlords by Congress in the 1936 elections to the Bihar Legislative Assembly.
Saraswati organised the Bakasht Movement in Bihar from 1937–1938. "Bakasht" means self-cultivated. The movement was against the eviction of tenants from Bakasht lands by zamindars.
Given his efforts and the powerful role played by peasant movements, the first Congress Ministry which was formed in Bihar as a result of the 1936 elections undertook numerous tenancy reforms and the Bihar Tenancy Act and the Bakasht Land Tax were passed.
He also led the successful struggle in the Dalmia Sugar Mill at Bihta, where peasant-worker unity was a notable characteristic.
In 1949, on the occasion of Mahashivaratri, Swamiji established the Sitaram Ashram at Bihta near Patna which became the centre of the peasant movement.
Literary works
Sahajanand Saraswati a forceful writer and ran the Hindi weekly Hunkar from Patna.
His noted works on peasant problems and struggles include: "The Other Side of the Shield," "Rent Reduction in Bihar: How it Works", "Gaya Ke Kisano Ki Karun Kahani" (Pitiable stories of the Kisans of Gaya), "How the Kisans Fight" and "Kisan Sabha Ke Sansmaran" (Reminiscences of the Kisan Sabha). He discussed many intricacies of agrarian society in his books and different addresses of the Kisan Sabha. copyright©iasexpress.net
He wrote many books on different aspects such as caste and religion such as "Bhumihar Brahmin Parichay" (Introduction to Bhumihar Brahmins), "Jhootha Bhay Mithya Abhiman" (False Fear False Pride); "Brahman Kaun?" (Who is the Brahmin?); "Brahman Samaj ki Sthiti"(Situation of the Brahmin Society) in Hindi. He also wrote "Brahmarshi Vansha Vistar" in Sanskrit, Hindi and English.
His autobiographical account, "Mera Jeevan Sangharsh'' (My Life's Struggle) is an important text to understand the agrarian society in India.
Death and legacy
Swami Sahajanand was a powerful agitator and propagandist. He united millions of peasants in the defence of their rights and came to be addressed as 'Kisan Pran' (life of Kisans) by his Kisan Sabha followers.
Such was his popularity that after his arrest for participating in the Quit India Movement, Sahajanand Day was observed throughout Bihar on 19 April 1940 and Subhash Chandra Bose and the All India Forward Bloc decided to observe 28 April as All-India Swami Sahajanand Day in protest.
Subhash Chandra Bose called him "the undisputed leader of the peasant movement in India" and "the idol of the masses and the hero of millions.."
Sahajanand Saraswati breathed his last on 25 June 1950 in Patna, India.
Learn More