Public Tech Platform for Frictionless Credit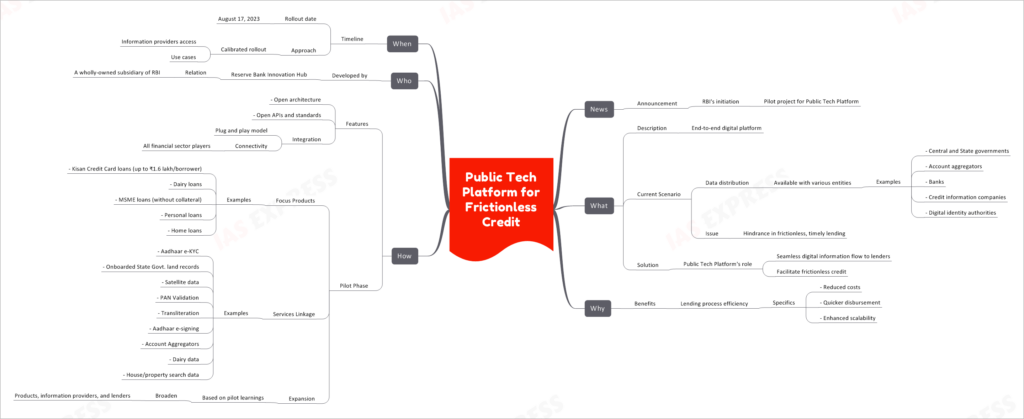 In a groundbreaking move, the Reserve Bank of India (RBI) has embarked on a visionary journey to introduce a Public Tech Platform for Frictionless Credit. This platform, with its end-to-end digital infrastructure, aims to transform the lending landscape by streamlining credit access and fostering efficiency in the lending process.
RBI's Initiative: Pioneering the Public Tech Platform
The RBI's recent announcement has set the stage for a pilot project centered around the Public Tech Platform for Frictionless Credit. This bold initiative seeks to harness the power of technology to reshape the credit ecosystem in India.
Exploring the Public Tech Platform: Unraveling the What and Why
The Public Tech Platform is envisaged as an all-encompassing digital infrastructure that connects various stakeholders in the lending ecosystem. It addresses a pressing issue in the current scenario where data is distributed among multiple entities, posing a hindrance to seamless and timely lending processes.
A Solution to Frictionless Lending: Role of the Public Tech Platform
At its core, the Public Tech Platform aims to enable a seamless digital flow of information to lenders, thereby facilitating frictionless credit. By providing a unified space for data sharing and integration, this platform seeks to revolutionize the lending landscape. copyright©iasexpress.net
Unveiling the Benefits: Efficiency in Lending Processes
The introduction of the Public Tech Platform is poised to usher in a host of benefits, primarily enhancing the efficiency of the lending process. Specific advantages include reduced costs, quicker disbursement of credit, and enhanced scalability for lenders.
The Mechanics of the Public Tech Platform: How It Works
This innovative platform boasts several key features:
Open Architecture: The platform operates on an open architecture that encourages collaboration and integration.
Open APIs and Standards: Open APIs (Application Programming Interfaces) and standardized data formats facilitate seamless connectivity and data exchange.
Integration Model: The plug-and-play integration model allows easy connectivity for all players in the financial sector.
Pilot Phase: Focus and Expansion
The pilot phase of the Public Tech Platform will focus on specific products, including Kisan Credit Card loans, dairy loans, collateral-free MSME loans, personal loans, and home loans. These products will be linked to various services, such as Aadhaar e-KYC, state government land records, satellite data, PAN validation, and more.
Development and Rollout: Who and When
The Public Tech Platform for Frictionless Credit is developed by the Reserve Bank Innovation Hub, a wholly-owned subsidiary of the RBI. The platform is set to be rolled out in a calibrated manner, with information providers gaining access and use cases being put into action. The official rollout date is August 17, 2023. copyright©iasexpress.net
Learn More