[In-depth] Natural Gas Economy – Benefits, Challenges and Way Forward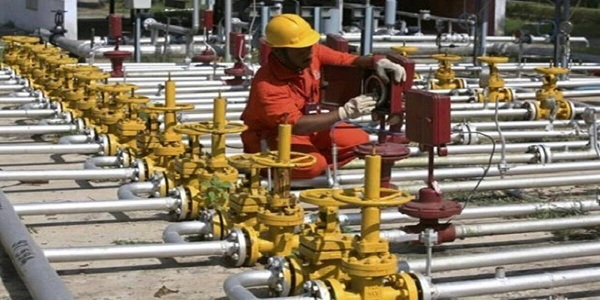 According to (International Energy Agency) IEA's recently released India Energy Outlook, India will emerge as the third-largest energy consumer behind the US and China by 2030. Natural gas is expected to be the fastest-growing fossil fuel, in sync with the government's aim of developing a gas-based economy, raising its share from 6 per cent to 15 per cent by 2030. India in its effort to reach the goal of a gas-based economy is taking a slew of reforms in the natural gas infrastructure and the marketing sector yet the challenges that ail the sector need immediate attention to be dealt with.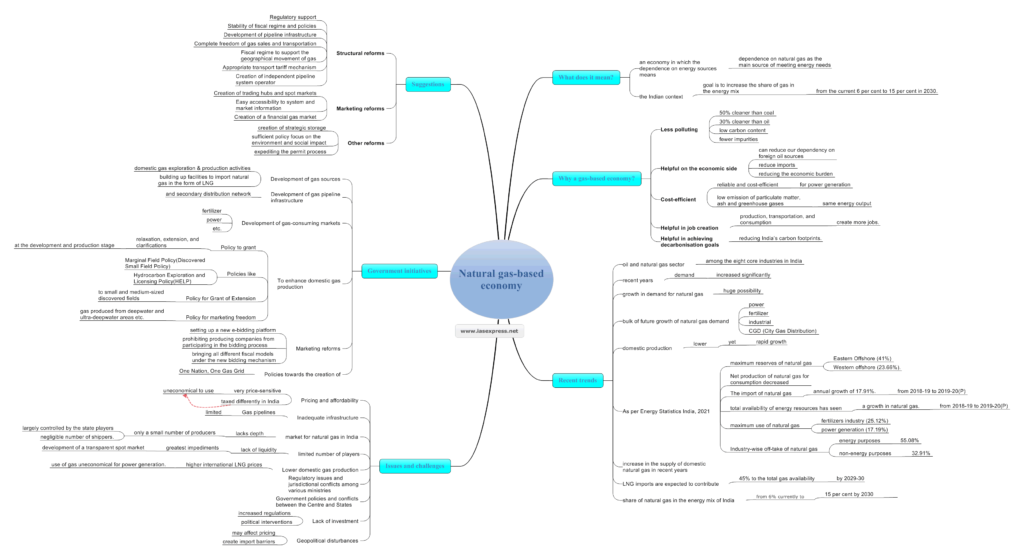 Mindmap Learning Programme (MLP)
Absorb information like a sponge!
What does a natural gas-based economy mean?
A natural-gas based economy implies an economy in which the dependence on energy sources means dependence on natural gas as the main source of meeting energy needs. In the Indian context, the goal is to increase the share of gas in the energy mix from the current 6 per cent to 15 per cent in 2030.
Why a gas-based economy?
Less polluting – Natural gas is 50% cleaner than coal and 30% cleaner than oil. It has low carbon content and contains fewer impurities. So, it can be considered as the cleanest fossil fuel.
Helpful on the economic side – Natural gas can reduce our dependency on foreign oil sources and reduce imports thus reducing the economic burden on the country's current account.
Cost-efficient – Natural gas is considered to be reliable and cost-efficient for power generation with low emission of particulate matter, ash and greenhouse gases for the same energy output.
Helpful in job creation – Greater natural gas production, transportation, and consumption will help to keep manufacturing domestic which, in turn, will create more jobs. Growth in the availability of natural gas means a rise in fertilizer, chemicals, and pharmaceuticals industries in the country which will create more jobs and help in exporting more goods.
Helpful in achieving decarbonisation goals – Increased use of natural gas as a fossil fuel may help India in reaching its decarbonisation goals and reducing India's carbon footprints.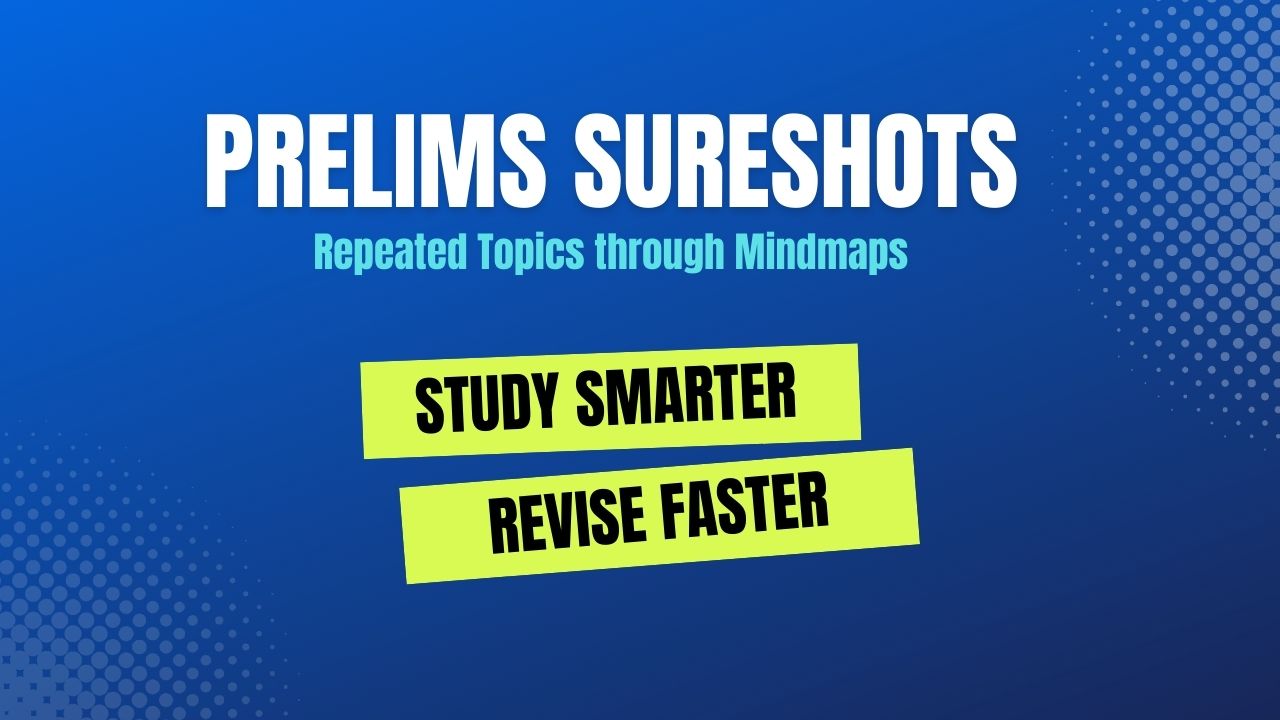 Recent trends
The oil and natural gas sector is among the eight core industries in India and plays a major role in influencing decision making for all the other important sections of the economy.
In recent years the demand for natural gas in India has increased significantly. The increased demand can be attributed to the following factors:

Higher availability.
Development of transmission and distribution infrastructure.
Savings from the usage of natural gas in place of alternate fuels.
Environment-friendly characteristics of natural gas as a fuel.
The overall favourable economics of supplying gas at reasonable prices to end consumers.

There is a huge possibility that the growth in the Indian economy will lead to growth in demand for natural gas. The power, fertilizer, industrial and CGD (City Gas Distribution) segments are expected to contribute to the bulk of future growth of natural gas demand in India.
Though the domestic production of natural gas in India at present is significantly lower yet the natural gas sector is at the threshold of rapid growth in India supported by:

The ever-increasing demand for natural gas in the country.
Increased exploration efforts under New Exploration and Licensing Policy (NELP).
Commissioning of the additional LNG import terminals and projected upcoming LNG terminals.
Government's initiatives in the direction of development of a nationwide natural gas pipeline grid.

As per Energy Statistics India, 2021:

The estimated reserves of natural gas in the year 2020 were at 1371.89 billion cubic metres. The maximum reserves of natural gas are in the Eastern Offshore (41%) followed by Western offshore (23.66%).
Net production of natural gas for consumption decreased from o 32.05 billion cubic meters(BCM) in 2018-19 to 30.26BCM in 2019-20(P)registering a shrinkage of 5.61%.
The import of natural gas stood at 28.74 BCM for the year 2018-19 as compared to 33.89BCM in 2019-20(P) recording an annual growth of 17.91%. The import of natural gas has also increased from 12.93BCM in 2010-11to 33.89 BCM in 2019-20(P) recording a CAGR of 11.30%.
Over the previous year, 2018-19, in comparison to the current year, 2019-20(P), the total availability of energy resources has seen a growth in natural gas. Natural gas showed a growth of 5.51% in this period.
The maximum use of natural gas is in the fertilizers industry (25.12%) followed by power generation (17.19%). Industry-wise off-take of natural gas shows that while 55.08% of natural gas has been used for energy purposes, 32.91% is used for non-energy purposes.

India has seen an increase in the supply of domestic natural gas in recent years on the back of sustained efforts of the government to push domestic gas production. The present supply of natural gas in India is mainly from the nominated blocks, operated by ONGC and OIL and by some private and joint venture fields.
LNG imports are expected to contribute about 45% to the total gas availability by 2029-30 as compared to 30% in 2012-13.
Natural gas availability from domestic sources is expected to account for 48.5% of the total natural gas supply in 2029-30 as against a high 70% in 2012-13.
The share of natural gas in the energy mix of India was expected to increase to 20% in 2025. However, India's current vision puts this target at 15 per cent by 2030.
Issues and challenges
Pricing and affordability are the main issues in India as both the existing sectors, including power and fertilizer, and emerging sectors such as city gas are considered very price-sensitive. Furthermore, natural gas is taxed differently in India and has a high tax component. It makes it uneconomical to use.
Inadequate infrastructure also acts as a major problem. Gas pipelines are currently limited to regions where domestic gas production and LNG import terminals are located.
The market for natural gas in India currently lacks depth with only a small number of producers (production still largely controlled by the state players) and a negligible number of shippers.
A limited number of players exhibits a lack of liquidity as well as a lack of transparency. This lack of liquidity is one of the greatest impediments to the development of a transparent spot market in the country.
Power and fertilizer manufacturing has remained the country's two anchor gas-consuming sectors. Lower domestic gas production than expected and higher international LNG prices have rendered the use of gas uneconomical for power generation.
Regulatory issues and jurisdictional conflicts among various ministries and departments regarding price-setting act as a hurdle in the development of India as a gas-based economy.
Government policies and conflicts between the Centre and States regarding taxation and regulatory issues have an adverse effect.
Lack of investment due to increased regulations and political interventions.
Geopolitical disturbances may affect pricing and create import barriers that may harm reaching the goal of a gas-based economy.
Government initiatives
Development of gas sources either through domestic gas exploration & production activities or through building up facilities to import natural gas in the form of LNG.
Development of gas pipeline infrastructure and secondary distribution network.
Development of gas-consuming markets like fertilizer, power, transport and industries etc.
To enhance domestic gas production, the government has taken the following initiatives:

Policy to grant relaxation, extension, and clarifications at the development and production stage for early monetization of hydrocarbon discoveries.
Policies like Marginal Field Policy (Discovered Small Field Policy) and Hydrocarbon Exploration and Licensing Policy(HELP).
Policy for Grant of Extension to small and medium-sized discovered fields.
Policy for marketing freedom for gas produced from deepwater and ultra-deepwater areas etc.

Marketing reforms include setting up a new e-bidding platform, prohibiting producing companies from participating in the bidding process and bringing all different fiscal models under the new bidding mechanism.
Policies towards the creation of One Nation, One Gas Grid.
Suggestions
Structural reforms that need to be carried out include:

Regulatory support.
Stability of fiscal regime and policies.
Development of pipeline infrastructure.
Complete freedom of gas sales and transportation.
Fiscal regime to support the geographical movement of gas.
Appropriate transport tariff mechanism.
Creation of independent pipeline system operator.

Marketing reforms that need to be carried out include:

Creation of trading hubs and spot markets.
Easy accessibility to system and market information.
Creation of a financial gas market.

Other reforms include the creation of strategic storage which is key to risk management, sufficient policy focus on the environment and social impact linked to natural gas pipeline projects in the country and expediting the permit process through fast track approvals.
Conclusion
As India eyes to reduce its dependence on meeting energy demands through coal and oil, natural gas is the best fossil fuel alternative. Developing a gas-based economy will not only augment its economic growth in some or another way but also facilitate its effort to reach the goal of lowering its carbon footprint. All it needs is certain policy and regulatory reforms with robust government support so that India's gas-based economy does not remain a distant dream.
Practise Question
Q. Critically analyse the prospects and challenges in developing India as a gas-based economy.