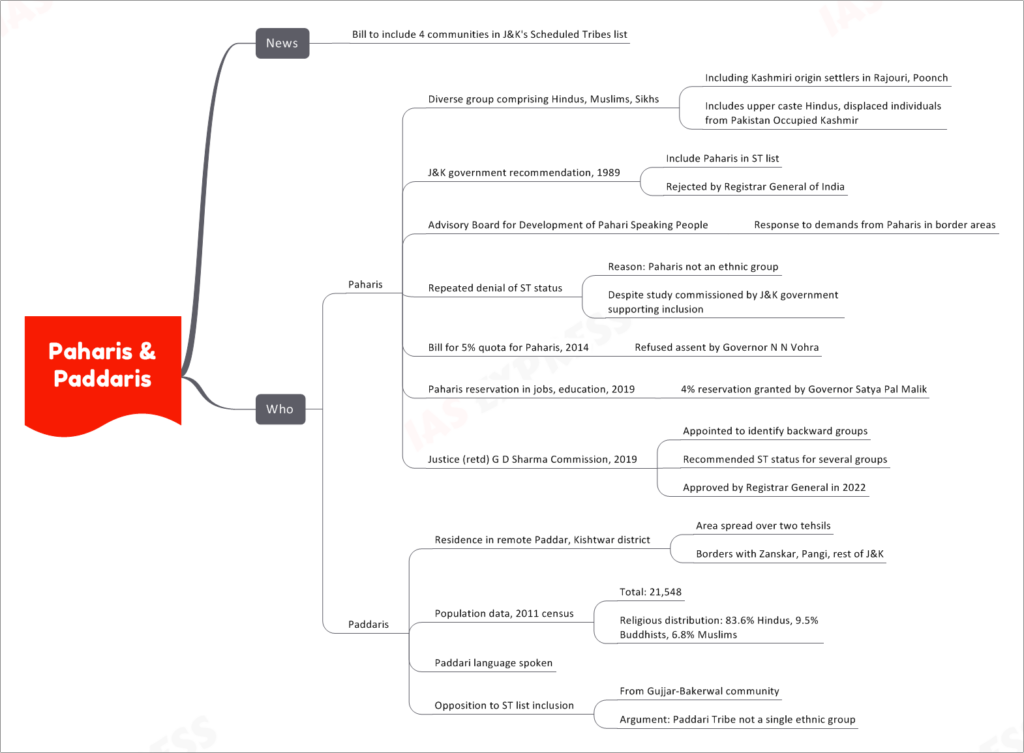 A Bill is being considered to include 4 communities- "Gadda Brahmin", "Koli", "Paddari Tribe" and "Pahari Ethnic Group" in J&K's Scheduled Tribes list.
Paharis
The Paharis are a diverse group comprising Hindus, Muslims, and Sikhs living in various regions, including Rajouri, Poonch, and displaced individuals from Pakistan Occupied Kashmir.
The Jammu and Kashmir government recommended their inclusion in the Scheduled Tribes list in 1989, but it was rejected by the Registrar General of India.
The formation of the Advisory Board for the Development of Pahari Speaking People was in response to demands from Paharis living in border areas.
Despite a commissioned study by the Jammu and Kashmir government supporting their inclusion, Paharis have faced repeated denial of ST status, with authorities citing them as not an ethnic group.
In 2014, a bill for a 5% quota for Paharis was refused assent by Governor N N Vohra.
Finally, in 2019, Governor Satya Pal Malik granted 4% reservation to Paharis in jobs and education.
The Justice (retd) G D Sharma Commission, appointed to identify backward groups, recommended ST status for several communities, including the Paharis, which was approved by the Registrar General in 2022.
Paddaris
The Paddaris are residents of remote Paddar in the Kishtwar district of Jammu and Kashmir. copyright©iasexpress.net
The area is spread over two tehsils and shares borders with Zanskar, Pangi, and the rest of Jammu and Kashmir.
As per the 2011 census, the Paddaris' total population was 21,548, with religious distribution of 83.6% Hindus, 9.5% Buddhists, and 6.8% Muslims.
They speak the Paddari language.
There has been opposition to including the Paddaris in the Scheduled Tribes list, particularly from the Gujjar-Bakerwal community, who argue that the Paddari Tribe is not a single ethnic group.
The struggles of both the Paharis and Paddaris for Scheduled Tribes status in Jammu and Kashmir highlight the complexities and challenges in recognizing diverse communities under this category. The inclusion or exclusion from the ST list carries significant implications for access to reservations, benefits, and recognition of distinct identities within the state.
Learn More