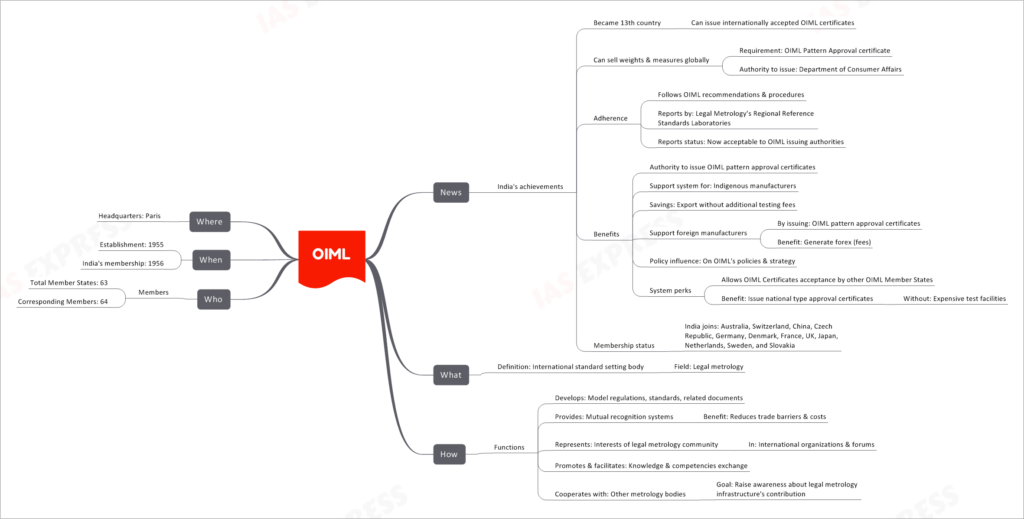 In recent news, India has achieved significant milestones in the realm of legal metrology by becoming the 13th country to issue internationally accepted OIML (International Organization of Legal Metrology) certificates. This achievement allows India to sell weights and measures globally, offering substantial benefits to both indigenous and foreign manufacturers. This article explores the role and functions of OIML, India's achievements, and the broader implications of its membership in this esteemed organization.
India's Achievements in OIML
Internationally Accepted Certificates
13th Country: India's membership in OIML now enables it to issue internationally accepted OIML certificates.
Global Sales: With this recognition, India gains the authority to sell weights and measures globally, facilitating international trade.
OIML Pattern Approval Certificate: The Department of Consumer Affairs in India has been granted the authority to issue OIML Pattern Approval certificates, a prerequisite for global sales.
Adherence to OIML Recommendations: India follows OIML recommendations and procedures, ensuring adherence to international metrology standards.
Reports by Regional Reference Standards Laboratories: Reports generated by Legal Metrology's Regional Reference Standards Laboratories in India are now acceptable to OIML issuing authorities.
Benefits of India's OIML Membership
Support for Indigenous Manufacturers: India's authority to issue OIML Pattern Approval certificates provides crucial support to indigenous manufacturers by eliminating the need for additional testing fees. copyright©iasexpress.net
Support for Foreign Manufacturers: India can now issue OIML Pattern Approval certificates to foreign manufacturers, generating foreign exchange revenue through fees.
Influence on OIML Policies: India's membership allows it to influence OIML's policies and strategies, contributing to the development of international metrology standards.
System Perks: India's membership enables OIML certificates issued in the country to be accepted by other OIML Member States. This facilitates the issuance of national type approval certificates without the need for expensive test facilities.
Membership Status
Distinguished Company: India joins a select group of countries, including Australia, Switzerland, China, the Czech Republic, Germany, Denmark, France, the UK, Japan, the Netherlands, Sweden, and Slovakia, as a member of OIML.
What is OIML?
Definition
International Standard-Setting Body: OIML is an international organization that sets standards in the field of legal metrology.
How OIML Functions
Developing Standards: OIML plays a crucial role in developing model regulations, standards, and related documents in the field of legal metrology.
Mutual Recognition Systems: OIML provides mutual recognition systems that reduce trade barriers and costs by ensuring that measurements made in one country are recognized in another.
Representation: OIML represents the interests of the legal metrology community in international organizations and forums. copyright©iasexpress.net
Promoting Knowledge Exchange: OIML promotes and facilitates the exchange of knowledge and competencies among its members.
Cooperation with Metrology Bodies: OIML cooperates with other metrology bodies, aiming to raise awareness about the contributions of legal metrology infrastructure.
Who Are OIML Members?
Total Member States: OIML currently has 63 member states.
Corresponding Members: Additionally, there are 64 corresponding members associated with OIML.
When and Where Was OIML Established?
Establishment: OIML was founded in 1955 to establish and maintain international standards in legal metrology.
India's Membership: India became a member of OIML in 1956, marking the country's commitment to international metrology standards.
Headquarters: OIML's headquarters are located in Paris, France, where it coordinates its global efforts in advancing legal metrology standards.