Norms for SIM Procurement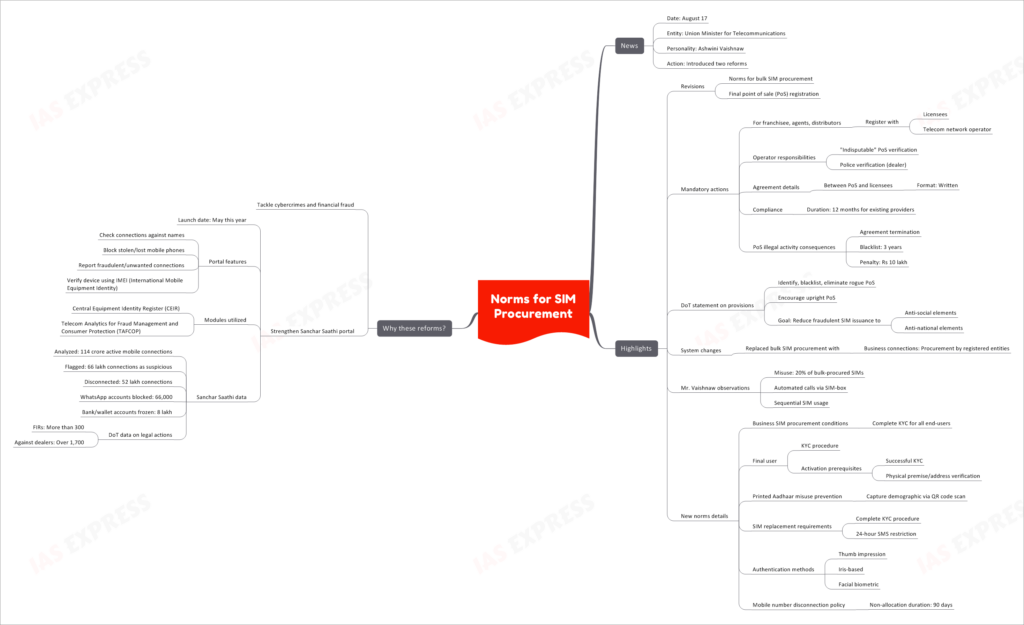 On August 17, Union Minister for Telecommunications, Ashwini Vaishnaw, introduced two crucial reforms to enhance the security and integrity of the telecom network in India. These reforms focus on revising norms for bulk SIM procurement and final point of sale (PoS) registration, aiming to curb cybercrimes and financial fraud in the telecom sector.
Revisions for Enhanced Security
The introduced reforms bring about significant changes to the norms governing SIM procurement and registration at the final point of sale. These changes are aimed at ensuring that the process is transparent, secure, and closely monitored.
Mandatory Actions for Franchisees, Agents, and Distributors
Registration Requirements: Franchisees, agents, and distributors are now required to register with both the licensees and the telecom network operator.
Operator Responsibilities: The telecom network operators are responsible for conducting "indisputable" PoS verification and police verification for dealers.
Agreement Details: The format of the agreement between PoS and licensees must be in written form.
Compliance Period: Existing providers must comply with these norms within a 12-month duration.
Consequences of PoS Illegal Activities
Agreement Termination: Illegal activities by a PoS may lead to the termination of their agreement.
Blacklist Duration: Any PoS involved in wrongdoing may be blacklisted for a period of three years. copyright©iasexpress.net
Penalty: A penalty of Rs 10 lakh can be imposed on erring PoS.
Department of Telecommunications' Statement
The Department of Telecommunications (DoT) has highlighted the provisions of these reforms. The primary objectives are to identify, blacklist, and eliminate rogue PoS while encouraging compliant and honest ones. This move is intended to minimize fraudulent SIM issuance to anti-social and anti-national elements.
System Changes and Observations by Ashwini Vaishnaw
The reforms have brought about changes in the system, replacing bulk SIM procurement with business connections procured by registered entities. Ashwini Vaishnaw observed that around 20% of bulk-procured SIMs were being misused, leading to issues such as automated calls through SIM-boxes and sequential SIM usage.
New Norms and Enhanced Security Measures
The new norms for business SIM procurement entail thorough KYC procedures for all end-users. To prevent misuse of printed Aadhaar documents, demographic information will be captured through QR code scans. SIM replacements will require the completion of the KYC procedure, and a 24-hour SMS restriction will be imposed.
Authentication Methods and Mobile Number Disconnection Policy
In terms of authentication, the new norms include thumb impressions, iris-based recognition, and facial biometrics. The mobile number disconnection policy states that numbers not allocated within 90 days will be disconnected. copyright©iasexpress.net
Motivation Behind Reforms: Tackling Cybercrimes
The core motivation behind these reforms is to tackle cybercrimes and financial fraud in the telecom sector. By strengthening the norms for SIM procurement and final PoS registration, the government aims to create a more secure telecom environment for both businesses and consumers.
Strengthening the Sanchar Saathi Portal
To further enhance telecom security, the government launched the Sanchar Saathi portal in May this year. This portal enables users to check connections against names, block stolen or lost mobile phones, report fraudulent or unwanted connections, and verify devices using IMEI (International Mobile Equipment Identity). The portal utilizes modules like the Central Equipment Identity Register (CEIR) and Telecom Analytics for Fraud Management and Consumer Protection (TAFCOP).
Positive Impact of Sanchar Saathi Portal
Since its launch, the Sanchar Saathi portal has had a positive impact:
Analyzed: 114 crore active mobile connections
Flagged: 66 lakh connections as suspicious
Disconnected: 52 lakh connections
WhatsApp accounts blocked: 66,000
Bank and wallet accounts frozen: 8 lakh
Legal Actions Taken by the DoT
The Department of Telecommunications has taken strong legal actions to enforce these norms:
FIRs filed: More than 300
Dealers facing action: Over 1,700
Learn More