News Media Bargaining Code – Need, Challenges, Way Ahead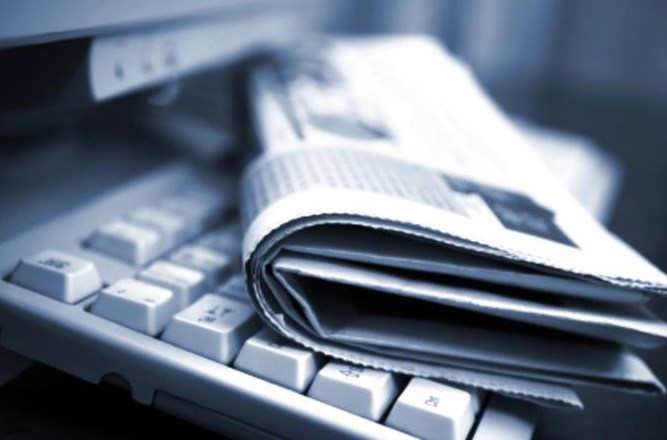 Internet giants like Google and Facebook have often been accused by global media outlets for not sharing the advertising revenue while using their content for gaining the same. To address this issue, the Australian government enacted News Media and Digital Platforms Mandatory Bargaining Code, which requires digital service providers like Google and Facebook to pay local news firms for using their contents on the digital platforms. The first-of-its-kind Code creates a positive precedent for funding journalism across the world.

Mindmap Learning Programme (MLP)
Absorb information like a sponge!
What is Australia's News Media Bargaining Code?
The News Media and Digital Platforms Mandatory Bargaining Code is a newly passed law enacted by the Australian government that mandates directing services like Google and Facebook to pay news providers for using their contents.
It allows for negotiations between news organisations and the tech giants regarding the payment deals.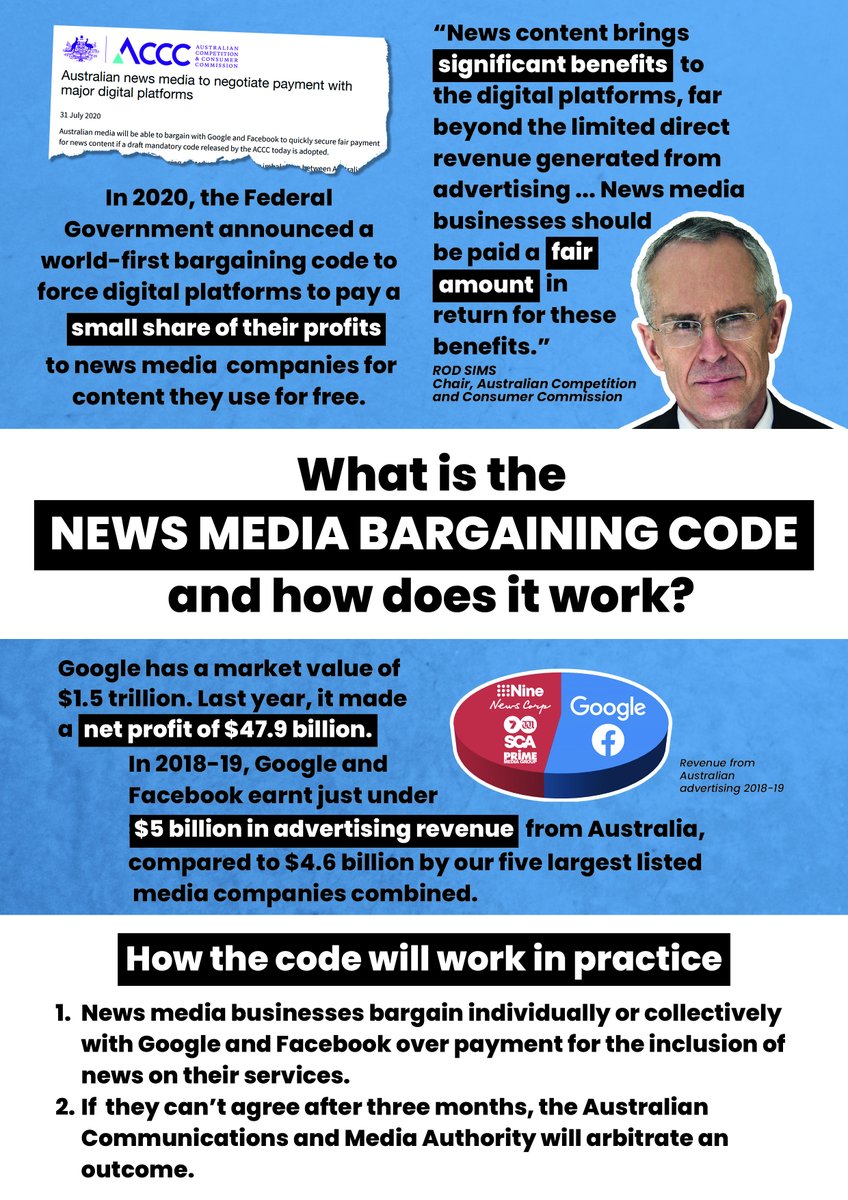 How did it come to be?
In 2017, the Australian Competition and Consumer Commission (ACCC) recommended a voluntary code to address the negotiation skew between major digital platforms and media businesses.
Based on this recommendation, the Australian government sought this code in 2019.
In April 2020, the ACCC pointed out that businesses are unlikely to reach an agreement voluntarily.
This led to the government drafting a mandatory code and introducing a Bill with a significant number of amendments.
Several amendments were made to this code after a backlash from the tech giants.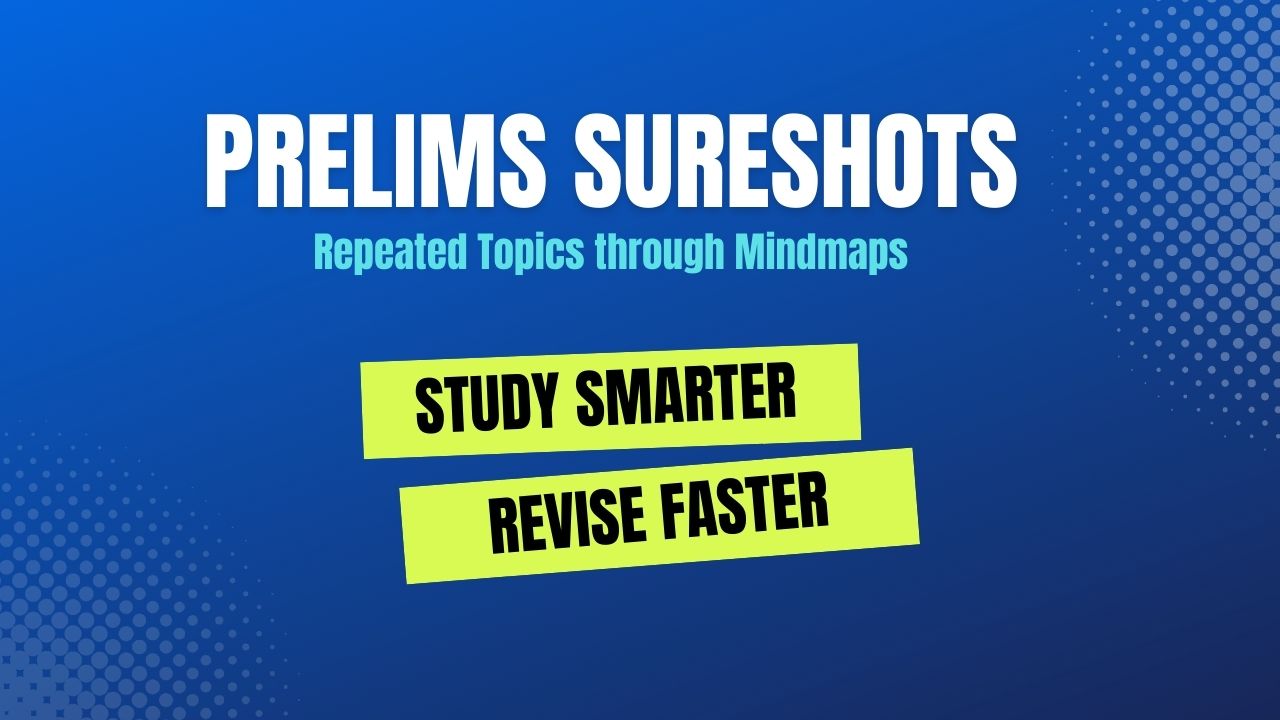 Why was it implemented?
The Code seeks to ensure a power balance between the news organisations and the Big Tech.
The news organisations have always been in a disadvantageous position because of their high dependence on online platforms like Google.
Their contents are often used for free by the tech giants to aggregate and share news while appropriating the lion's share of advertisement revenue generated from the online traffic.
This unfair business monopolisation led several traditional media companies to close down amid the COVID-19 crisis.
Thus, the Australian government intervened to enable a fair revenue-sharing arrangement between the two parties.
The Code's arbitration provision protects news publishers who may face issues when negotiating with the tech giants.
It also seeks to reign in the big tech's dominance over the national laws and sovereignty.
It sought to enable transparency in its working by mandating the providing of advance notice of algorithmic changes and providing certain consumer-related data.
This protects the business interests of media firms and addresses misinformation and data manipulation issues in these platforms.
How is it implemented?
News businesses are required to register with the Australian Communication and Media Authority (ACMA).
News companies are eligible only if they produce "core news content"
Core news content is defined as the content that reports/investigate/explains issues or events that are of public relevance and impact democratic decision-making at local, regional and national levels.
This means that those news businesses exclusively covering sports, entertainment etc., are not eligible.
However, if these businesses produce core news contents along with their sports and entertainment coverage, they are eligible.
Also, only corporations with revenue of at least AU$150,000 are eligible.
The news organisation must also meet certain professional standards.
Once the news business is registered with the ACMA, it can demand any designated digital platform service making its content available to make a deal under this code.
Making content available means:
Content is reproduced/placed on the digital platform
Link/extract of the content is provided on the digital platform
The digital service provider will come under the purview of this code if it is viewed to have a significant bargaining power imbalance with Australian news businesses and is not contributing to the news industry through agreements with Australian news businesses.
A month-long notice will be given to the platforms if the government considers applying the code on them.
If negotiations between the news companies and the digital platform fail, the code provides for an independent arbitrator, who can set the price that is to be paid by the Big Tech to the media organisations.
If the digital services fail to comply with the code, they will face hefty fines.
As part of the deal, the digital service providers are mandated to inform news organisations about the impact of algorithmic changes on news displayed on the digital platform and share with them the audience data.
This elaborate process can be avoided by online platforms if they make acceptable deals with news businesses.
How did Big Tech react?
Internet giants Facebook and Google actively opposed the new code.
They argued that the media industry was already benefiting from traffic routed to them by the digital platforms and the code would expose the digital firms to unmanageable financial and operational risks.
While Google threatened to shut down its service in Australia, Facebook banned the news content, making Australian news pages unavailable.
This blackout silenced several emergency services, removed posts from Australia's Bureau of Meteorology, state health departments, fire and rescue services, charities and emergency and crisis services.
This forced the government to water down the initial stringent code.
Unlike Google and Facebook, tech giant Microsoft backed this new law and committed to supporting news publishers in Australia.
It also advocated for similar laws across the globe, including in the US.
A day after the Australian parliament passed the law, Facebook signed preliminary agreements with three news companies in Australia.
Google sought to bypass the law by entered into commercial agreements with big media companies in the country before the law was even passed in Parliament.
This is to remove the need to pay the media organisation on a per-link click basis.
What are the issues with the code?
Compromising free internet:
The success of the internet is often attributed to its ability to transcend national boundaries freely.
This fundamental characteristic is being compromised by the code as it hampers the ability to link freely.
Adverse effects will be inflicted on the World Wide Web if other countries follow suit.
This will result in the World Wide Web becoming unworkable and adverse impact on net neutrality.
Technical issues:
The issue for Google is not the payment requirement but on deciding how much control these tech firms can retain on their payout process.
The code compromised these firms' decisions on the quantum of payments for news feed source and IP rights on revealing changes in their algorithms.
European authorities have specifically linked payments to copyright, which is not seen in Australia's code.
The code mostly focuses on the bargaining powers between news outlets and tech giants.
Journalism limitations:
Remunerations and user data from tech giants do not guarantee better journalism from news businesses.
The code just transfers money from one kind of massive corporation to another.
Impact on newcomers
To be eligible under the Code, news firms must have had annual revenue of at least AU$150,000 in the last financial year or three of the last five financial years.
This does not cover newcomers and smaller news companies involved in covering stories of national and local importance.
It does not cover those exclusively dealing with sports and entertainment.
However, those news media businesses that are allowed are permitted to negotiate for these aspects apart from the core news.
It does not promote new and independent journalists involved in investigating and questioning the government.
This code enables bigger players in the media industry to gain more revenue and leave behind smaller players who are currently struggling for advertising and reader revenue.
The bigger firms are provided with a more competitive edge since they can access payments as well as algorithm information and audience data from the Big Tech for the same type of content.
This will threaten both audience and revenue of the independent publishers not covered by the Code.
Arbitration issues:
The Code allows only news media businesses to start the arbitration process if parties failed to conclude the negotiation process within three months and they have attended one day of mediation.
This provision does not allow Google or Facebook to commence arbitration.
Arbitrator's decisions on two parties' final offers are based on:
Direct and indirect benefits provided by the news businesses' content to the digital platform's service
Cost of producing the content by the news businesses
Undue adverse impact on commercial interests of digital platform
The terms "indirect benefit" and "undue burden" are arbitrary because of the economic positions of Big Tech.
Risks of negotiate/arbitrate model:
The negotiate/arbitrate model followed by the News Media Bargaining Code poses several risks like pushing firms into a cycle of endless negotiations and arbitration (arbitration finding is effective only for 1 year).
This process-driven approach does not benefit the contents' producers.
It is often time-consuming, subjective and argumentative.
How did the world react?
Australian Prime Minister Scott Morrison reached out to world leaders to seek international support for Code.
Countries like the UK and Canada have backed this law and are proceeding towards the enactment of similar rules in near future.
France became the first European country in 2019 to adopt the EU's Directive on Copyright in the Digital Single Market, requiring Google to pay a 'link tax' – a license to display snippets of press articles on Google News.
This means that the European bloc is likely to follow this precedent.
Political support has likely intensified after Facebook's fiasco with the ham-fisted blackout.
There is a high possibility of more countries following suit to address the advertising revenue decline seen during the online era.
The US' politicians voiced concerns regarding the code not being compatible with democratic ideals and monopolisation of the media industry.
How is India regulating online news?
In February this year, the government notified Information Technology (Intermediary Guidelines and Digital Media Ethics Code) Rules 2021.
These new rules seek to regulate online news and Over the Top (OTT) platforms, which until recently escaped regulation unlike the print media (regulated by the Press Council of India) and electronic media (regulated by Cable Network Regulation Act, 2005).
This notification brings online content providers under the purview of the Information and Broadcasting Ministry.
These rules regulate digital news organisations, social media platforms and OTT streaming services.
Social media giants are required to follow several rules like:
Appointing India-based compliance officers for receiving and resolving complaints as well as complying with the new IT rules
Informing users of the reasons behind the removal of certain contents from their platforms
Disclosing the "first originator" of any content within their platform
Digital news media is brought under the purview of the Press Council of India. the news websites are required to be registered under the I&B ministry.
Social media is also banned from hosting contents that are defamatory, obscene, libellous, and racist as well as those threatening the national interests of the country.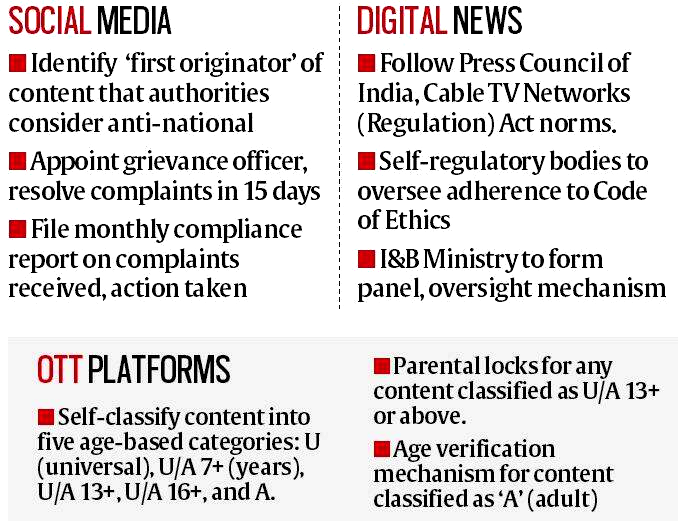 What is Big Tech's contribution to the news industry across the world?
Google is launching its news offering platform 'Google News Showcase' across the world
Facebook already has a news tab feature rolled out in the US since 2019 and it plans to expand it to the UK.
This feature includes an exclusive section dealing with local news.
Both tech giants are formalising payments with news outlets in several countries.
Google is paying news outlets in France for using their content in the digital platform.
The tech giant is in talks with publishers about paying a licensing fee for content in the US.
It is already licensing audio news from American publishers.
What can be the way forward?
While the intent of the Code is a step in the right direction, the following changes can be considered:
Removing remuneration requirement for news links to allow tech giants to pay for publishers and not links. This is to prevent publishers from using copyright law to assert more control over their own 'snippets' outside the Code. This is to remove duplicity during the implementation process.
Digital platform's payment to news companies must be tied to the copyright property use so that the code is not deviating from domestic legislation and international trade laws.
As negotiation/arbitration models often face cyclic problems of never-ending negotiations, one can consider adopting collecting society models that benefit copyright owners by providing hindrance-free remuneration
Tech giants not only benefit from the news but also free content communities provide like arts and science.
So, there is a strong argument for the tech giant's repayment for such services.
This can be obtained through digital taxes, which can be used to support a sustained media landscape.
This revenue can be specifically used for the small and medium publishers who are especially vulnerable to the monopoly of larger news businesses.
Should India adopt such a law?
India can follow Australia's example by mandating revenue sharing between news businesses and digital service providers.
This can go a long way towards fighting misinformation and rumours.
The government can promote new and smaller news outlets through subsidies for securing diverse views and preventing monopolisation of the news industry.
India consists of 300 million users of online news sites, portals and aggregators.
This accounts for approximately 46% of internet users and 77% of smartphone users in the country by the end of 2019.
India is currently the second-largest online news consuming country in the world after China.
Digital advertising spending is predicted to be worth around Rs.51,000 crore by 2022.
A sound collaborative model is critical for the media industry and digital platforms to coexist and grow.
Apart from ensuring revenue source for news outlets, the government can work towards enabling a better environment for journalists to thrive.
India's position fell recently in several reports like US-funded Freedom House's 'Freedom in the World' report and the World Press Freedom Index.
India can also set specific and unambiguous regulations for curtailing the Big Tech's influence in cyberspace so that individual rights are protected from these firms' arbitrary decisions and data manipulations.
International cooperation can be promoted in this regard to prevent diplomatic tensions as seen between France and the US on GAFA tax.
Conclusion:
Australia's news media bargaining code will ensure the quality of news content and the prevention of misinformation to a certain extent within social media. Countries around the world can take similar steps with more inclusive measures for accommodating smaller media houses.
Practice question for mains:
Critically examine the implications of Australia's News Media and Digital Platforms Mandatory Bargaining Code on journalism. Should India follow suit? (250 words)