[Editorial] Multidimensional Poverty in India: Trends, Metrics & Implications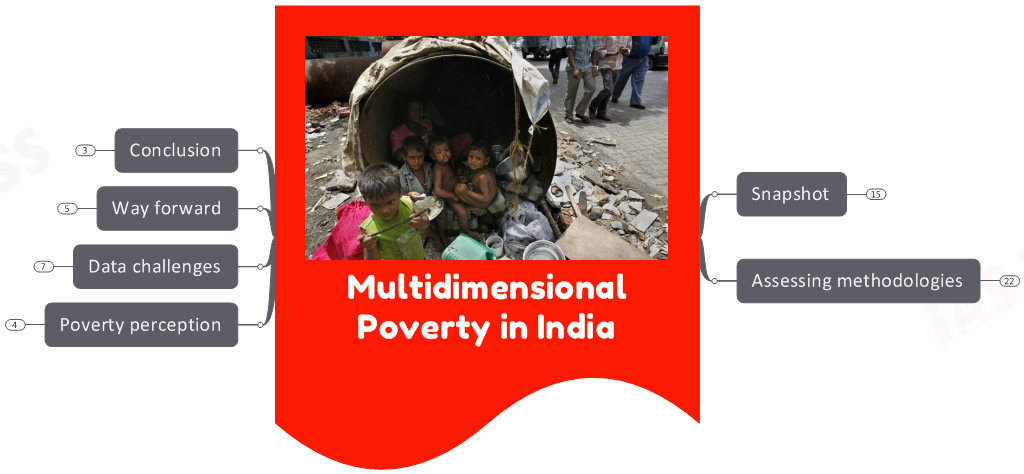 Recent studies have delved into the intricate matter of multidimensional poverty, gauging its depth through various indicators. While commendable strides have been made in recent years in reducing such poverty in India, the methods and considerations for these measurements still raise essential debates among experts.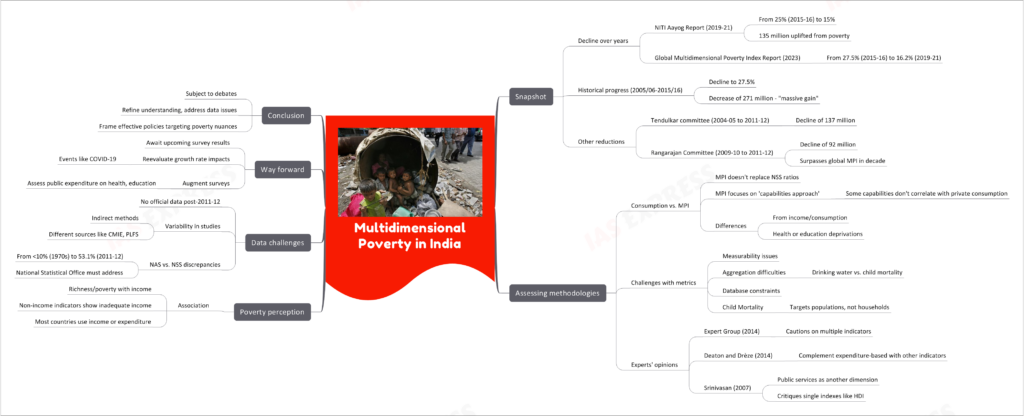 Multidimensional Poverty: A Snapshot
Decline Over the Years
NITI Aayog Report (2019-21)

Reduction from 25% (2015-16) to 15%.
Approximately 135 million people lifted from poverty.

Global Multidimensional Poverty Index Report (2023)

Decline from 27.5% (2015-16) to 16.2% (2019-21).
Historical Progress
Between 2005/06 and 2015/16:

India cut multidimensional poverty roughly by half to 27.5%.
Decrease of 271 million people from poverty – lauded as "massive gain".
Other Significant Reductions in Poverty
Tendulkar committee methodology (2004-05 to 2011-12)

Decline of 137 million people.

Rangarajan Committee methodology (2009-10 to 2011-12)

Decline of 92 million people (equates to 46 million annually).
Over a decade, this decline surpasses that of global MPI.
Assessing Methodologies
Consumption-based Estimates vs. Multidimensional Poverty Index
MPI does not replace National Sample Survey (NSS) consumption-based poverty ratios.
MPI's focus on non-income dimensions arises from the 'capabilities approach'.

Some capabilities might not directly correlate with privately purchased consumption.

Poverty from income or consumption differs from deprivations based on health or education.
Challenges with Multidimensional Metrics
Measurability: Issues in capturing data across various indicators. copyright©iasexpress.net
Aggregation: Difficulties in combining independent indicators. E.g., Drinking water access and child mortality.
Database Constraints: Inconsistent data availability for different indicators.
Child Mortality Indicator: Problematic since it targets population groups, not households.
Experts' Opinions
Expert Group (2014): Cautions against multiple indicators due to potential aggregation issues.
Deaton and Drèze (2014): Emphasize the need to complement expenditure-based poverty estimates with other living standard indicators.
Srinivasan (2007):

Advocates viewing public services as an additional poverty dimension.
Critiques collapsing multiple dimensions into a single index, such as the Human Development Index.
Poverty Perception and Indicators
Most associate richness or poverty with income levels.
Non-income poverty indicators often reflect inadequate income.
Most nations define poverty in terms of income or expenditure.
Data Challenges and the Need for Standardization
No official consumer expenditure data post-2011-12 for comparison with MPI trends.
Variability in poverty studies based on indirect methods and different data sources (like CMIE and PLFS).
Significant differences between National Accounts Statistics (NAS) and NSS consumption estimates.

Difference broadened from <10% (1970s) to 53.1% (2011-12).
Urgent need for the National Statistical Office to address these discrepancies.
Way Forward
Await release of the upcoming consumption expenditure survey results for comprehensive comparisons.
Reevaluate the impact of growth rates on poverty reduction, especially in light of recent events like the COVID-19 pandemic. copyright©iasexpress.net
Augment consumption surveys with assessments on the impact of public expenditure on health and education across expenditure brackets.
Conclusion
Multidimensional poverty, though declining in India, remains a subject of extensive debates in terms of measurement methodologies. As we stride forward, refining our understanding and addressing data discrepancies will be crucial to frame effective policies that target the nuances of poverty.
Practice Question for Mains
Discuss how consumption-based poverty estimates are relevant to today's India. (250 words)
Learn More