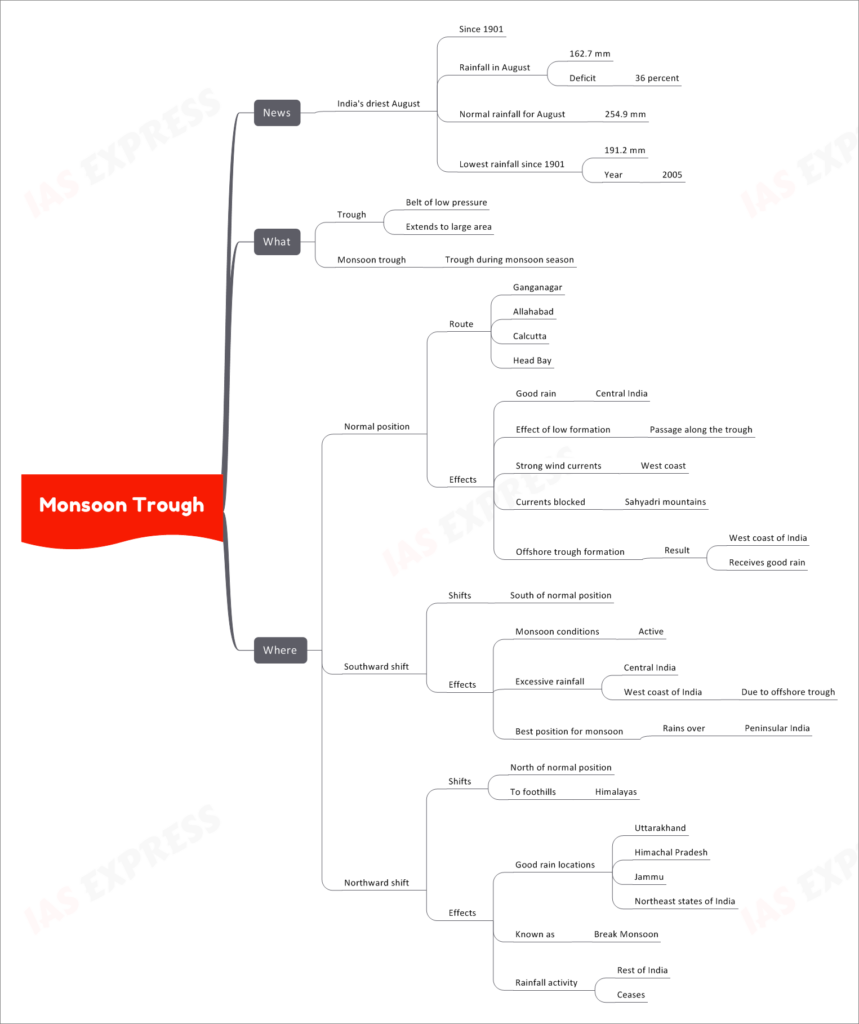 Recent news highlights the unusually dry August in India, marking the driest since 1901, with only 162.7 mm of rainfall and a deficit of 36 percent compared to the average August rainfall of 254.9 mm.
Understanding the Monsoon Trough
Trough: Belt of Low Pressure
A trough signifies an elongated belt of low atmospheric pressure.
It extends over a significant area and affects local weather conditions.
Monsoon Trough: Influence during Monsoon Season
The Monsoon Trough is a specific type of trough that forms during the monsoon season.
It plays a crucial role in dictating the movement of the monsoon and rainfall patterns in India.
Positional Variations and Their Effects
Normal Position of the Trough
Route: Extends from Ganganagar to Allahabad, then from Calcutta to Head Bay.
Effects: This position brings adequate rainfall to Central India. The trough's movement contributes to the development of strong wind currents along the west coast, blocked by the Sahyadri mountains. This leads to the formation of an offshore trough, bringing ample rainfall to the western coast.
Southward Shift of the Trough
Description: When the trough shifts south of its typical position.
Effects: Monsoon conditions intensify, resulting in excessive rainfall for Central India and the west coast, particularly due to the offshore trough. This positioning fosters the best conditions for the monsoon, spreading rainfall across Peninsular India. copyright©iasexpress.net
Northward Shift of the Trough
Description: The trough moves north of its standard position, extending towards the foothills of the Himalayas.
Effects: Regions like Uttarakhand, Himachal Pradesh, Jammu, and the Northeastern states experience heavy rainfall. This situation is called the "Break Monsoon," characterized by reduced rainfall in the rest of India.
Implications for Rainfall Distribution
Recent Dry August in India
August 2023 recorded significantly dry conditions, with a rainfall deficit of 36 percent compared to the average August rainfall since 1901.
Learn More