Mega Food Park Scheme – Need, Features, Advantages, Issues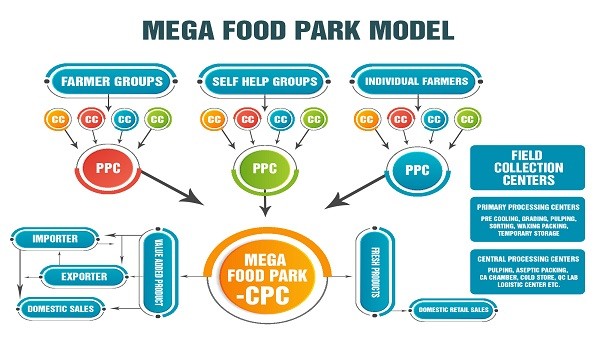 The food processing industry in India is a sunrise sector. India's food ecosystem provides huge opportunities for investment, innovation, employment. The government of India through the ministry of Food Processing Industries is devoted to improving the food ecosystem through various schemes. The Mega Food Park scheme is one such important scheme.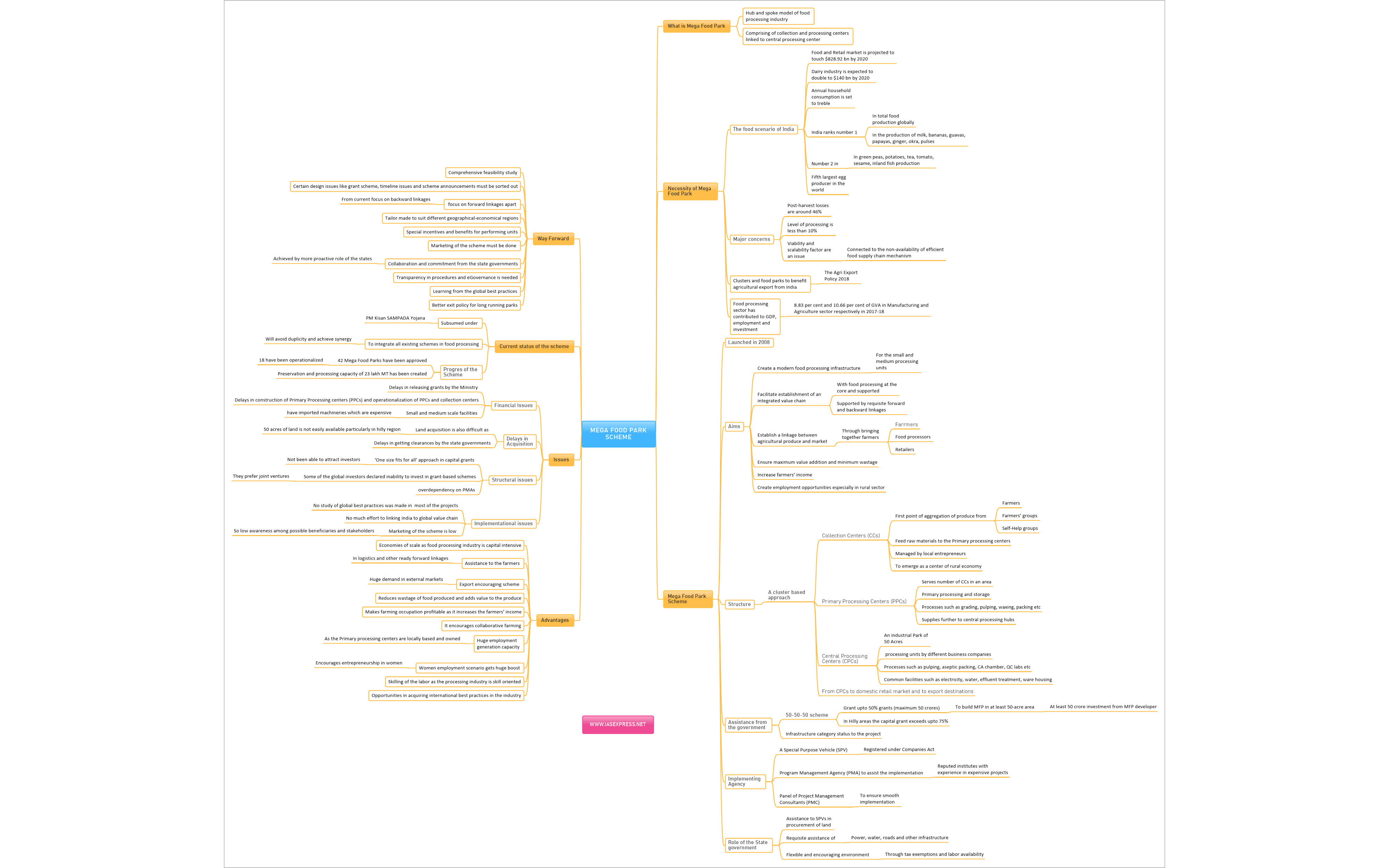 Mindmap Learning Programme (MLP)
Absorb information like a sponge!
What is a Mega Food Park?
A Mega Food Park is a hub and spoke model of food processing industry comprising of collection and processing centers linked to the central processing center.
It is an effort in achieving economies of scale in the food processing sector
Why Mega Food parks are necessary?
The food scenario in India
Indian Food and Retail market are projected to touch $828.92 bn by 2020.
The Indian Dairy industry is expected to double to $140 bn by 2020.
Annual household consumption is set to treble, making India 5th largest consumer by 2030.
India ranks number 1 in total food production globally. It ranks
Number 1 in the production of milk, bananas, guavas, papayas, ginger, okra, pulses.
Number 2 in the world in green peas, potatoes, tea, tomato, sesame, inland fish production.
Fifth largest egg producer in the world.
In spite of this, major concerns are
Post-harvest losses are around 46%.
The level of processing is less than 10%.
The viability and scalability factor is an issue which is connected to the non-availability of efficient food supply chain mechanism.
The Agri Export Policy 2018 stresses on clusters and food parks to benefit agricultural export from India.
Food Processing Sector has contributed to GDP, employment and investment. The sector constituted 8.83 percent and 10.66 percent of GVA in the Manufacturing and Agriculture sector respectively in 2017-18.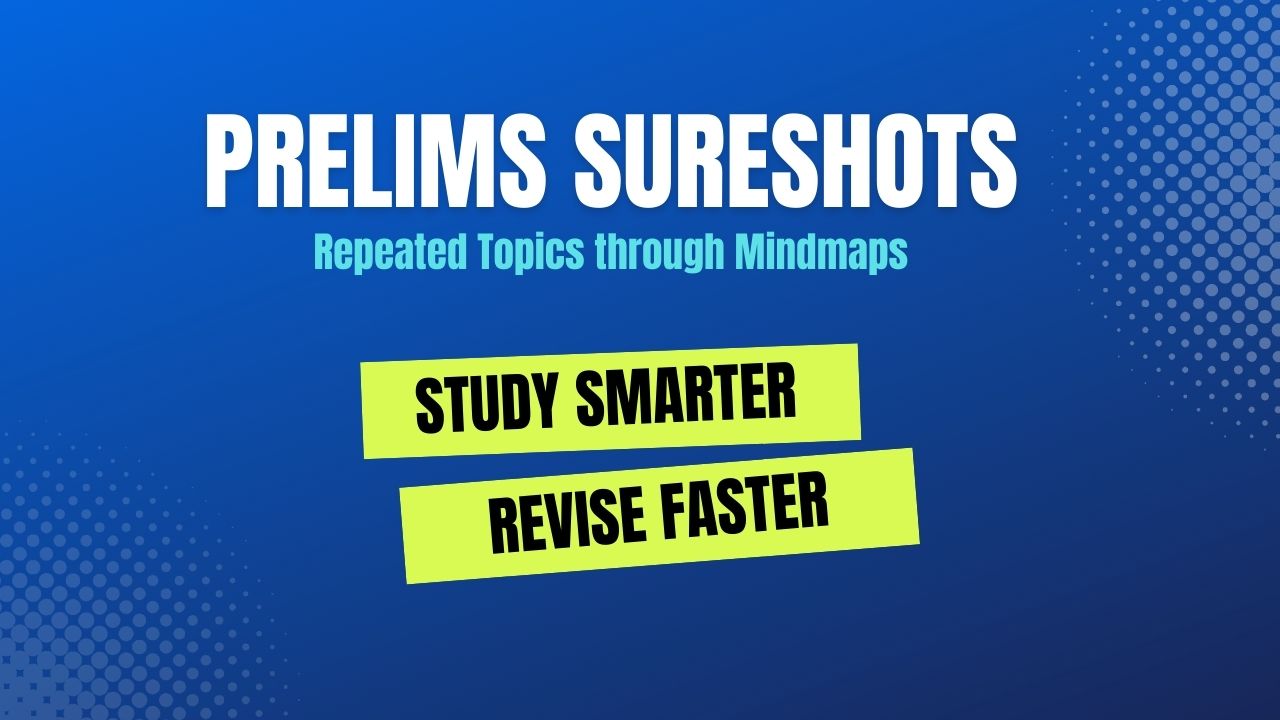 What is the Mega Food Park Scheme?
The Mega Food Park scheme was launched in 2009.
Objectives
As per the MoFPI's Annual Report (2013-14), the Mega Food Park Scheme aims to create a modern food processing infrastructure for the small and medium processing units.
The scheme intends to facilitate the establishment of an integrated value chain, with food processing at the core and supported by requisite forward and backward linkages.
To establish a linkage between agricultural produce and market through bringing together farmers, food processors and retailers.
To ensure maximum value addition and minimum wastage.
To increase farmers' income.
Create employment opportunities, especially in the rural sector.
Structure
A cluster-based approach which includes the creation of infrastructure
Collection centers (CC)

The first point of aggregation of produce from the farmers, farmers' groups and Self-Help groups.
Feed raw materials to the Primary processing centers.
Managed by local entrepreneurs.
To emerge as a center of the rural economy.

Primary Processing Centers (PPC)

Serves a number of CCs in an area.
Primary processing and storage.
Processes such as grading, pulping, waxing, packing, etc.
Supplies further to central processing hubs.

Central Processing centers (CPC)
An industrial park of 50 Acres.
It contains a number of processing units by different business companies.
Processes such as pulping, aseptic packing, CA chamber, QC labs, etc.
Common facilities such as electricity, water, effluent treatment, warehousing, etc.
From these Central Processing Units, the products are brought in the domestic retail market and exported.
The main bedrock of a successful Mega Food Park scheme is an efficient logistical system that connects the structural units.
Assistance from the government
A 50-50-50 scheme
The MoFPI gives grant up to 50% grants (maximum 50 crores) to build MFP in at least 50-acre area and at least 50 crore investment from MFP developer.
In Hilly areas the capital grant exceeds up to 75%.
Infrastructure category status to the project.
Implementing agency
The scheme is implemented by a Special Purpose Vehicle (SPV) registered under the Companies Act.
The Ministry appoints a Program Management Agency (PMA) to assist in the implementation. These are reputed institutes with experience inexpensive projects.
To ensure smooth implementation of projects, a panel of Project Management Consultants (PMC) is set up.
Role of State governments
Assistance to SPVs in the procurement of land.
Requisite assistance of power, water, roads, and other infrastructure
Flexible and encouraging environment through tax exemptions and labor availability.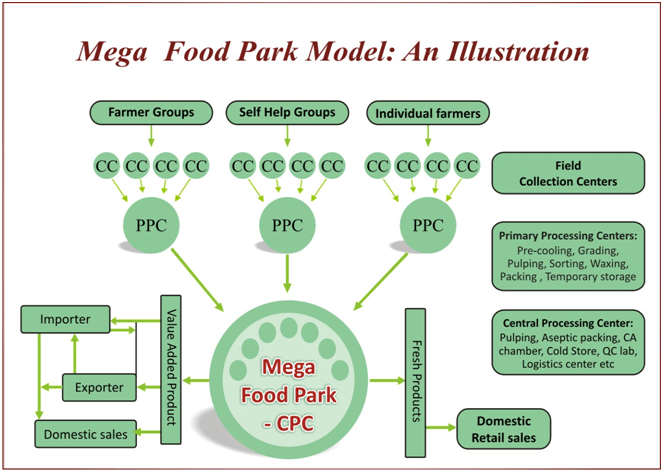 Location of current Food Parks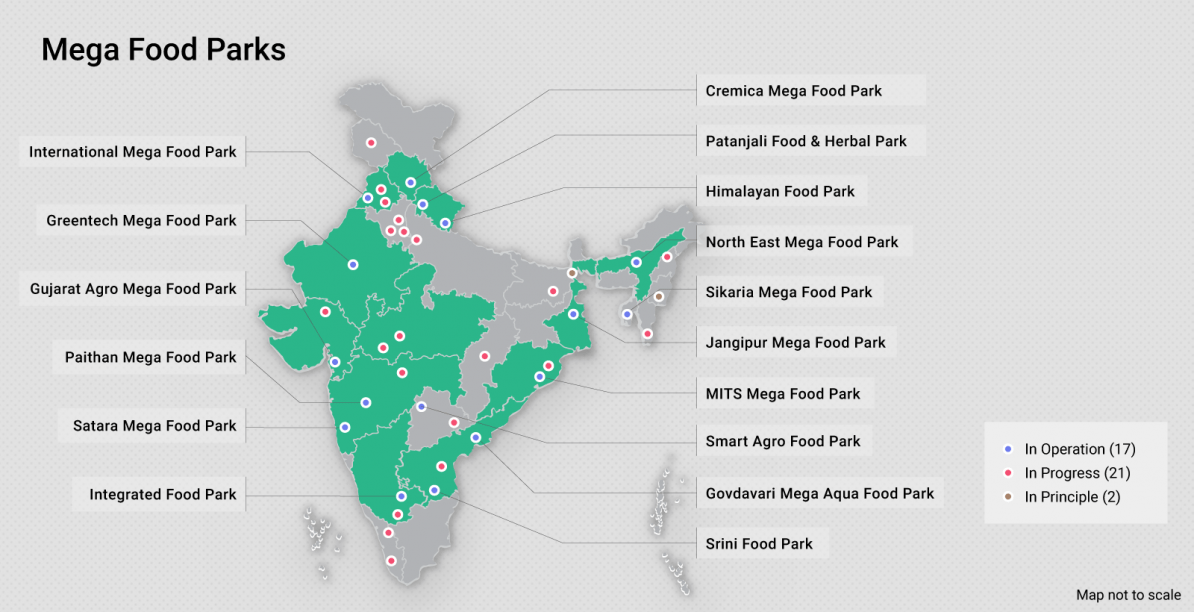 What are the advantages of Mega Food Parks?
Achievement of Economies of scale as the food processing industry is capital intensive.
It provides required assistance to the farmers in logistics and other ready forward linkages.
It is an export encouraging scheme as processed food is in huge demand in external markets.
It reduces wastage of food produced and adds value to the produce.
It makes farming occupation profitable as it increases the farmers' income.
It encourages collaborative farming.
It has huge employment generation capacity as the Primary processing centers are locally based and owned.
Especially the women's employment scenario gets a huge boost through MFG projects and encourages entrepreneurship in women.
It encourages skilling of the labor as the processing industry is skill-oriented.
It provides opportunities for acquiring international best practices in the industry.
What are the issues regarding the MFP scheme?
Financial issues were a major cause of concern such as delays in releasing grants by the Ministry.
Delays in construction of Primary Processing centers (PPCs) and operationalization of PPCs and collection centers.
Small and medium scale facilities have imported machinery which is expensive. They will not be able to afford these facilities.
Land acquisition is also difficult as 50 acres of land is not easily available particularly in the hilly region.
Delays in getting clearances by the state governments.
'One size fits for all' approach in capital grants is not been able to attract investors.
Also, some of the global investors declared the inability to invest in grant-based schemes. They prefer joint ventures.
There is an overdependency on PMAs.
In most of the cases, no study of global best practices was made.
No much effort to linking India to the global value chain.
Marketing of the scheme is low as a result there is low awareness among possible beneficiaries and stakeholders.
Current status of the Scheme
The scheme has been subsumed under the PM Kisan SAMPADA Yojana which was previously known as Scheme for Agro-Marine Processing and Development of Agro-Processing Clusters.
It was done so to integrate all existing schemes in food processing that will avoid duplicity and achieve synergy.
Progress of the Scheme
So far, 42 Mega Food Parks have been approved by the government. Of which, 18 have been operationalized.
The preservation and processing capacity of 23 lakh MT has been created.
Way forward
A comprehensive feasibility study is a must before approving grants to individuals and companies.
Certain design issues like grant scheme, timeline issues, and scheme announcements must be sorted out.
There should be a focus on forward linkages apart from the current focus on backward linkages.
It should be tailor-made to suit different geographical-economical regions of the country.
Special incentives and benefits for performing units must be given to attain operational efficiency.
The marketing of the scheme must be done to make the stakeholders aware.
Ensuring collaboration and commitment from the state governments is important. This can be achieved by the more proactive role of the states.
Transparency in procedures and eGovernance is needed.
Learning from global best practices is one area that needs to be improved.
Better exit policy for long-running parks will bring in ease of doing business.
The food processing scenario in India needs to enhance its capabilities and scope to make full use of the potentials of domestic capacity and the great demand for the processed food market. The Mega Food Parks is the right step in that direction but the scheme needs a further push in starting, maintaining and economizing the Parks. It can contribute to the success of Make in India. The draft Food Processing Policy, 2019 also emphasizes this factor. With a conducive environment and clear policymaking, The Food processing sector can emerge as the success story of the India Economy.
Practice Question for Mains
The Food processing industry in India is a sunrise sector. Discuss the role of the Mega Food Park scheme in achieving optimum success in the food processing sector. (250 words)