Maritime Infrastructure Perspective Plan 2023-37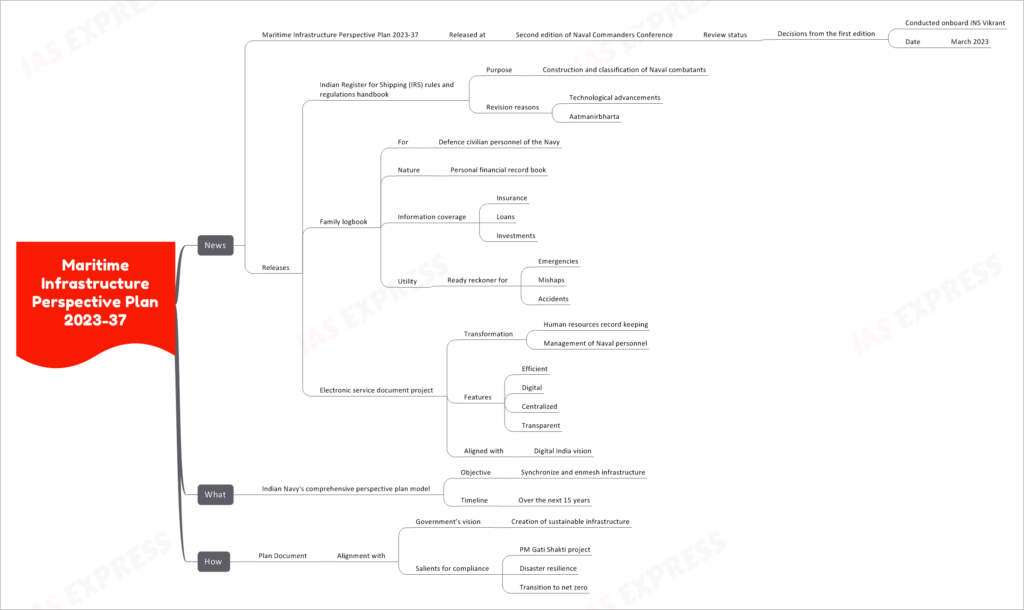 The recent unveiling of the "Maritime Infrastructure Perspective Plan 2023-37" at the second edition of the Naval Commanders Conference paints a vivid picture of India's naval future. It reflects the nation's aspirations to bolster its maritime prowess, synchronize infrastructure, and embrace the digital age.
News
Plan Launch Details
Event: Second edition of Naval Commanders Conference
Main Highlight: Release of the Maritime Infrastructure Perspective Plan 2023-37
Review Undertaken:

Scrutinizing decisions made during the first edition

Venue: INS Vikrant
Date: March 2023
Key Releases
Indian Register for Shipping (IRS) Handbook:

Purpose: Guides the construction and classification of Naval combatants.
Why a Revision?

Adapting to modern technological breakthroughs.
Embracing 'Aatmanirbharta' (self-reliance).

Family Logbook:

Intended for: Defence civilian personnel associated with the Navy.
Nature: A ledger detailing personal financial commitments.
Key Data Tracked:

Insurance
Loans
Investments

Significance: Acts as a quick reference during emergencies, accidents, or unforeseen incidents.

Electronic Service Document Project:

Evolution: Pivoting towards digital record-keeping and human resource management of Naval staff.
Key Attributes:

Efficient
Digitalized
Centralized
Transparent

Vision Alignment: Resonates with the Digital India mission.
Plan Core: The Essence
The Blueprint
Nature: Indian Navy's holistic perspective plan framework.
Main Goal:

Seamlessly integrate and harmonize infrastructure facilities.

Duration: The plan stretches over an expansive 15-year timeline. copyright©iasexpress.net
Implementation Methodology
The Plan Document: A Guided Path
Harmony with the Government's Vision:

Advocates the establishment of enduring infrastructure.

Mandatory Alignment Elements:

PM Gati Shakti initiative
Ensuring disaster resilience
Aiming for a transition to net zero carbon emissions.
Learn More