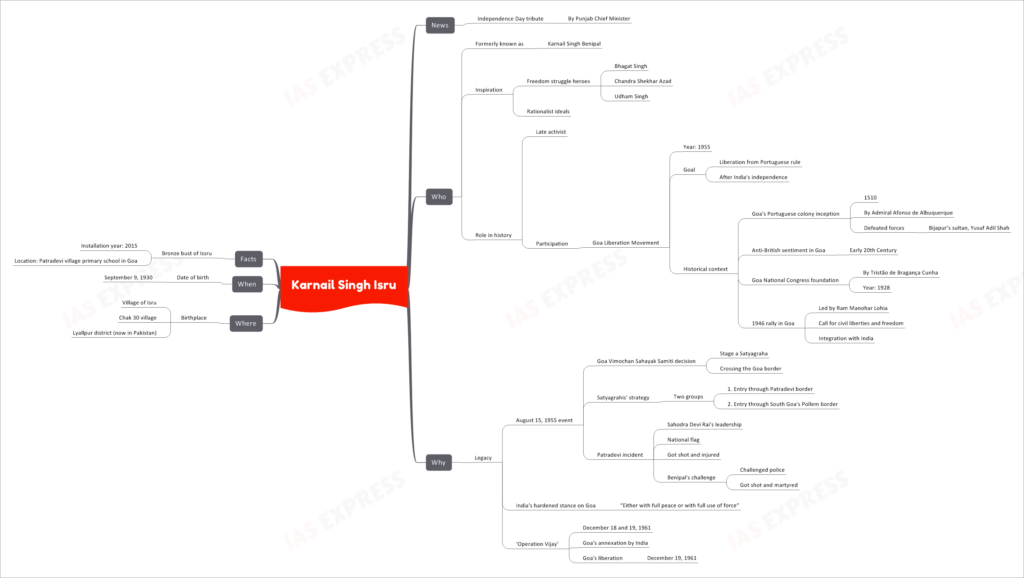 On the occasion of Independence Day, the Chief Minister of Punjab paid a heartfelt tribute to a valiant freedom fighter, Karnail Singh Isru. His unwavering dedication to the ideals of freedom and his pivotal role in the Goa Liberation Movement stand as a testament to his indomitable spirit and commitment to the nation.
The Journey of Karnail Singh Isru
A Former Name and Inspirations
Born as Karnail Singh Benipal, he drew inspiration from iconic freedom struggle heroes like Bhagat Singh, Chandra Shekhar Azad, and Udham Singh. Driven by their sacrifices and rationalist ideals, Isru embarked on a journey to contribute to India's fight for freedom.
Role in History: A Glimpse into His Activism
Karnail Singh Isru was an activist who actively participated in the Goa Liberation Movement in the year 1955. This movement sought to liberate Goa from Portuguese rule, following India's independence. This historical initiative was rooted in the longstanding anti-British sentiment in Goa and the efforts of the Goa National Congress, founded by Tristão de Bragança Cunha in 1928.
The Pivotal Event and Legacy
August 15, 1955: A Defining Moment
Karnail Singh Isru's legacy is deeply entwined with the events of August 15, 1955. The Goa Vimochan Sahayak Samiti, led by him, made a momentous decision to stage a Satyagraha and cross the Goa border. This act of courage was marked by the strategic entry of two groups: one through Patradevi border and the other through South Goa's Pollem border. copyright©iasexpress.net
The Sacrifice for Freedom
Tragedy struck during the Patradevi incident, where Sahodra Devi Rai, under Isru's leadership, carried the national flag. In the face of adversity, she was shot and injured. It was here that Karnail Singh Isru rose to the challenge, confronting the police fearlessly. Tragically, he was shot and martyred, leaving behind a legacy of unwavering dedication to the cause of freedom.
India's Determination and Goa's Liberation
Karnail Singh Isru's sacrifice and India's unyielding stance on Goa bore fruit. India's message to Goa was clear: "Either with full peace or with full use of force." The historic "Operation Vijay" in December 1961 led to the annexation of Goa by India, marking the liberation of Goa from Portuguese rule on December 19, 1961.
A Glimpse into Isru's Roots and Birthplace
Birthplace and Date of Birth
Karnail Singh Isru was born on September 9, 1930, in the village of Isru, located in the Chak 30 village of the Lyallpur district (now in Pakistan).
Honoring Isru's Memory
Bronze Bust and Tribute
In recognition of his immense contribution, a bronze bust of Karnail Singh Isru was installed in 2015. This commemorative statue stands at the Patradevi village primary school in Goa, a symbol of his enduring legacy and the sacrifice he made for the nation's freedom. copyright©iasexpress.net
Learn More