Jharkhand's Anti-Cheating Bill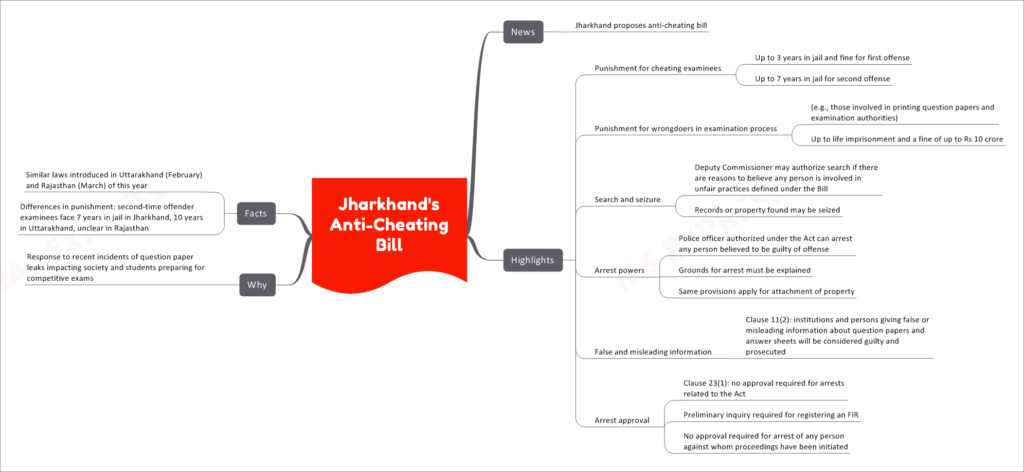 In response to recent incidents of question paper leaks affecting students preparing for competitive exams, Jharkhand has proposed an anti-cheating bill. The bill aims to curb unfair practices in examinations and hold wrongdoers accountable.
Highlights of the Anti-Cheating Bill
The proposed anti-cheating bill in Jharkhand includes the following key provisions:
Punishment for Cheating Examinees
First Offense: Cheating examinees could face up to 3 years in jail and a fine.
Second Offense: For repeat offenders, the punishment may be increased to up to 7 years in jail.
Punishment for Wrongdoers in the Examination Process
Those involved in printing question papers and examination authorities may face severe consequences, including up to life imprisonment and a fine of up to Rs 10 crore.
Search and Seizure
The Deputy Commissioner may authorize a search if there are reasons to believe that any person is involved in unfair practices defined under the bill. Records or property found during the search may be seized.
Arrest Powers
Police officers authorized under the Act can arrest any person believed to be guilty of an offense. The grounds for arrest must be explained, and the same provisions apply for property attachment.
False and Misleading Information
Institutions and individuals providing false or misleading information about question papers and answer sheets may be considered guilty and prosecuted under the bill. copyright©iasexpress.net
Arrest Approval
No approval is required for arrests related to the Act. A preliminary inquiry is required for registering an FIR, and no approval is needed for the arrest of any person against whom proceedings have been initiated.
The Motive Behind the Bill
The proposal for the anti-cheating bill comes as a response to recent incidents of question paper leaks, which have had a significant impact on society and students preparing for competitive exams. The bill aims to address the rising concerns of unfair practices in examinations and restore faith in the integrity of the examination process.
Facts and Comparisons
Similar laws have been introduced in Uttarakhand in February and Rajasthan in March of the same year.
There are differences in punishment for second-time offender examinees in these states. While Jharkhand imposes up to 7 years in jail, Uttarakhand has a punishment of up to 10 years, and the penalty in Rajasthan remains unclear.
Learn More