[In-depth] Indus Waters Treaty: All you need to know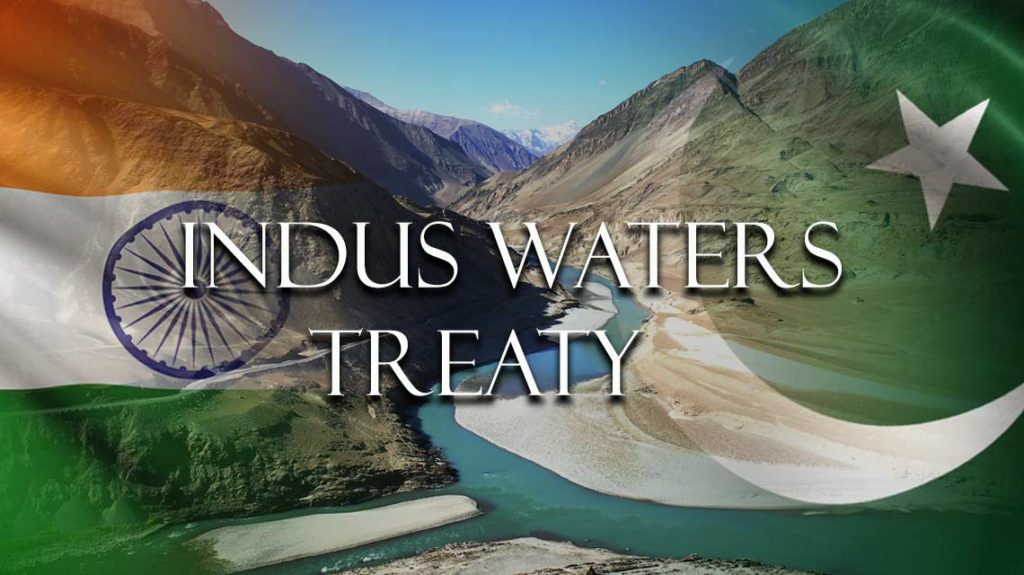 After the terror attack in Pulwama, the government has decided to stop India's share of waters in the Indus river system from flowing into Pakistan. This indicates a shift in the policy of the government with regards to the Indus Waters Treaty.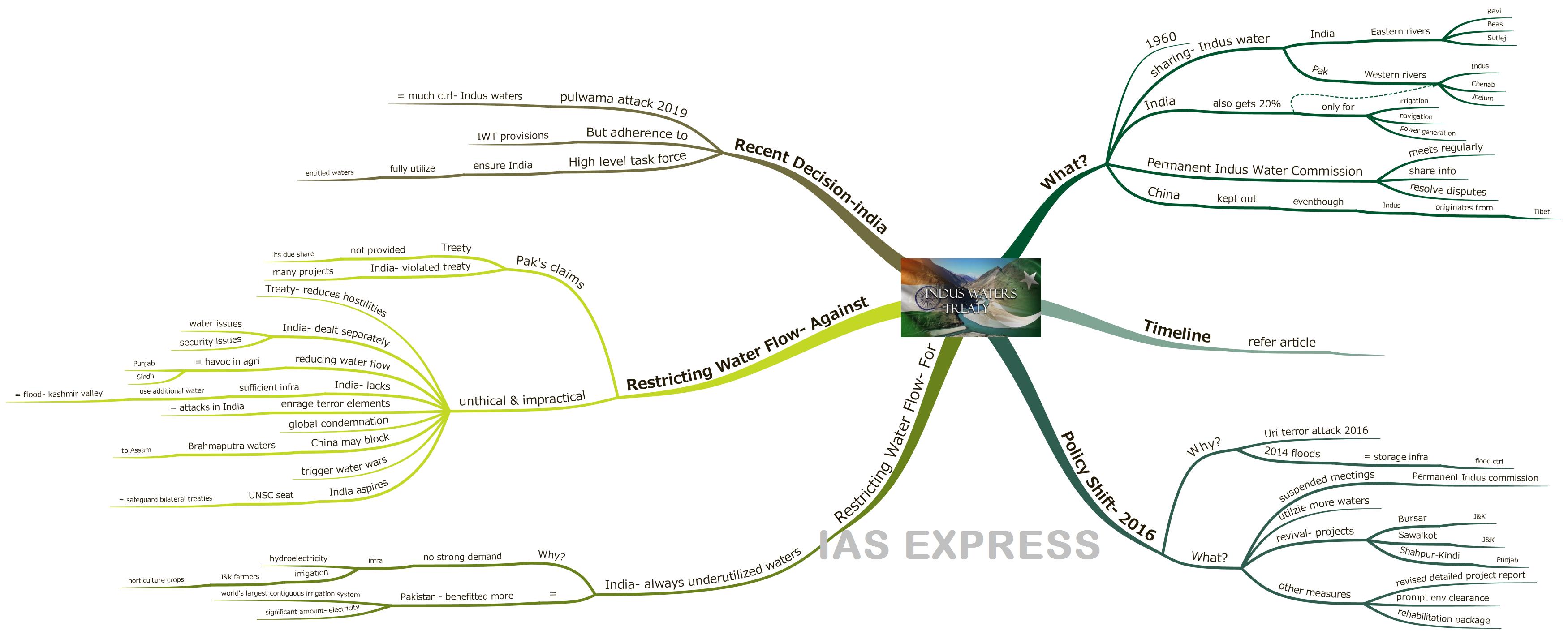 What is the Indus Waters Treaty 1960?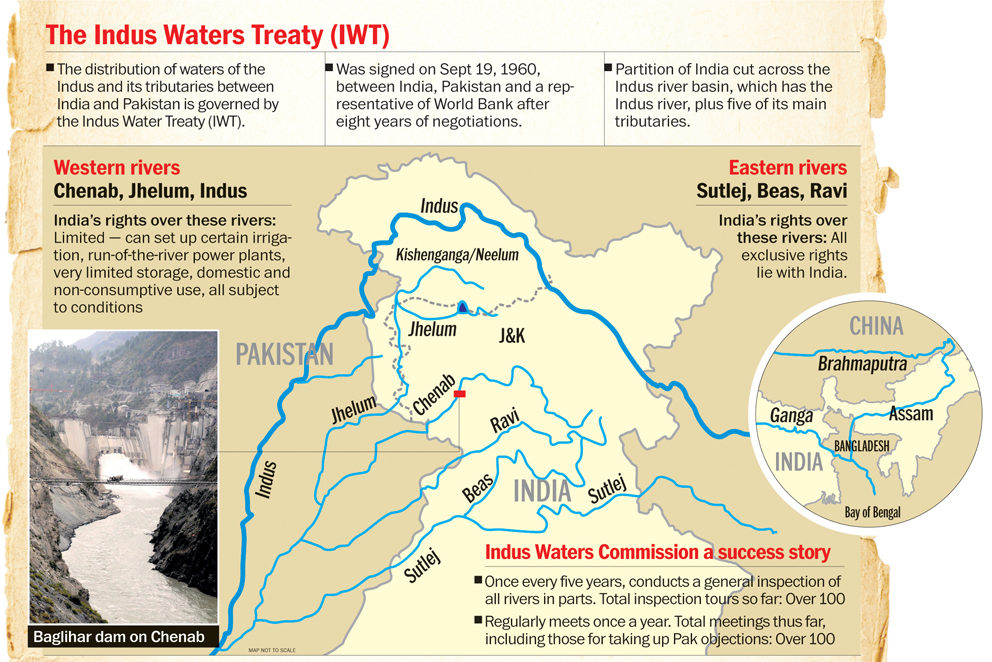 It is the treaty that provides for sharing of Indus water between India and Pakistan.
It provides India full control over the waters of the 3 Eastern rivers – Ravi, Beas, and Sutlej.
The waters of the western rivers – Indus, Jhelum, and Chenab should flow to Pakistan without any restrictions.

The Treaty also allows India to utilize 20% of the waters of the western rivers.

The use of water can be for the purposes of irrigation, navigation and power generation.
But India hasn't fully utilized this provision so far.

The treaty also provides for Permanent Indus Water Commission that meets regularly in order to share information and data and resolve disputes. It consists of 1 Indian commissioner and 1 Pakistan commissioner.
It has to be noted that, even though Indus originates from Tibet, China has been kept out of the Treaty.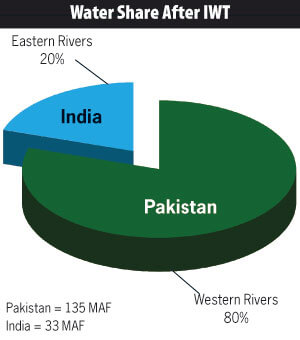 What is the Timeline of the India-Pak disputes regarding Indus waters?
1948: India cuts off supply in most canals that went to Pakistan. However, it restored it later. copyright©iasexpress.net
1951: Pakistan accused India of cutting off the water supply to several villages in Pakistan.
1954: World Bank came up with a water-sharing formula for both countries.
1960: Indus Waters Treaty Signed.
1970s: India started building hydropower projects in Kashmir = Pakistan raised concern.
1984: Pakistan opposed India building Tulbul barrage on Jhelum = India halted the construction unilaterally.
2007: Pakistan raised concern regarding Kishanganga Hydroelectric Plant.
2008: Lashkar-e-Taiba launched a campaign against India. Its chief Hafiz Saeed accused India of water terrorism.
2010: Pakistan accused India of cutting off water supply frequently.
2016: India reviews working of Indus Water Treaty in the wake of cross-border terrorism (Uri attack).
2019: Pulwama terror attack by Jaish-e-Mohammed = the government has decided to stop India's share of waters in the Indus river system from flowing into Pakistan.
Why did India decide to review its policy in 2016?
Following the devastating floods of 2014, the need for storage infrastructure as a flood-control initiative was increasingly felt.
But more importantly, after the terrorist attack on Army camp in Uri in 2016, the policy shift had happened.
What was the policy shift in 2016?
India had temporarily suspended regular meetings of the Indus commissioners after the Uri attack.
India decided to utilize more waters of the Indus rivers in order to hurt Pakistan's interests. copyright©iasexpress.net
India also started the revival of many projects that were either suspended or remained on paper for many years.

Most of these projects were in J&K, others were in Punjab and Himachal Pradesh.
Some of these projects were put on fast-track mode, declared national projects, and money was approved to resume works.
Notable projects are:

Bursar hydroelectric project on the Marusudar river (the tributary of Chenab) in Kishtwar, J&K. It will be India's 1st project on the western rivers to have storage infrastructure.
Sawalkot project on the Chenab in J&K.
Ugh project in J&K.
Shahpur-Kandi project in Gurdaspur, Punjab.

Totally, more than 30 projects are under different stages of implementation on the Western rivers, having got the final approvals.

In addition to these, other initiatives include:

Finalization of a revised detailed project report.
Granting of prompt environment clearance.
Disbursal of attractive rehabilitation package for affected families.
What are the arguments in favour of restricting water flow to Pakistan?
India has not been fully utilizing its entitlements under the treaty neither on the Eastern nor on the Western rivers.
It is because on the western rivers particularly, there has been no strong demand for new infrastructure – hydroelectricity, irrigation, etc. Because the demand for irrigation has decreased over the years as several farmers in J&K moved to horticulture from traditional crops. copyright©iasexpress.net
Hence India has been allowing much more water flow to Pakistan than that has been committed under the Treaty.
Due to India's under-utilization of its claim, Pakistan has benefitted more than it is entitled to under the Treaty.
Around 90% of Pakistan's irrigation infrastructure is in the Indus basin of about 15 million hectares of land.
It has now become the world's largest contiguous irrigation system constitutes around 60,000 km of canals.
3 of Pakistan's biggest dams including Mangla which is one of the largest in the world are constructed on Jhelum river.
These dams generate a considerable amount of Pakistan's electricity.
What are the arguments against restricting water flow to Pakistan?
Claims of Pakistan
Even before India's policy shift in 2016, Pakistan had been complaining about denial of its due share of waters.
Pakistan maintained that India had violated the Indus Treaty, particularly with respect to several projects on the Indus rivers.
It maintains that the Treaty had failed to protect Pakistan's interests and India had managed to misuse the provisions in its favor.
Consequently, several objections were raised by Pakistan with regards to projects to be launched in India. These include the Ratle Project, the Pakal Dul Dam, Sawalkot, etc. copyright©iasexpress.net
However, India maintains that the primary objective of Pakistan was to delay these projects = forcing a cost escalation + making them economically unviable.
It is unethical and impractical to violate the treaty because of the following reasons: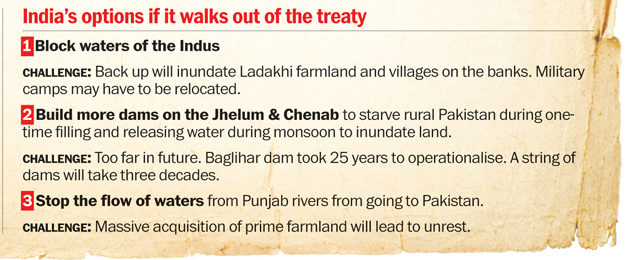 Indus Waters Treaty seeks to reduce hostilities between India and Pakistan. It should be kept in the same spirit.
India has always dealt with water and security issues separately with Pakistan.
80 percent of Pakistan's agricultural land is being irrigated by Indus river system = reducing the water flow will cause havoc particularly in Punjab and Sindh provinces.
Breaking the Indus treaty doesn't make any sense since India currently does not have sufficient infrastructure to utilize the additional water available = may create a flood in the Kashmir valley.
The decision of not giving water to Pakistan may further enrage the terror elements in Pakistan = intensify attacks on India.
Not respecting the Indus Treaty, may invite global condemnation to India since the treaty is an international agreement.
Neighbors such as Bangladesh and Nepal with whom we have water treaties will become skeptical.
There are also concerns that China may block the water of Brahmaputra to Assam as a sign of revenge.
The Kashmir issue will receive a whole new dimension if India withdraws from the Treaty. It would also trigger the launch of water wars. copyright©iasexpress.net
India, aspiring for a seat in UNSC, should safeguard bilateral treaties instead of violating it.
What is the recent decision of India?
Following the Pulwama terror attack 2019, India decided to exert much higher control over the waters of the Indus basin. But it will continue to follow the provisions of the Indus Waters Treaty 1960.
A high-level task force was established under the guidance of the Principal Secretary to the PM to ensure that India makes full use of the waters it is entitled to under the Treaty.
India has never utilized its rights under the Indus Water Treaty on the western rivers for irrigation, storage, and even for generating electricity, in the manner specified. If we just do what we are entitled to under the Treaty, it would be sufficient to send jitters through Pakistan. It would be a strong signal without doing anything drastic.