[Premium] IPCC Special Report on Global Warming of 1.5 C – Highlights and Analysis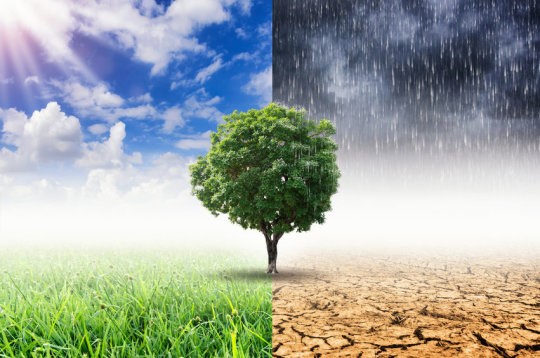 The Inter-governmental Panel on Climate Change (IPCC) has recently released a special report on the measures the world requires to take to prevent global average temperatures from increasing beyond 1.50C compared to pre-industrial times.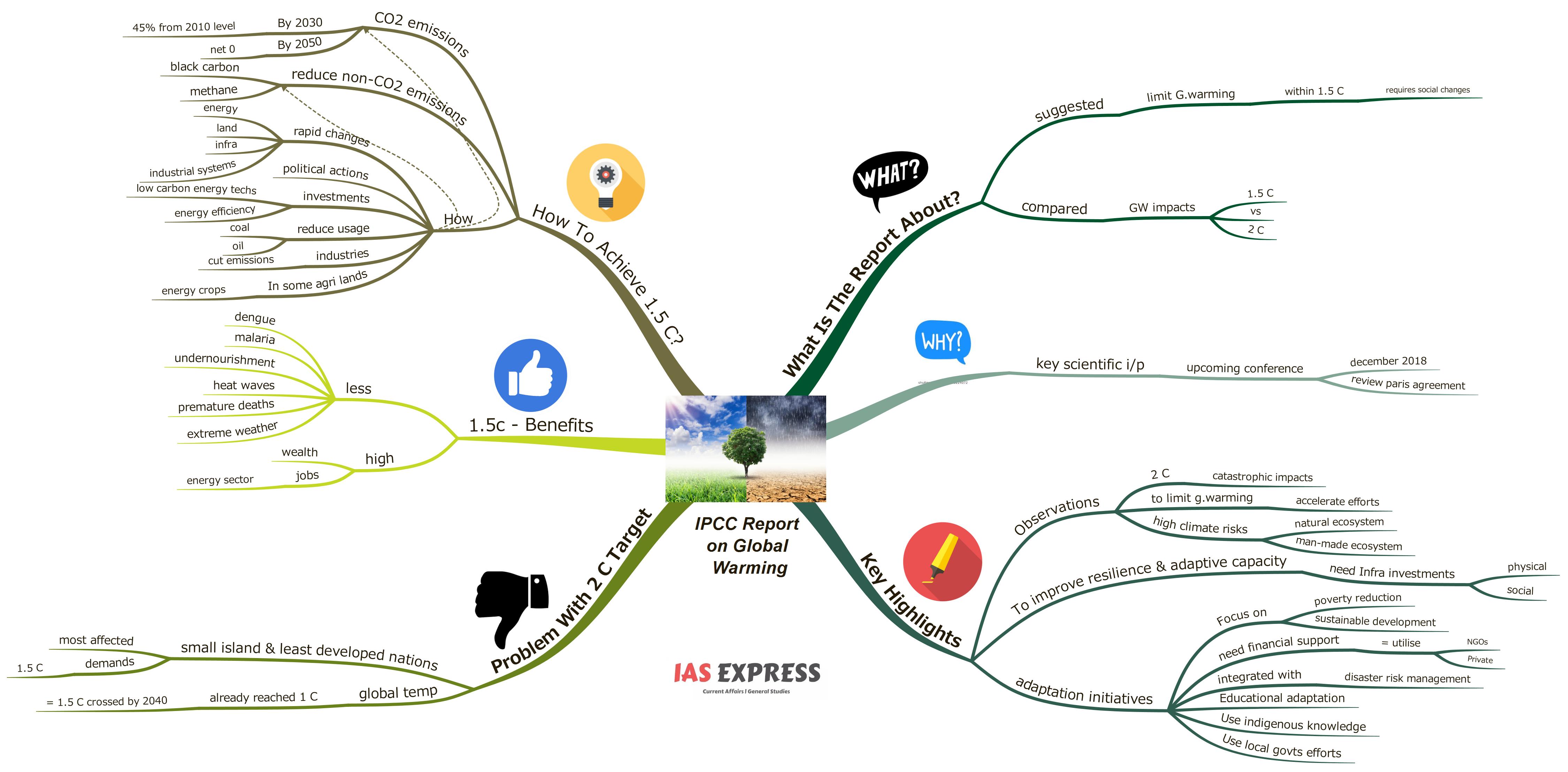 Mindmap Learning Programme (MLP)
Absorb information like a sponge!
What is the report about?
IPCC mentioned that limiting global warming to 1.50C would require rapid changes in all aspects of society. It made comparison between the impacts of global warming of 1.50C and 20C. It will be a crucial scientific input for the upcoming Climate Change Conference in Poland in December 2018 where the governments review the Paris Agreement to tackle climate change.
What are the key highlights of the report?
Observations

IPCC cited that climate change could have catastrophic impacts if the global average temperatures were permitted to rise above 20
We are already experiencing the effects of 10C of global warming by means of extreme weather, increasing sea levels and decreasing Arctic sea ice etc.
In order to restrict global temperature rise, the international efforts to tackle climate change should be accelerated.
There are higher climate related risks for both natural and man-made ecosystems.

In order to improve resilience and adaptive capacity, the investment in physical and social infrastructure is necessary.

The ill-effects of poorly designed or implemented adaptation projects are as follows

Increasing greenhouse gas emissions
Increase in water usage
Increasing gender and social inequality
Undermining health conditions
Encroachment on natural ecosystems

Adaptation initiatives

Adaptation initiatives should focus on poverty reduction as well as sustainable development.
Require financial support.

However, the adaptation requirements have mostly been supported with the help of public sector sources, multilateral development banks and UNFCCC channels.
An important but less analysed funding sources in some regions are NGOs and private funding. They should be effectively utilised.

There is a need to integrate disaster risk management as well as adaptation in order to reduce vulnerability.
Educational adaptation options should be looked into as it motivates adaptation by means of creating awareness.
Creating adaptation action using indigenous knowledge is a more participatory approach towards adaption particularly for vulnerable population.

These people are threatened by cultural modification, dispossession of land rights and land grabbing, fast environmental and social changes.
Hence recognition of indigenous rights, governance systems and laws is important for adaptation, mitigation as well as sustainable development.

Local governments are also important since they facilitate participative decision-making and involve wide community in designing and enforcing adaptation policies.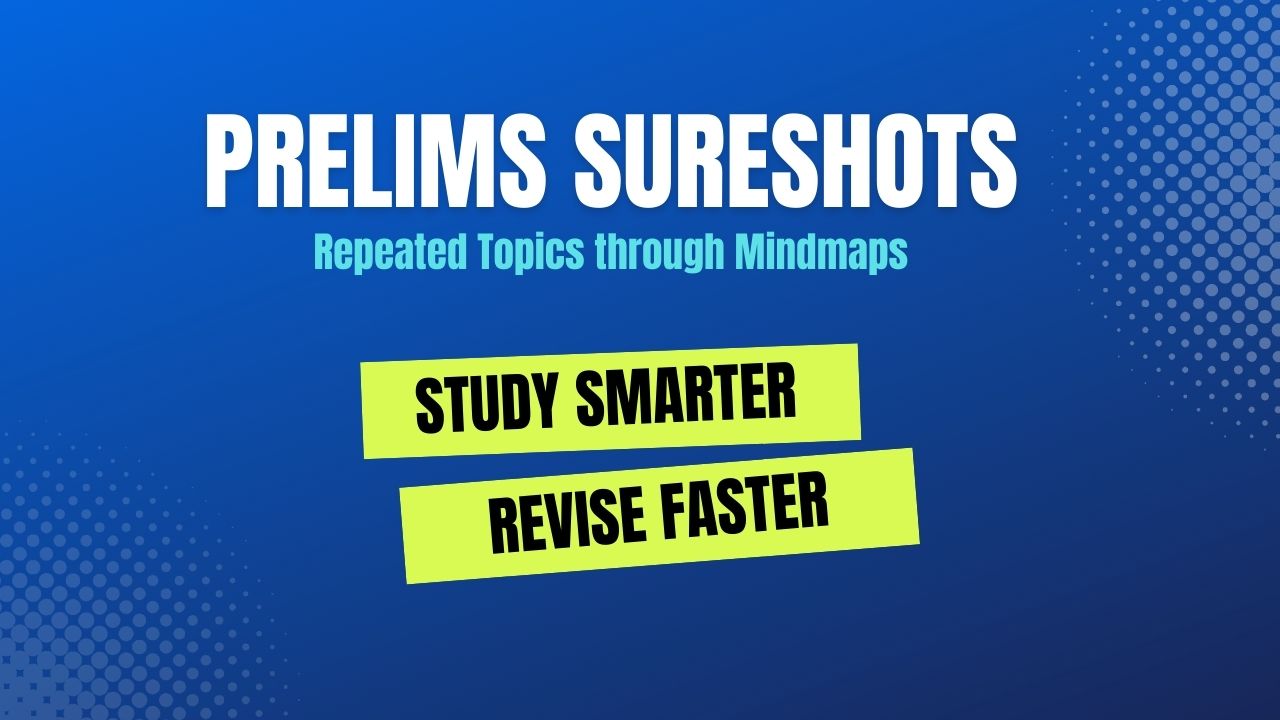 What is the problem with 20C target?
From early 1990s itself countries have been started discussing about climate change and negotiating an international arrangement for combating it together.
The aim has been to restrict the rising global average temperatures to 20C or less from pre-industrial times.
IPCC's Periodic assessment reports observes that the impacts of climate change could be irreversible and catastrophic if the rise in temperatures was allowed to beyond the 20C cap.
Small Island and least-developed countries are most likely to be affected by the worst impacts of the climate change.

These nations demands that the aim should be to limit the temperature rise within 1.50C from pre-industrial times rather than 20

A 1.50C limit demands much deeper emission cuts from the big emitters, which in turn necessitates massive deployment of financial and technological resources.
The Paris agreement 2015 fixed the target of increase in global average temperature to below 20C and it also promised to keep making efforts to reach the 1.50C target.
However, the global average temperature has already increased by more than 10C from pre-industrial times. At this rate, the 1.50C cap should be crossed as early as 2040.
Is the 1.50C target achievable?
The report recommends possible solutions for reaching the 1.50C objective. It would involve much sharper and quicker emission reductions by big emitters such as China, the United States, the European Union and India.
These solutions would be highly dependent on the success of carbon removal technologies or Carbon Capture and Storage (CCS)

It is the physical removal of Carbon Dioxide (CO2) from the atmosphere to reduce its concentrations.
Notably, no such technology exists as of now. But various possibilities are being explored.
The report also cited that varying amounts from 100 to 1000 gigatons of CO2 would need to be removed from the atmosphere.
What are the benefits of 1.50C limit compared to 20C?
Studies proves that limiting global warming to 1.50C could prevent around 3.3 million cases of dengue each year in the Caribbean and Latin America alone.
A World Bank report says that an additional 150 million people could be at risk from malaria if the temperature was allowed to rise beyond 20
If the 1.50C goal was attained, then the world could 25 million fewer undernourished people by the end of the century.
350 million additional people could be exposed to deadly heat waves when the warming raised to 20C compared to 1.50
With 1.50C target, 153 million premature deaths due to air pollution could be prevented by 2100.
With 1.50C target, the world could be 3 percent wealthier by 2100 compared to 20C cap.
50C target could double the number of jobs in the energy sector by 2050.
In a 20C world, extreme weather events like heavy rainfall and heat waves are more likely to become more severe and frequent, and fresh water supply could also drop sharply.
How to achieve 1.50C target?
For 1.50C limit, global net anthropogenic CO2 emissions should be reduced by about 45% from 2010 levels by 2030 and should reach net zero around 2050.
Non-CO2 emissions should also need to be reduced. Both Black carbon and methane need to be reduced by 35% or more of 2010 levels by 2050.
In order to attain these emission cuts,

Rapid changes in energy, land, urban and infrastructure, as well as industrial systems are needed.
It will also require political as well as considerable increase in investments.
Investments in low-carbon energy techs and energy efficiency needs to be increased.
Coal usage should be reduced substantially and its share in electricity mix should be reduced close to 0% by 2050.
Share of oil in the energy mix should be reduced by 2050.
Industries needs to reduce emissions by around 75-90% of 2010 levels by 2050.
Real emissions reductions can be attained via a combination of new and existing techs, such as sustainable bio-based feedstock, product substitution as well as carbon capture, utilisation and storage (CCUS).
In the land-use sector, some amount of agricultural lands needs to be utilised for cultivating energy crops.
Way ahead
IPCC has done its role to bringing forth these options. It is up to the governments to decide on how to act. They can start by increasing their targets in their respective Intended Nationally Determined Contributions.
About IPCC
IPCC was set up by the United Nations Environment Programme (UNEP) and the World Meteorological Organization (WMO) in 1988.
It is the leading international organisation for the assessment of climate change.
It provides a clear scientific perspective regarding the current state of knowledge in climate change and also its potential environmental and socio-economic effects.
What is Paris Agreement on Climate Change?
It is an international climate agreement signed in 2015 to fight climate change.
It enables implementation of global Green House Gas reduction measures in the post 2020, that is, in post Kyoto Protocol scenario.
Under it, all nations must work to keep global temperature rising below 20C by 2100 compared to pre-industrial levels with a major target of keeping temperature below 1.50
It makes developed nations to provide 100 billion dollars annually to the developing nations starting in 2020 to fight climate change.
It also empowers nations to determine how to reduce their emissions. However, it mandates that they report transparently on those efforts. This is called Intended National Determined Contributions (INDCs).
Practice Question
Discuss the benefits of limiting global warming to 1.50C compared to 20C and suggest suitable measures to reach the 1.50C target.