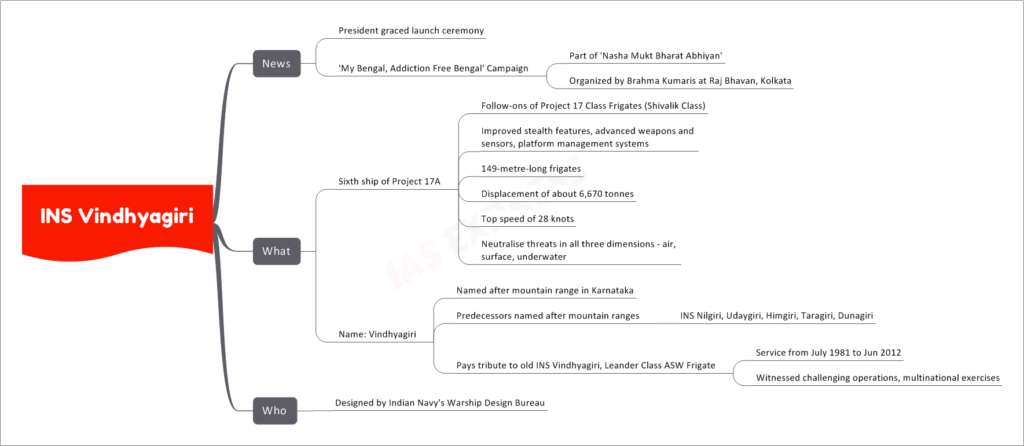 Amidst noteworthy events in the maritime sector, President's presence graced the launch ceremony of INS Vindhyagiri, the sixth ship of Project 17A, highlighting India's commitment to enhancing naval capabilities. This ceremony was a part of the 'My Bengal, Addiction-Free Bengal' campaign, organized by the Brahma Kumaris as a significant stride in the 'Nasha Mukt Bharat Abhiyan'.
INS Vindhyagiri: A Remarkable Vessel
Advancements in Project 17A
INS Vindhyagiri is the sixth ship of Project 17A, a successor to the Project 17 Class Frigates (Shivalik Class).
These frigates are designed with improved stealth features, advanced weapons, sensors, and platform management systems.
With a length of 149 meters and a displacement of approximately 6,670 tonnes, these frigates are equipped to neutralize threats across air, surface, and underwater domains.
They boast a remarkable top speed of 28 knots.
Honoring the Name: Vindhyagiri
The ship is aptly named after the Vindhyagiri mountain range in Karnataka, aligning with the tradition of naming predecessors after mountain ranges such as INS Nilgiri, Udaygiri, Himgiri, Taragiri, and Dunagiri.
The name also pays tribute to the old INS Vindhyagiri, a Leander Class Anti-Submarine Warfare (ASW) Frigate that served from July 1981 to June 2012.
During its service, it witnessed challenging operations and participated in multinational exercises, highlighting India's naval prowess. copyright©iasexpress.net
Visionary Design
The Role of Indian Navy's Warship Design Bureau
INS Vindhyagiri was designed by the Indian Navy's Warship Design Bureau, showcasing India's self-reliance and expertise in naval ship design.
Learn More